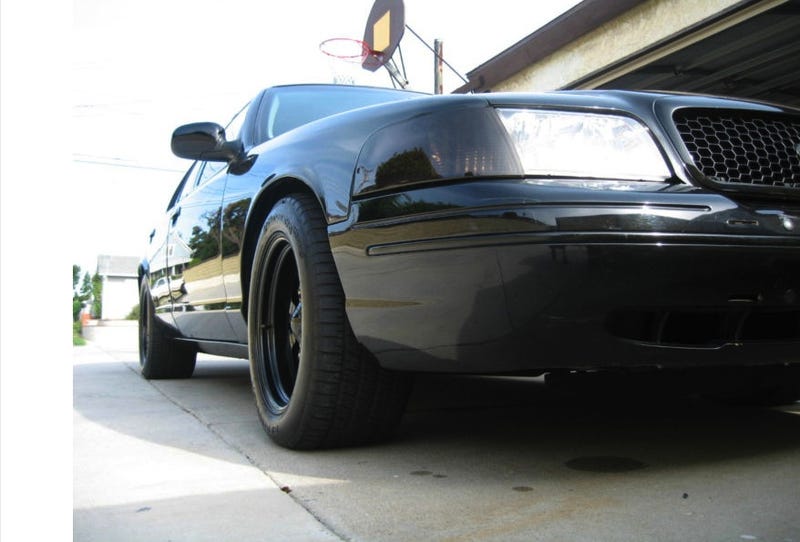 Nice Price Or Crack Pipe
Is this used car a good deal? You decide!
The P71 package upgraded pretty much all the Crown Vic's hardware for police duty, with the exception of the engine's cylinder count. Today's Nice Price or Crack Pipe Crown Vic rectifies that oversight with a Triton Ten under its hood, but does its price tag also have too many added numbers?
The reality TV show Gene Simmons Family Jewels supposedly let you get inside the KISS bassist's family life. If that wasn't enough for you, yesterday's Custom Radio Station VW Beetle let you get inside his head. Sadly for whoever is dumping money into that KISS-tastrophy, 90% of you felt that the Gene Machine didn't deserve the stage time, much less its impending encore.
Ford's Modular Engine family was an encore of sorts to the company's long-serving family of V8s,- the Windsors. Named not for a sharing of parts but for the chameleon-like manufacturing flexibility of its production line, the new OHC engines found homes in the Mustang, Thunderbird, and F-series pickups, as well as the various Mercury and Lincoln products based on those Fords. The 4.6-litre V8 edition also found its way under the hood of the company's stalwart conveyer of both AARP members and law enforcement, the Crown Victoria.
You may consider 8 is enough If you're into hackneyed '80s TV drivel, but if you're anything like Jay Groendyke, creator of today's Triton-powered P71, then you know that the only model that will do is a perfect 10. This '99 Interceptor has had wedged beneath its hood a 6.8-litre Triton V10 yanked from a wrecked F350. That means a claimed 310 horsepower and 425 lb-ft of tire twisting torque.
The V10 is said to be an easy fit, able to use the stock V8 engine mounts and riding an inch and a half farther forward than its 8/10s cousin. One change made necessary by the mounting of an engine where it wasn't originally intended was the flipping of the intake from front to back. The hood has been modded to allow airflow from its rear edge, but it's not apparent from the outside
Behind the big Triton is a 4-speed 4R100 automatic, with a quick shift kit installed. Sorry slushbox haters. That big-ass tranny did require some punching out of the floorpan tunnel, but unlike other kinds of tranny tunnel punching, it doesn't seem to have suffered any for it. Exhaust, cooling, and most importantly electronics, have all been sorted out, and according to this Hot Rod article, the car was used as the builder's daily driver, racking up more than 20K miles .
In addition to the 6.8, this P71 features blacked-out Eagle alloys, smoked lenses front and rear, and, due to its former duty in the civil service, more body piercings than the Girl with the Dragon Tattoo. Most of those have been plugged, but the slots in the front bumper do encourage the return of a push bar, which might just add to this Panther's coolness factor.
Inside, there's a digital dash and skinny cop seats designed - I guess- to accommodate fat cops. Everything else looks clean and tidy and of course as plasticky as you would expect of Ford's value-leader big car from the nineties.
Originally set up to run on propane, the car has since been retrofitted for gas. I mean, it ran on gas before but now it runs on gas. . . I mean, arrrgh! YOU KNOW WHAT I MEAN. The ad says that all the parts are in a box in case you want to once again make the car a propane in the ass. It also says that there's an extra 2-valve Triton available should the buyer have a boat in need of an anchor the urge to haul it off.
This Crown Vic was featured not only in Hot Rod but also in Car and Driver, in an article about CNG cars. That kind of validates this Triton-powered Panther (Tritonther?) being a great example of the late, lamented Crown Vic, and being about as professionally done a conversion as you could ask. The melding of Truck drivetrain and cop car host is just crazy enough to work, but does its price work as well? The seller is asking $15,000 for a Buy it Now button click, and that's about 5 times what a stock P71 of this era might bring. Of course, this one ain't stock, and as it's likely the only V10 Crown Vic in existence outside of some dank Ford skunkworks back room, it's got uniqueness going for it too.
But is it really worth that kind of cash? What do you think, is its $15,000 price this V10 P71's crowning achievement? Or, does that make this a Triton that's just not tryin'?
You decide!
ebay or go here if the ad disappears.
H/T to West Coaster for the hookup!
Help me out with NPOCP. Click here to send a me a fixed-price tip, and remember to include your commenter handle.