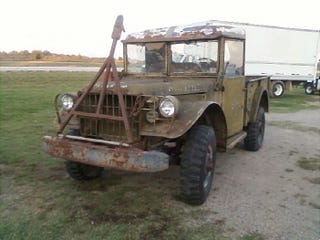 Nice Price Or Crack Pipe
Is this used car a good deal? You decide!
You're in the Nice Price or Crack Pipe army now, you're not behind a plow. You wouldn't need to be rich, to buy this Dodge with a hitch. You just need to vote right now.
In the military, structure, symmetry, and discipline are the dictates that are mandated to ensure cohesion. Loose canons or odd ducks need not apply. That means yesterday's custom 1972 Ford Mustang would have been 4F, and in fact an overwhelming 97% of you drummed it out of our service for both its ill-conceived presentation and correspondingly egregious price.
While not quite as iconic a military vehicle as the Humvee, or before that, and more appropriately, the Jeep, the Dodge M37 pickup was at one time almost as ubiquitous. Introduced just after WWII, the M37 was a ¾-ton pickup with 4-wheel drive and no-nonsense slab-sided styling derived from the earlier WC half-ton. Over the course of its production life - 1951 - 1968 -over 110,000 were built.
This particular 1951 M37 looks the conscripted part and comes with the simple as Gomer Pyle 230-CID flathead six, New Process 4-speed (synchro in the top two) gearbox, and a New Process 200 2-speed transfer case. Axles are cart-sprung, full-floating front and rear. If you are looking for something deathproof, this just might be your truck.
Also, if you are looking for something that could potentially cause your death, this might also be the ticket, as the ad notes the truck currently has no brakes. But them's the breaks and at least it comes with a hefty bumper-mounted tow bar so getting it home shouldn't be too tough.
These trucks were pretty elemental, but do offer some cool features like split fold out windshields and a grille and light guard sturdy enough to julienne a whole herd of zombies should that kind of shit go down. Before doing that however, you'd want to remember to close those windshields to keep you from getting sprayed with zombie entrails and penises.
Despite the brakes being AWOL, the seller says the rest of the truck runs fine, and in fact it carries a current OK title. You might consider the over-square flathead's 94-bhp too meager an output to move the truck's 5,678 lbs, but that's achieved at only 3,200-rpm making this a perfect mud slogger for either your front line or back forty.
Visually, this M37 seems completely intact - which isn't saying much as there's little to fall off these modestly-equipped workhorses. That parsimonious nature also seems to extend to this M37's asking price as the seller requests but $1,500 in trade. Add to that the required brake work - parts for which are readily available - and maybe a cursory dust-off, and this truck will be ready for military celebrations, car shows, Veterans Day parades, or just looking wicked cool in while maintaining military advantage in the slow lane. Sure the paint is kind of tired, but who cares, it's not like the standard issue olive drab was all that spiffy to start with. But the question remains, cool as it is, should anyone plunk down $1,500 for this '51 Army Dodge?
You decide!
Fort Smith Craigslist or go here if the ad disappears.
Help me out with NPOCP. Click here to send a me a fixed-price tip, and remember to include your commenter handle