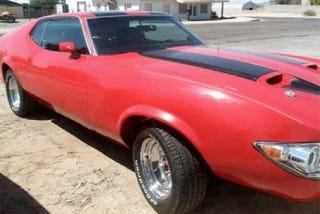 Nice Price Or Crack Pipe
Is this used car a good deal? You decide!
Do you remember the round-cornered scissors you were given in kindergarden, the ones that would snip but couldn't stab? Well, while today's Nice Price or Crack Pipe custom Mustang has been similarly blunted, it'll be up to you to determine if its price manages to make the cut.
Daaaaamn, haters, you're not giving anything a pass this week. I figured a clean E30 with the added advantage of all-wheel-drive would be like a lap dance from a be-thonged sexy unicorn, but a three-speed slusher doomed yesterday's 1989 BMW 325IX to a 78% Crack Pipe loss for both its price and its trouble.
Let's see if we can't cheer you up today.
The 1971 through '73 Mustang stands as the last version of the original Falcon-based platform, and is the largest and features the most exaggerated of that generation's pony car styling tropes.
But sometimes too much is never enough. This 1972 Mustang Fastback features that edition's iconic roofline, fender kick, and muscular hood, long enough for a whole gaggle of Tawny Kitaens to writhe upon.
That however, is all that is left of the original Mustang's styling on this custom pony, each end receiving a new and jarringly rounded cap in replacement of the traditional squared-off and '70s iconic originals.
As noted, the '72 'Stang was a pretty big car, and this one is so much so that it apparently is unable to fit within the confines of a single photograph. That means some of the details - like the source of those headlamp units or whether the grille opening in between them still possesses a galloping mascot - are left to the imagination.
No matter, as the seller does manage to lift up the 'Stang's skirt and give us a peek at its unmentionables, which have been painted in a patriotic red white and blue. You know, come to think of it, a car's undercarriage gets the most and worst kind of road grime - including the final panic excreta of road kill - so maybe painting the gas tank and pumpkin to look like the stars and stripes isn't really all that patriotic but in truth more denigrating. I for one would not stand by and let the flag get shit-sprayed so the first thing I would do with this car is rattle can the hell out of those elements. Respectfully, of course.
The second thing I'd do is try and figure out how to get in the damn thing as the door handles have been shaved, leaving the portals seamless but requiring poppers to open. Hopefully the battery is strong. Next to that battery in the long-long nose is a tarted up V8 sporting a bizarre color scheme and a four-barrel carb. What's the displacement? Who knows, as the ad's not talking.
The 1972 model year saw a significant contraction of available Mustang movers, casting aside both the BOSS 351 HO and 429 engines, and leaving just the 302 and less rabid 351 as V8 checkboxes on that year's options list. Suffice to say, this one likely puts out something in the neighborhood of 200-300 horses. Okay? Okay.
The circus-painted engine is backed up by a three-speed automatic (yeah, sorry 'bout that) with Ford's standard for the era T-handle shifter, uniquely plopped down in an incongruous diamond plate base. Above that sits the optional guage package comprised of three dials and providing room in front of the driver for a tach. Everything else is standard Mustang vinyl everywhere and tower of power dashboard. A Grant 4-spoke does add a hint of Pep Boys to the mix.
The ad claims this car has but 8,000 miles on its clock, which would be amazing if true as who would so heaviliy customize so low mileage an example, no matter if these are some of the least desirable of first-wave Mustangs? Most likely that odo reading is taken from its rebirth as a one of a kind, take it or leave it Custom Mustang.
Considering its uniqueness and general appearance of condition, which seems pretty darn good, what do you think about that $13,400 price tage that the Calabasas CA dealer has set for this Arizona-located 'Stang? Is that a price that should have buyers stampeding in hopes of purchase? Or, does that price make this a horse with little recourse?
You decide!
Hemmings or go here if the ad disappears.
H/T to MissedApproachMN for the hookup
Help me out with NPOCP. Click here to send a me a fixed-price tip, and remember to include your commenter handle