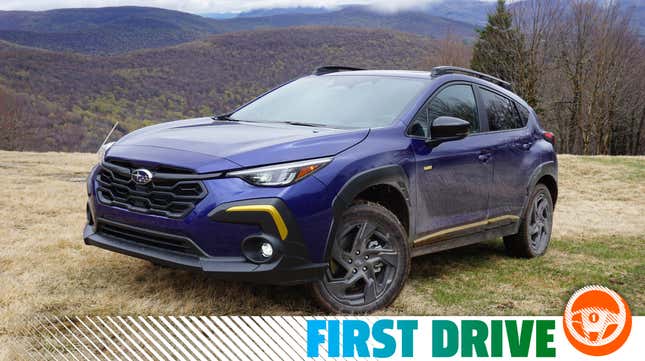 The Crosstrek is one of Subaru's most important vehicles – in fact, it's currently the company's best-seller. Everyone from serious weekend warriors to daily commuters – and the aging Deadheads in between – seem to gravitate toward the Crosstrek, and with good reason. It can cruise comfortably at 80 mph, dawdle around town running errands at slow speeds or traverse up a mountain with the greatest of ease.

Now, if you're thinking, "Wait, didn't Jalopnik already review the new Crosstrek?" Don't worry, you aren't going crazy. Steve DaSilva sampled the 2024 Crosstrek back in March, but he had to make do with the paltry 2.0-liter flat-4 engine that comes in the Base and Premium trims. I, on the other hand, am testing the beefier 2.5-liter engine in the Crosstrek Sport, and with its bigger engine and additional features, it's bound to be just about all the car you'll ever realistically need.
Full Disclosure: Subaru invited me up to a groovy spot in Woodstock, New York, where the company paid for my stay, fed me food and gave me tie dye, all so I could drive a Crosstrek with a bigger engine.
2024 Subaru Crosstrek 2.5L: More Power, More Stuff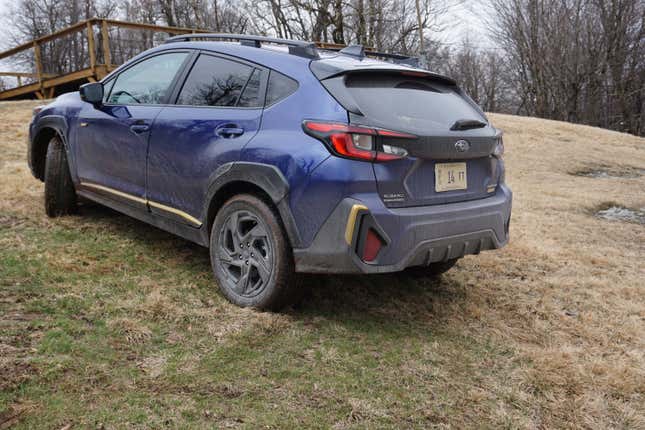 With its larger 2.5-liter engine, the big boy Crosstrek pumps out 182 hp and 178 lb-ft of torque. That's an improvement of 30 hp and 33 lb-ft of torque over the base engine, and both are delivered lower in the rev range than with the 2.0-liter engine, making these small increases more meaningful. Fuel economy doesn't take very much of a hit, either: The 2.0-liter Crosstrek manages 27 mpg city, 34 mpg highway and 29 mpg combined, while the 2.5 is rated at 26, 33 and 29, respectively. It's a tradeoff that's well worth it.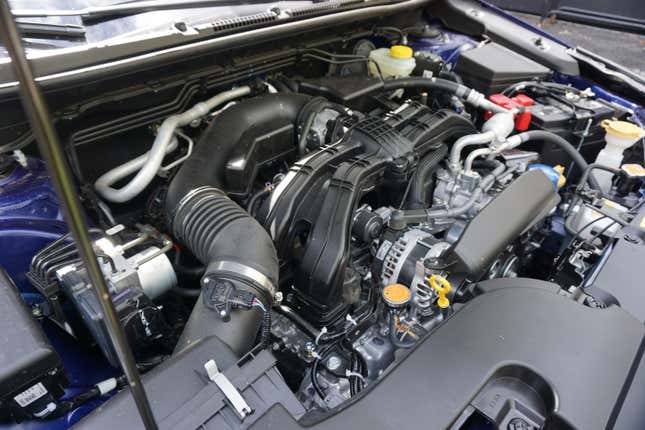 However, there's a catch. Subaru decided to tie the 2.5-liter engine to specific trim levels rather than having it as a standalone option. The Base and Premium Crosstreks get the 2.0-liter engine, while the Sport, Limited and (eventually) the Wilderness get the "big block" motor – as a Subaru spokesperson put it.
That means you've got to pony up a pretty good chunk if you want more power. A Base trim starts at $26,290 (including destination), but the cheapest way to get the 2.5-liter motor is in the Sport, which starts at $30,290 (including destination). Thankfully, this upcharge gets you more than just an engine.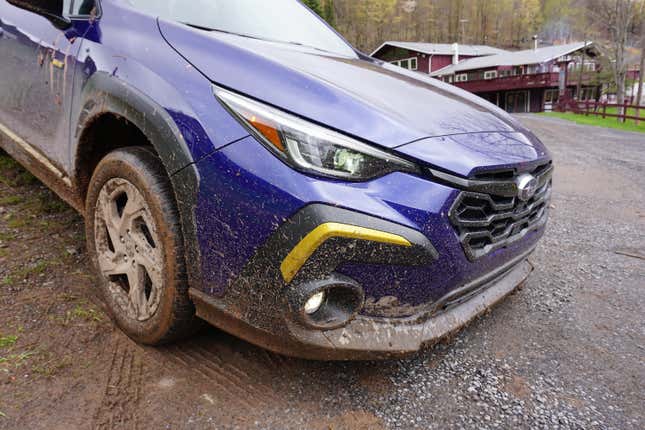 The Sport gets all of the niceties of the Premium model, like steering-responsive LED headlights, Subaru's EyeSight driver-assistance suite with adaptive cruise control, dual-zone climate control, roof rails and an 11.6-inch center screen. Additionally, you get a beefed up X-Mode off-road drive setting (more on that shortly), a wireless phone charger, yellow accents and different LED running lights. If you want to, you can add a power driver's seat, automatic emergency steering, blind-spot detection and a power sunroof for $1,920.

The 2.5-liter engine is standard on the top-of-the-line Crosstrek Limited, which starts at $32,190 (including destination). It comes with everything I mentioned above, with some of the Sport's optional extras as standard. You also get leather, because you're a fancy person. If that isn't quite enough, you can also add a power sunroof, Harman Kardon audio system and navigation.
The Crosstrek Sport On-Road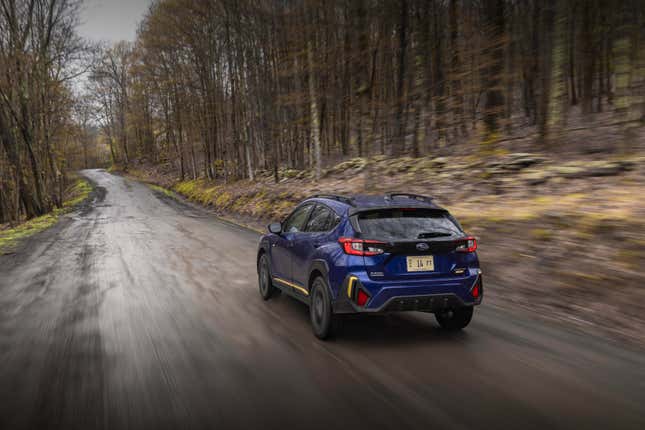 When my esteemed colleague drove the 2.0-liter Crosstrek, he described it as "laughably slow." And while I don't agree with him on much, on this account I am inclined to believe what he says. My 2.5-liter Crosstrek Sport doesn't feel slow, per se, but it certainly isn't quick, either. Still, I really do think the bigger engine – plus all the extra stuff you get – makes the Sport worth the few extra thousands dollars.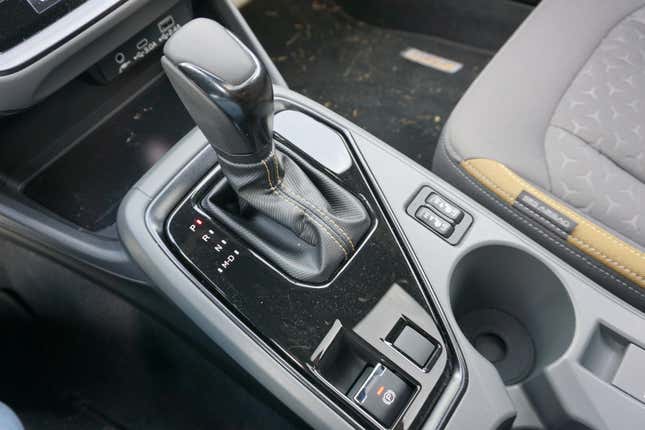 Subaru pairs the larger engine with its fairly well-tuned continuously variable transmission. The CVT is fine; it completely falls to the background. There's very little of that classic CVT drone you get when you mat the throttle, and it doesn't really do any simulated gear shifts, though you can theoretically fake 'shift' the thing with steering-wheel-mounted paddles or by using the gear lever itself. Subaru says this is useful for relying on engine braking while going down steep grades, so I guess I'll allow it.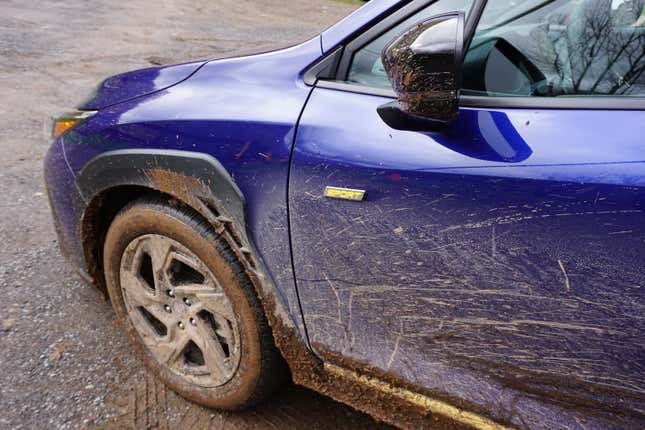 Despite having "Sport" in its name, I can't exactly call the Crosstrek sporty. It does a pretty good job of soaking up bumps and ruts on a less-than-well-kept road, but you get a good deal of roll in the corners. That's sort of to be expected in a vehicle with 8.7 inches of ground clearance – a trait that'll come in handy later.
The steering is a bit of a mixed bag. It's fairly sharp and responsive, and turn-in feels pretty good. At higher speeds, it's nicely weighted thanks to the speed-sensitive electronic rack, but my issue is that you get no road feel through the wheel. To be fair, no one is really buying a Crosstrek to get some sort of mindblowing steering experience, but with a rack borrowed from the WRX, I was hoping it would be just a touch better.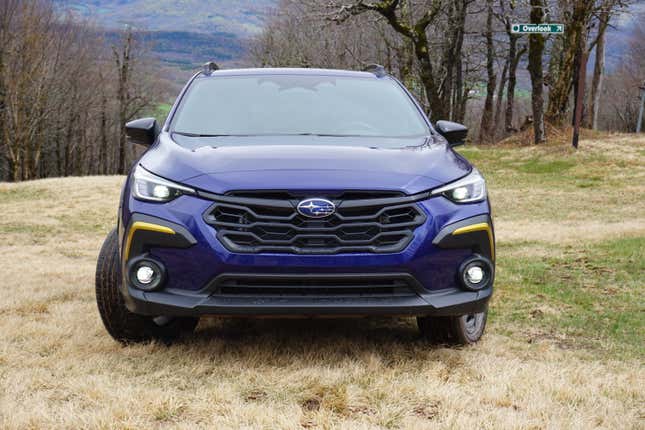 The engine is very well muffled, and so is wind noise, for the most part. You can barely tell there are four horizontally opposed cylinders pounding away a few feet from your ears. Overall, driving the Crosstrek is a very refined experience – certainly more so than the old one.

The Crosstrek Sport Off-Road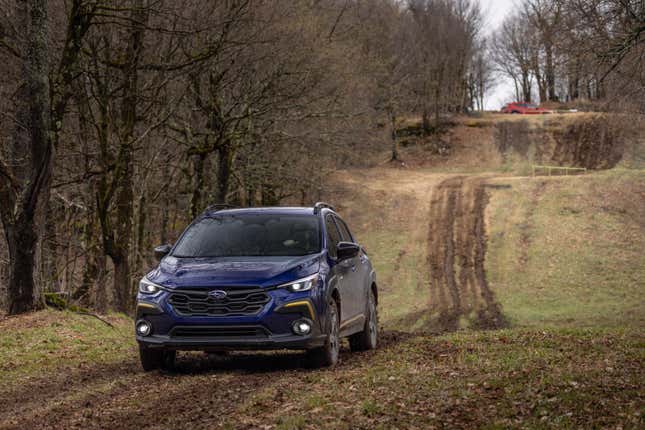 Driving the Crosstrek Sport off road is a revelation. Short of rock crawling, there is almost nothing this little lifted hatchback can't do. The substantial ground clearance and decent tires account for much of this, but credit also goes to Subaru's excellent dual-function X-Mode off-road setting. It gives drivers an extra Deep Snow/Mud mode that is meant for more serious off-roading. Base and Premium Crosstreks have to make due with regular X-Mode that does without this extra programming. X-Mode does a fantastic job of sending power to whatever wheel has the most grip, and is very confidence inspiring. I never fear that I'll get the Crosstrek stuck, no matter how bad the surface or how steep the hill.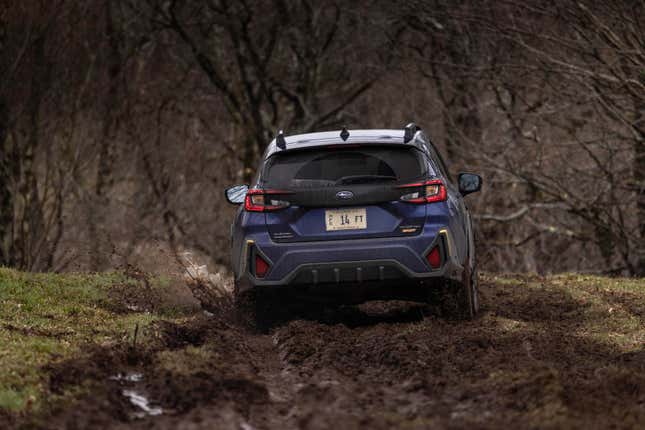 Equally, the Crosstrek Sport does a great job of going back down a hill, its descent control making sure the vehicle is able to maintain a constant speed with very little slippage – even on Subaru's muddy, slippery test course. The Crosstrek Sport is a billy goat, and I'm confident it'll do great in deep snow, too.

Inside the Crosstrek Sport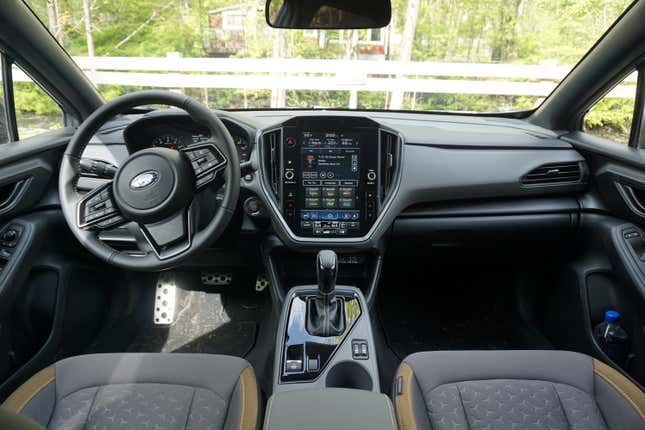 The Crosstrek's interior is standard-issue Subaru. The whole cabin has a very durable, well-built feel. I would never go so far as to call the Crosstrek luxurious – even the Limited – but it's nice. You get the feeling that you could beat the thing to shit, get it covered in mud and let your dog scratch everything up, and it'll keep on kicking.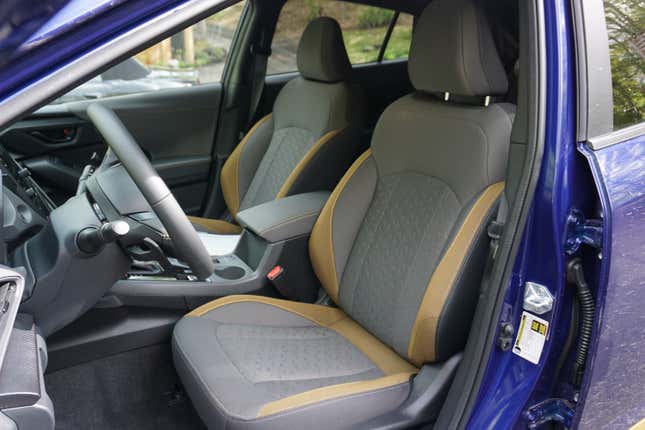 Throughout the Crosstrek, there's a refreshingly nice amount of physical buttons, knobs and switches for things like volume, tuning, defoggers and climate controls. You even get physical heated seat buttons – the same ones I believe Subaru has been using since the dawn of man.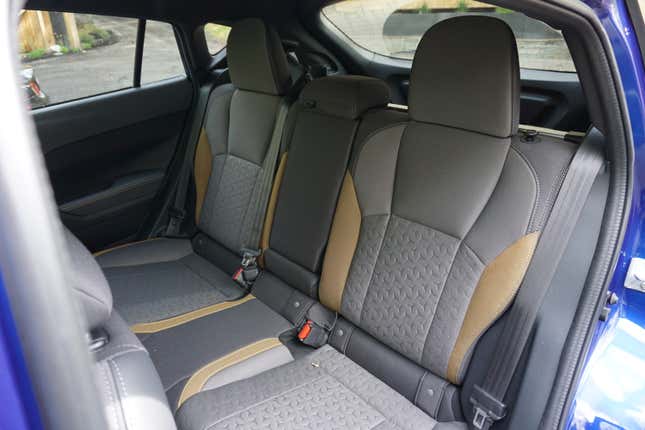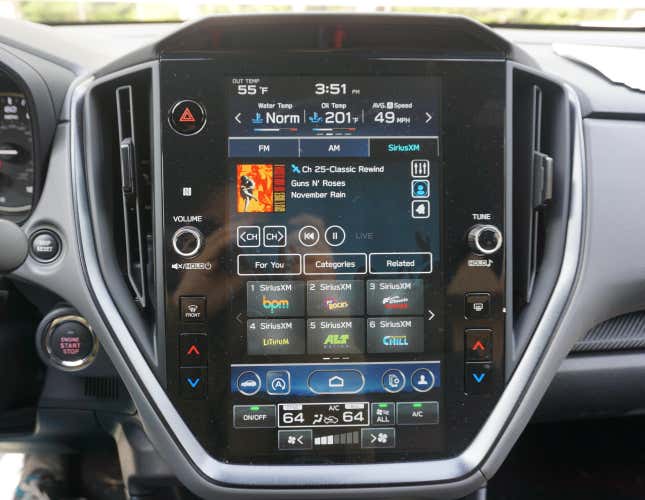 On the subject of the seats, they're fantastic. Subaru says these chairs are designed in a way so as to limit head sway – something that causes a lot of motion sickness. And I don't know if it's just a placebo effect, but I feel great driving this thing. As someone who is deeply prone to motion sickness – even when driving – I feel totally fine in the Crosstrek. The front seats really just hold you in nicely without being overly aggressive or stiff.
Unfortunately, the Crosstrek's readouts and screens are a bit of a mixed bag. The gauge cluster has a large speedometer and tach, and two smaller readouts for engine temperature and fuel. These are wonderfully clear and uncomplicated, and so is the small digital display between them that can show speed, gas mileage, a trip computer and driver assist information.

That's all great, but the 11.6-inch vertical center screen sucks. Subaru will tout that it's the biggest display in the Crosstrek's class, but it's certainly not the fastest, clearest or most responsive. Sure, there are some physical controls, but way too much stuff is still baked into the screen. It isn't very difficult to navigate, but you've got to take your eyes off the road a lot in order to get the hang of this infotainment system.

Summing Up The Crosstrek Sport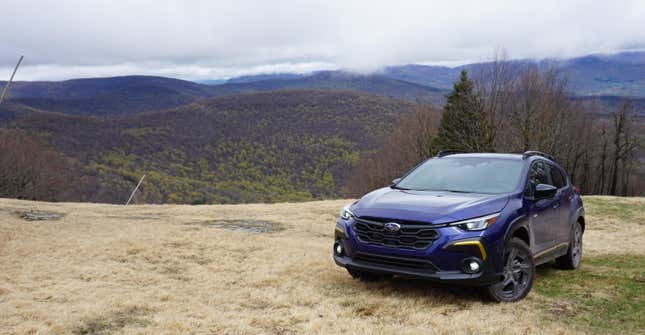 Even with its faults, the Crosstrek is a great car – provided you get the correct engine. While the 2.0-liter motor will probably get the job done, you're really going to want to spend that extra bit of cash and go for the 2.5-liter, not just for the power, but for all the extra amenities.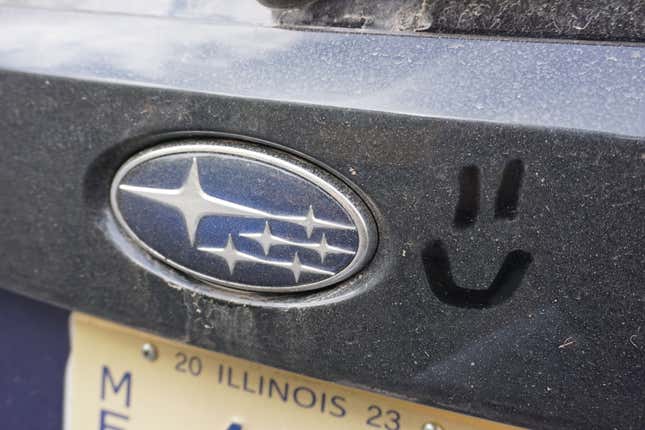 The 2024 Crosstrek Sport is a vehicle meant to get you anywhere you want to go, and honestly, it makes that whole trip a pretty good deal of fun. Are there more engaging cars? Sure. Are there ones with even more capability? Absolutely. How about ones with more luxurious interiors? You betcha. But few cars are able to combine as many wonderful traits into a package that isn't going to break the bank.
2024 Subaru Crosstrek Sport CVT Specs
Engine type
Regular Unleaded H-4
Transmission/Drive
CVT w/OD