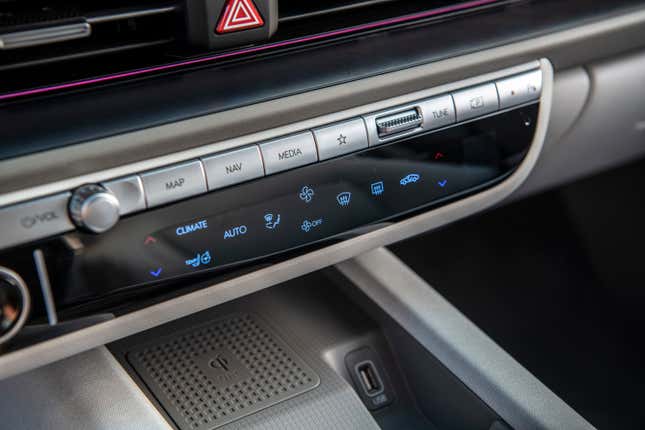 The last few years have seen automotive screens explode in size. It seems like there is a screen-size arms race. Data from the IHS Markit shows the average size of a vehicle screen was 7.7 inches in 2018, and it's now expected to average 8.4 inches by next year. With those bigger screens come fewer and fewer physical controls; digital controls buried in menus are now the norm in many vehicles. Some owners may find this annoying. But Hyundai is defying that trend, as pointed out by Australia's CarsGuide.
Behold the Splendor of the Hyundai Grandeur
In case you missed it:
Hyundai's head of design Sang Yup Lee spoke at the introduction of the new Kona and revealed something surprising: Hyundai purposely puts physical controls in its vehicles as a safety measure against digital controls. There are physical controls even in its most luxurious models over at the Genesis brand.
"We have used the physical buttons quite significantly the last few years. For me, the safety-related buttons have to be a hard key," Lee said. Hyundai specially chooses to focus on physical controls for climate controls and the radio.

The company's reasoning is simple. Lee said that Hyundai chooses to keep physical controls simply because digital screens can be a distraction for the driver. Having to look away from the wheel to dig into some menu just to change the satellite radio station is dangerous. Lee spoke to the point of using one's senses with physical controls.
"When you're driving, it's hard to control it. This is why when it's a hard key it's easy to sense and feel it," he said.
As far as the future is concerned, Lee said Hyundai is committed to maintaining physical buttons, at least until its autonomous vehicles roll out. He said that Level 4 autonomy would come with soft key controls, buttons that can be programmed to have multiple functions rather than controlling a single function. So while it's better for designers to have a clean interior that's devoid of buttons, automakers take note and follow Hyundai's example, people want buttons in cars.