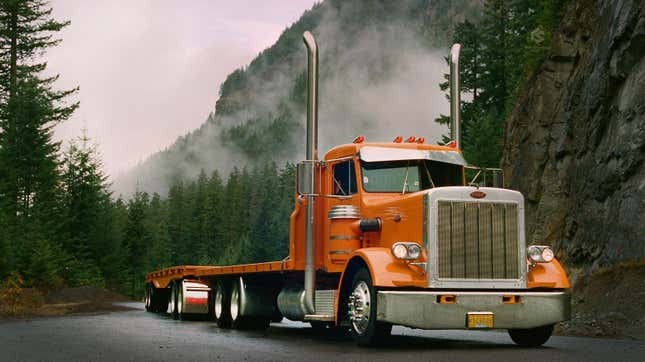 Roger Snider started his photography career with capturing images for fashion ads. But about 15 years ago, he began taking photos of decked-out big-rig trucks — first in Japan, and later in the U.S. His work caught the attention of National Geographic, which inspired him to track down the most beautiful big-rigs on earth for a photography project that's been going on since 2005.
This actually isn't the first time Snider's tractor-trailer photos have graced the pages of Jalopnik. Back in 2014, we wrote about Chrome and Elegance, a 12-month photo calendar of big rigs modeled after Peterbilt promotional materials from the 1960s, when the truck-maker would pose models in formalwear next to the latest commercial trucks.
Snider has graciously supplied a selection of his favorite big-rig photos for Jalopnik to present to you here. For even more, including fantastic behind-the-scenes images, check out Snider's website here or follow his truck-focused Instagram, Roger_Snider_Rigs. And big rigs aren't the only vehicle Snider is fascinated by: He's currently seeking subjects for a new photo series on pre-2004 Toyota trucks around the world, modified for specific lines of work. If you've got such a truck, or you're interested in hiring Snider for a photo project, contact the artist here.
From here on out, we'll let Snider explain each photo in his own words.