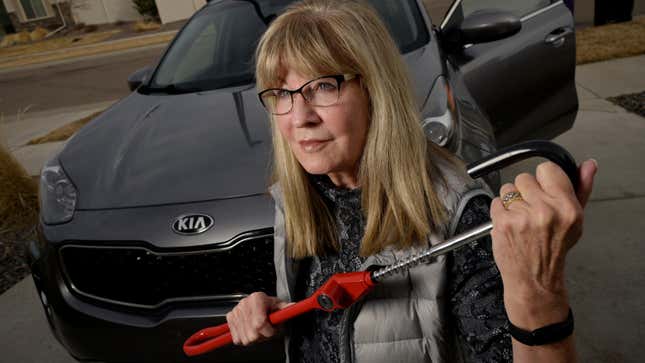 Hyundai Motor Co., parent company of Hyundai and Kia, is reportedly going to distribute free steering wheel locks like it's 1999 in response to thefts that were popularized on the viral video network TikTok. The free steering wheel locks are being given away in addition to an upcoming update to anti-theft software in 3 million Hyundai and Kia models, according to Bloomberg.

In case you missed it:
Hyundai has already rolled out the anti-theft software upgrade to one million vehicles, but millions more of the affected vehicles are pending the upgrade, which is due out in the coming weeks. The software upgrade is free, and so are the steering wheel locks, although that may be little consolation to the many Hyundai and Kia owners who've been denied auto insurance policies or those who've had their cars stolen.
Hyundai struck a conciliatory tone in a statement and added that these widespread thefts have been encouraged by social media, per Bloomberg:
"We thank the Attorneys General for the opportunity to let them know what we have done and will continue to do to combat this rise in car theft and the role social media has played in encouraging it," Kia said in its statement.
That could be a, more or less, generous reading of the situation with Hyundai taking little credit in its role throughout the whole debacle; the thefts may have been "encouraged" by social media, but there's no getting around the lack of immobilizers in affected models. To be fair, Hyundai and Kia say this common anti-theft feature has been standard on all models since November of 2021. The company may have been splitting hairs here, however, since that date seems to correspond to production date. Meaning engine immobilizers were standard on all 2022 model year vehicles.
Despite the engine immobilizers in late model year Hyundais and Kias, the videos of thefts from users inspired by the "Kia Boys," among others, went viral last year, picking up steam as users chased social media clout by...allegedly breaking into and stealing people's cars. In New York City alone, police say they arrested 109 suspects for thefts of certain Hyundai and Kia models. And in Mecklenburg County, North Carolina, police claimed that 80 percent of all vehicles stolen in [the] district last year were Kia or Hyundai models."

A handful of states and municipalities in the U.S. considered suits against Hyundai due to the thefts, and the South Korean automaker issued a so-called fix to address the issue. Hyundai is currently still trying to clean up the mess caused by the lack of immobilizers in affected models, which were reportedly stolen by thieves using a USB cable connected to a port, or opening, on the steering wheel column that overrides the vehicle's anti-theft security.
Hyundai says it's already given away over 23,000 steering wheel locks and will reimburse anyone who's already bought one. It's not ideal, but that staccato clack of the wheel locks might be the best owners can do until Hyundai and Kia find an additional or more permanent solution for the affected models.