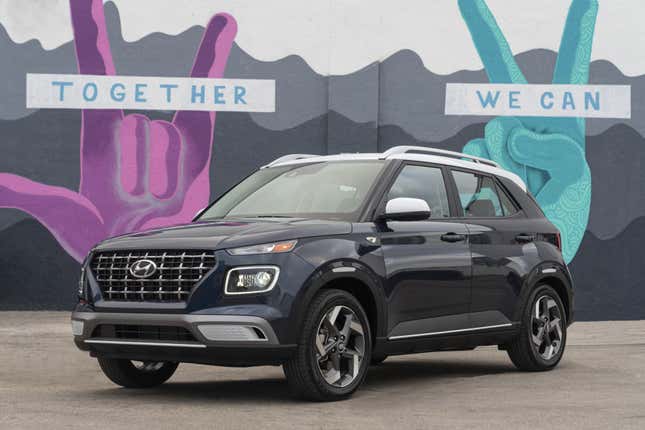 Editor's Note: This article was originally published on Tuesday, February 14th, 2023, at 2:20 PM EST. It has since been updated with clarifying statements from Kia, Hyundai and State Farm.
I can only imagine what it was like in the room when top Kia and Hyundai executives got together to discuss a viral social media challenge that not only showed people how to steal your cars, but encouraged people to do it.
Now, after months of scrambling around and offering half-measure fixes (some of which the companies charged owners for), a new software update is being offered for free on select models starting on Tuesday, according to an announcement made by Hyundai.
In case you're not up on viral TikTok car theft challenges, basically, someone found out it was possible to steal a huge swath of late-model Hyundais and Kias in the U.S. and Australia with little more than a USB cable. This was possible thanks to the lack of an engine immobilizer being installed in the cars from the factory.
Hyundai and Kia's new software update is a workaround for the immobilizer. It requires the vehicle to be unlocked with a key fob, which defeats a software "Ignition Kill Mode" and allows the owner to start the vehicle. This isn't unlike the immobilizers Ferrari used on the 360 Modena, but this issue affects cars produced up to 2021.
Prior to this free update, Hyundai offered a security kit for owners of affected vehicles that they had to shell out $170 for, plus the cost of installation, which was around 2.5 hours of labor at a dealer, bringing the total to upwards of $500. If that sounds like kind of a shitty thing to do, it is. We asked Hyundai representatives whether or not there were plans to reimburse these owners who paid for the fix. According to a Hyundai representative, that's not currently in the cards, but that could change later.
The free software update is being rolled out in stages, with the initial release on Tuesday focusing on the highest-selling Hyundai models. These include the 2017-2020 Hyundai Elantra, the 2015-2019 Sonata and the 2020 and 2021 Venue. Other models will come later, including ones from Kia, with a grand total of around 8 million vehicles being eligible for the new software.
Kia hasn't released its schedule publicly, but we spoke to Kia's head of PR in the U.S., James Bell, who confirmed that the rollout has been underway for about a month. Kia started with the small group of K5 models without push-button ignition and is moving up the ladder from there, with the Sportage being the most recent addition.

While this software update is surely good news for owners of these cars, we were also curious how this would affect the decision by State Farm and Progressive (among other insurance companies) not to issue new policies for these vehicles in some markets. We emailed State Farm's media relations department to see if there were plans to reinstate these vehicles' policies or if it was going to wait and see if the fix works as well as Hyundai seems to think it will. State Farm said that it's monitoring the situation closely, and will adjust its policies as necessary. It's hard to say what that means for owners, but Kia is working with insurance companies to get things going again in this department.
Hyundai does state in its press release that some vehicles produced between 2011 and 2022 aren't compatible with the new software. Hyundai claims it will reimburse people for steering wheel locks (read: The Club) for these models. While getting that money back is a good thing, it still leaves owners in a bad place in terms of security, insurability and resale value.
Do you own one of these vehicles? If so, are you going to keep the car once you get the software update, or are you going to hope that the fix increases your car's value slightly and try to sell it off? Let us know in the comments.