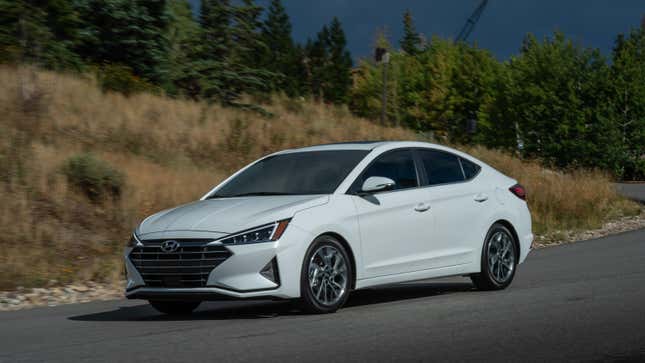 Hyundai and Kia's thefts are still happening. What started as a dumb social media stunt has exploded into a full-blown theft epidemic. The Korean automaker has done little to help aside from horrible rollout of a theft deterrent system by Hyundai, and threats of class action suits haven't lit a fire to fix the problem. Now, even if people still want to buy the cars, despite the above, they can't insure them. The St. Louis Dispatch reports that residents in the Missouri city area are finding that major insurance companies won't cover them if they own a Hyundai or Kia, and existing policyholders face rising premiums. Update: Hyundai shared a statement with Jalopnik after publication; see below.
Thefts of Hyundais and Kias in the St. Louis region have exploded since 2022. In the city itself, thefts increased from 273 to 3,958—an increase of 1,450 percent. Thefts in St. Louis county aren't far off going from 140 to 1,621—an increase of 1,157 percent. Of course, insurance companies have taken notice. Residents who own Hyundais and and Kias that try to get a quote online are hit with denial messages. And its not from some small potato insurance company either. No, national companies like State Farm and Progressive are the ones denying coverage. From the Dispatch:

Progressive automatically issues a denial message: Based on the vehicle's make and model, and high theft rates in the area, the company is unable to offer a policy.
A spokesperson for Progressive told The Dispatch that owners in any other part of the country that has high theft rates would get the same denial message.

Owners who already have insurance coverage on Kias and Hyundais are facing quickly-rising insurance premiums. One resident who owns a 2016 Kia Soul found out his premium with American Family Insurance was $150 more for six months than when they bought it new. This locks owners in a bind they cant get out of: stuck with high premiums with their existing insurance, but unable to change insurers because most other companies will deny them.
Another owner who drives a 2020 Hyundai Elantra saw his premium go up $200 even though is car is a keyless ignition.
Maplewood resident Jay Zunich said the six-month Geico premium for his 2020 Hyundai Elantra went up by about $200 when he renewed the policy in December — from about $600 to $800.

"My first thought is, 'Holy cow that's outrageous,'" he told the Post-Dispatch. "So I start shopping around."

He, too, was denied by Progressive. Other companies quoted him rates as high as $350 a month for his car, even though his Elantra is a push-start and cannot be stolen the way as key-start models.
Despite the Missouri's Insurance Consumer Affairs Division being aware of the situation, the division hasn't taken action against the companies. "Our department is monitoring the situation and working diligently to ensure that the business decisions comply with the Missouri insurance laws and regulations" a spokesperson for the division said.
While I'm sure it's frustrating for these owners, the sad part is that what the insurance companies are doing isn't illegal due to the risk of the thefts, which again is insanely high in the area. Every state has different reasons as to why a company can deny coverage. But if the reason isn't forbidden by law, these companies can deny coverage for any reason, including thefts that are beyond the owner's control.
Update: After this article was published, Hyundai contacted Jalopnik with the following statement:
Hyundai Motor America regrets this decision by insurers and its impact on select Hyundai vehicle owners and lessees, which we anticipate will be temporary. Engine immobilizers are now standard on all Hyundai vehicles produced as of November 2021 — and have long been standard equipment on all Hyundai vehicles with push-button ignitions. Additionally, Hyundai has taken a series of actions to reduce the claim frequencies associated with affected vehicles, including an upcoming software update, which will be available beginning next month and provided at no cost to customers.
Hyundai is also providing free steering wheel locks, as available, to select law enforcement agencies across the country for distribution to local residents who own or lease affected models. Owners may also bring their vehicles to a local Hyundai dealer for the purchase and installation of a customized security kit. We apologize for the inconvenience to affected customers.