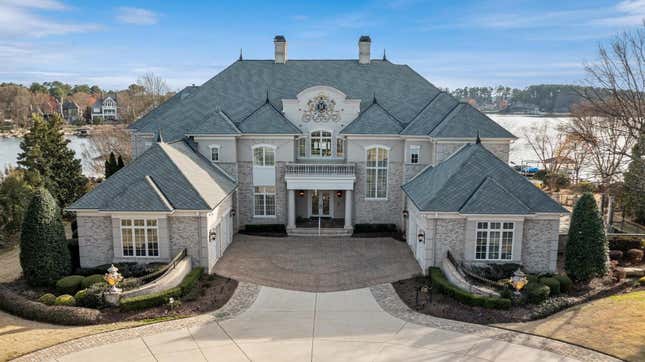 If you were a teenage guy in 2006, there's a good chance that Talladega Nights was the funniest movie you'd ever seen. You probably constantly quoted it with your friends when you weren't busy referencing South Park. Were you supposed to want to be exactly like Ricky Bobby? Not at all. But if you still dream of living his life and happen to have a spare $10 million laying around, you can now buy the house they used in the movie. But you really shouldn't because it's awful.
The Drive found the $9.9 million house listed for sale in Cornelius, North Carolina, which is about 20 miles north of Charlotte and only a short 10-minute drive from Lake Norman Chrysler Dodge Jeep Ram. So yes, it does come with lake access, but it also comes with absolutely no taste in the design whatsoever. From the front, you see more roof than house. And it's so close to being symmetrical, the actual lack of symmetry is irritating. Why? Why would anyone want that?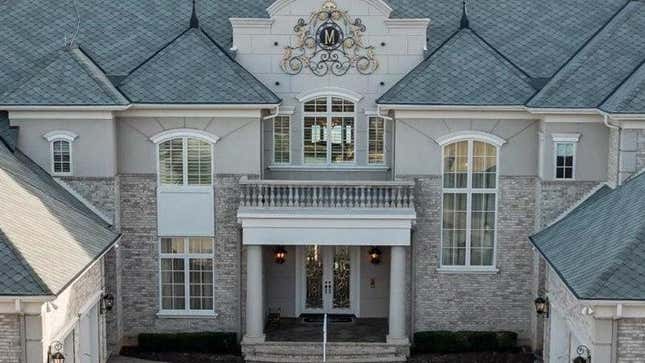 Since it's a McMansion, of course, it's got to have columns. They're small, but they're definitely there. And what even is that giant medallion thingy over the windows above the probably-not-useable balcony? Ugh. We haven't even gotten inside the house yet, and I'm already mad. I'm also mad at myself for dropping out of architecture school before I learned all the technical terms for everything I hate about this house. But I do still have my Best in Freshman Studio award, so at least that can comfort me a little.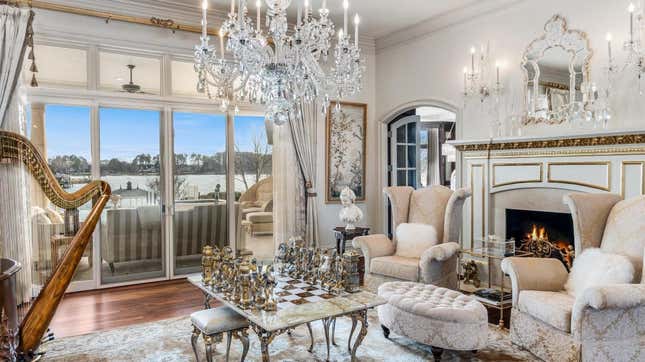 Once you do make it inside, guess what? It gets worse. There's no telling how much of the decor is staged by the realtor and how much actually belongs to the owners, but it's all so bad, I don't really care. "We should get a harp no one plays just to have it," isn't really any better than, "This house looks like the owners would randomly toss a harp in here. Let's get one for the showing." And I don't even have the time to talk about all the gold and chandeliers in the place.
Ugh. And the kitchen? There isn't a chance in hell that anyone has ever so much as microwaved leftovers in there. The sink, refrigerator, and range are all laid out wrong. But at least it's got that oh-so-desirable pot filler over the stove to make it easier to fill the pots no one is ever going to use. Cooking and leftovers are for the poors who can't afford to eat at the country club every night. Or order a formidable shitton of KFC.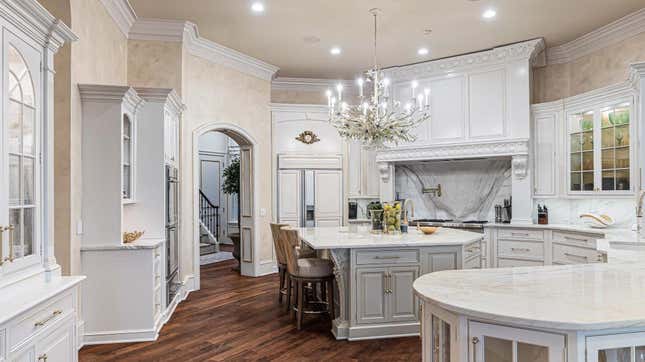 And yet, somehow, the most obnoxious part of the listing might just be all the Warner Bros. and Universal logos displayed on the various TVs throughout the six-bedroom, nine-bath monstrosity. Or wait, is it the weird chapel room? Also, why is there carpet in the weird chapel room? That's just asking for communion wine stains. Every time you click on the next photo, you discover something new to hate, which is almost impressive.
As much as I hate this house with every fiber of my being, I do have to say, the location department absolutely nailed their pick for where Ricky Bobby would live. He and Carley absolutely had way more money than taste, and if they were real, they would have happily lived here. Not that any of the current decor would have lasted more than 10 minutes with Walker and Texas Ranger in the house.