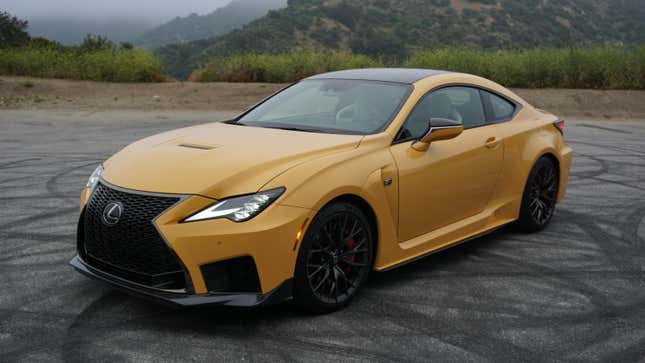 The 2023 Lexus RC F isn't a great car. It's outdated, heavy and slow compared to its competitors. But it's not all bad. Pop the hood and you'll find the RC F's saving grace: a magnificent 5.0-liter naturally aspirated V8 engine. Step on the accelerator, hear the engine's low burble turn into a high-pitched yell, and all of a sudden you don't care about the RC F's flaws anymore.
Full Disclosure: Lexus lent me a 2023 RC F with a full tank of gas during a weeklong trip in Southern California.
2023 Lexus RC F: Driving and Powertrain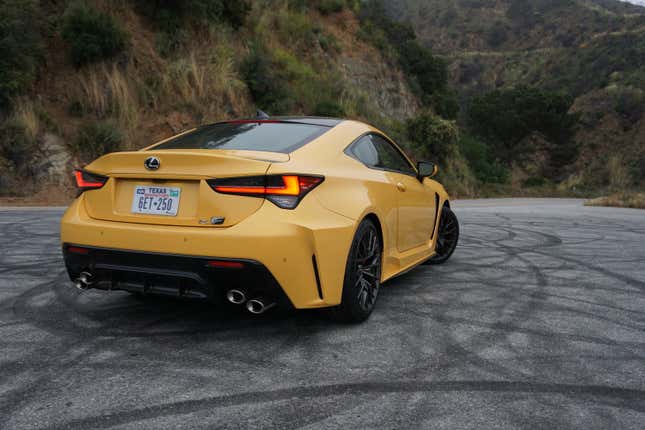 Clichés about an engine dominating the experience of a car are thrown around a lot, but I promise you, in this case it is not hyperbole. From the moment you press the lovely feeling start button and the 5.0-liter V8 roars to life, you know this engine means business, but not in the way you'd expect.

The motor puts out 472 hp and 395 lb-ft of torque, which aren't numbers to sneeze at by any means. But in a car that weighs 3,900 pounds, it isn't really enough to make it quick or outright fast. Of course, the RC F isn't slow compared to most everyday vehicles, but a BMW M3 or Mercedes-AMG C63 will definitely steal the Lexus' lunch money without much of a fight.
The RC F might not have the straight-line speed or cornering ability of its rivals, but its V8 has such a wonderful character that it's hard not to be smitten. Sure, you really have to wring it out to get the full experience, and there's not much power down low in the rev range, so driving around town isn't all that exciting. (The exhaust baffles don't open up until you crest 3,000 rpm.) But the sound this thing makes near its 7,200-rpm redline is music to my ears.
The RC F is not an all-out track star, but on a beautiful Saturday morning drive, it's lovely. The steering is very nicely weighted and full of feedback, though not the quickest unit in the world. Sharper turns require more hand-over-hand action that you'd probably want; the RC F is much better suited for long sweepers.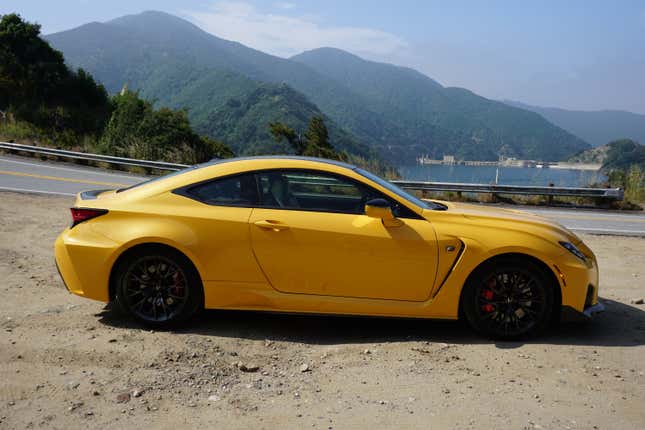 The chassis is a bit of a mixed bag. The RC F definitely favors understeer, and it can get a bit unsettled on a bumpy surface, but if you give it some juice mid-corner, it'll come around rather nicely. At its heart, the RC F is a cruiser that can have fun on a winding backroad. This is not a razor-sharp sports car.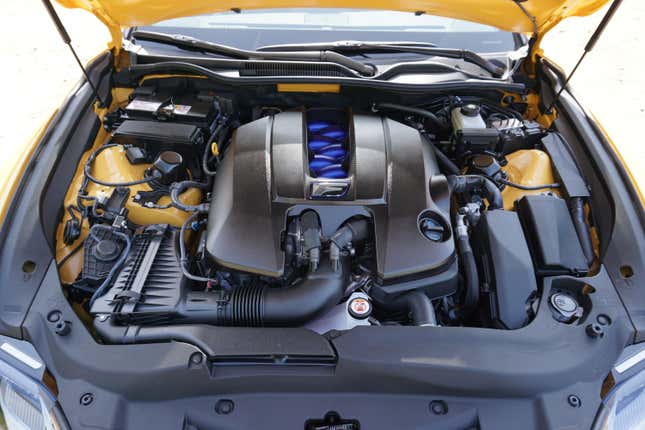 There is but one issue with the RC F's drivetrain: its eight-speed automatic transmission. It's slow to shift when you're not going all out, and does not like to downshift on its own in automatic mode. You've got to give the throttle a real boot-full if you want the gearbox to kick down. Like much of the RC F, the transmission feels like a product of days gone by. I guess you could say that it gives an otherwise refined driving experience a bit of imperfect character.

Inside the RC F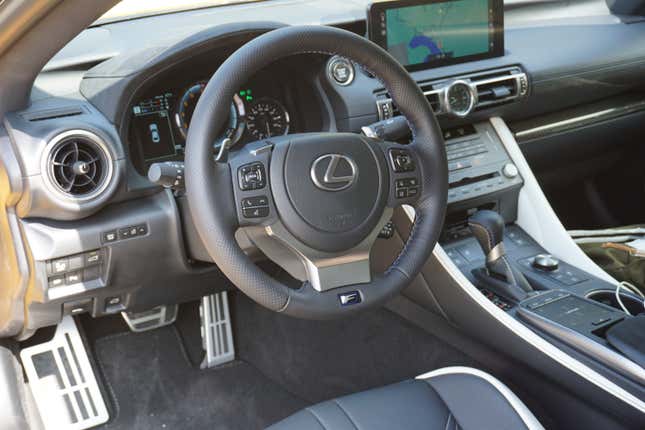 The RC F's cabin is typical Lexus, which is to say it is supremely well-built, but you've got to be willing to look past technological shortcomings. The overall fit and finish feels sturdy and premium, and for the most part it also looks more interesting than the interiors of other vehicles in its class. There's plenty of leather, carbon fiber, suede and real metal inside the RC F that will almost make you think it's worth its $91,210 asking price (including $1,150 for destination). It's definitely an old design at this point, considering the fact this car first came out during the Obama administration, but it's a design that has aged very well, all things considered.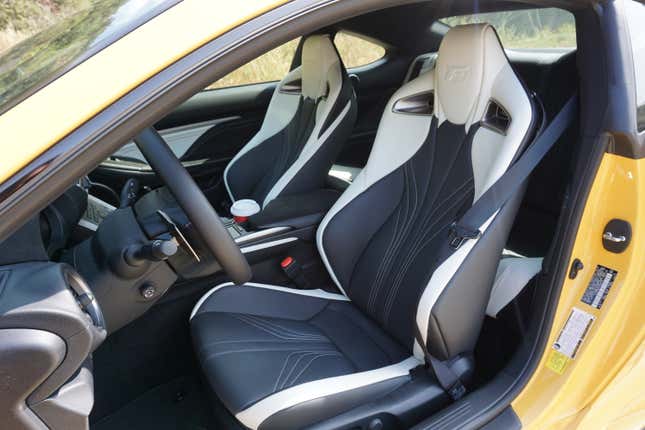 The front seats are especially wonderful. They've got an excellent amount of support, aren't too tight for my wide hips, and on top of that, they look fantastic. There's no doubt that my test car's white leather will end up getting dirty, but if you just dropped over 90 grand on a car, you can probably afford to have a detailer on standby.
Rear seat occupants get their own air vents, a couple of cup holders and little else. Much to my surprise, a real adult person can sit back there for semi-extended periods of time. My buddy Sarah is 5 feet, 6 inches tall, and she was able to get back there just fine. I wouldn't recommend throwing someone back there for hours on end, but in a pinch it'll get the job done.
The RC F's Outdated Tech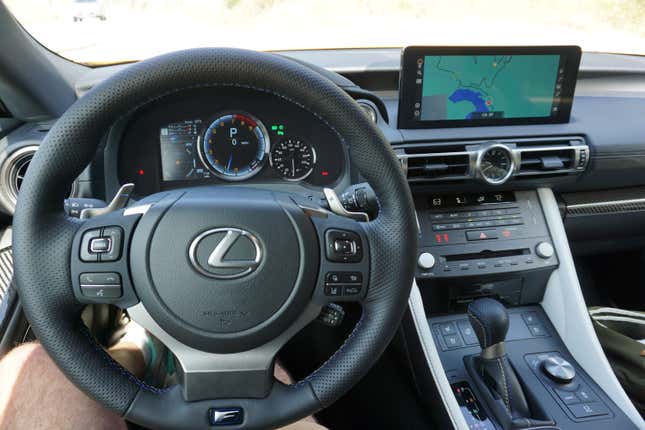 I'll cut right to the chase: None of the technology inside the RC F feels like a product of 2023. If tech in your sports car isn't important, then it isn't much of an issue. But for this amount of money, I expect a lot more.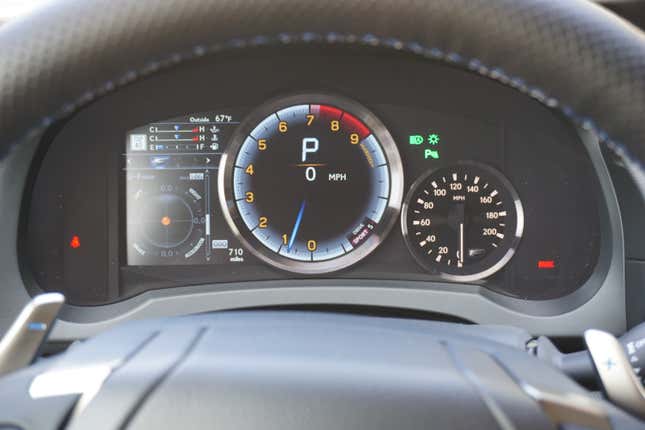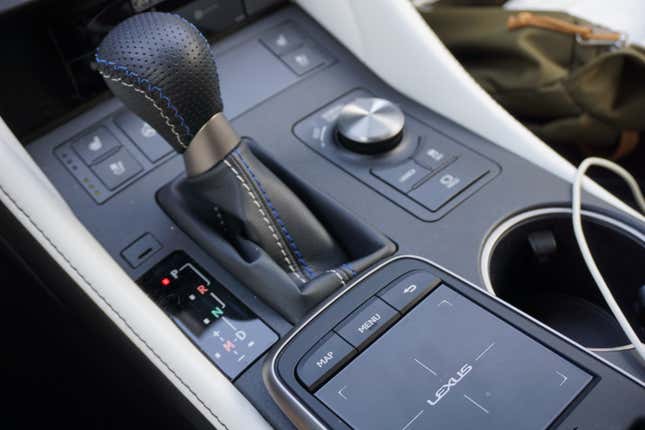 Now, to be fair, Lexus at least updated the RC F's tech roster for 2023. Drivers now have a touchscreen in the center that can be used instead of Lexus' awful trackpad. But still, this infotainment system doesn't exactly feel cutting edge. It's not very quick to respond to inputs and it isn't very customizable. It does come with Apple CarPlay and Android Auto, but through a wired connection only. Oh, and that wire is USB-A only.
The RC F also has weird stuff like capacitive touch controls for the cabin temperature and a completely redundant set of climate controls baked into the infotainment screen. There's also a bizarrely small speedometer and gauge cluster graphics that look, again, more at home in a car from the past. That being said, the center tach is all digital and a throwback to the LFA, so that's pretty neat.
Looks and A Big Option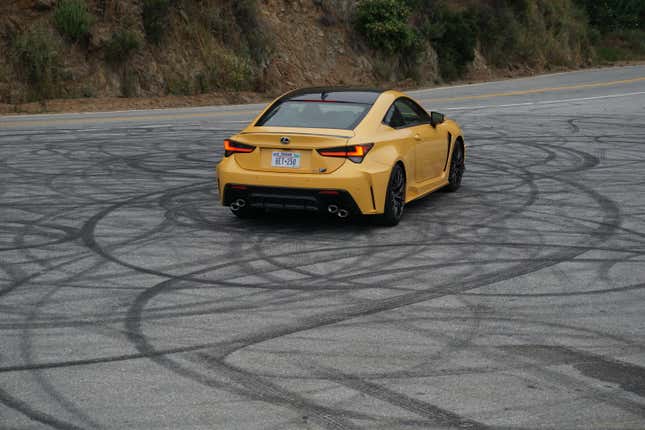 The RC F's design may be the better part of a decade old, but for the most part it has withstood the test of time. I will say that my tester's optional $595 Flare Yellow paint goes a long way to making the RC F look special.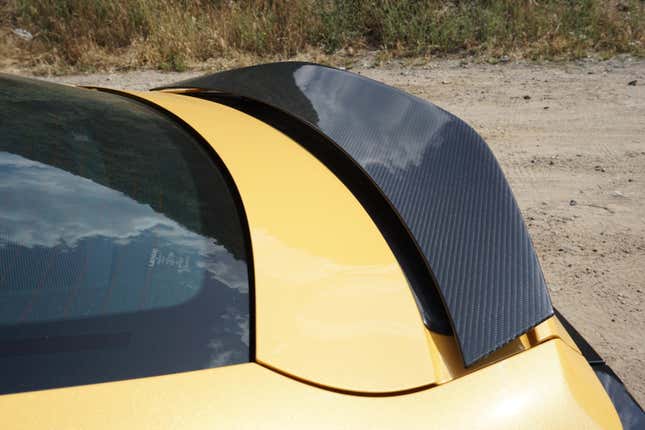 The other thing that sets my RC F apart is the Carbon Package. For $17,775 (yes, you read that right), your RC F gets a carbon fiber roof and rear bumper, carbon fiber aero bits and a retractable carbon fiber rear wing that'll deploy and let everyone know you're speeding. You also get 19-inch matte black wheels wrapped in Michelin Pilot Sport 4S tires, and inside, this expensive package adds some carbon fiber trim, heated and ventilated front seats and a heated steering wheel with a power column. So yeah, I guess you get a lot of stuff for the money, but wow does it completely biff up the price of the RC F.
Figuring Out The Lexus RC F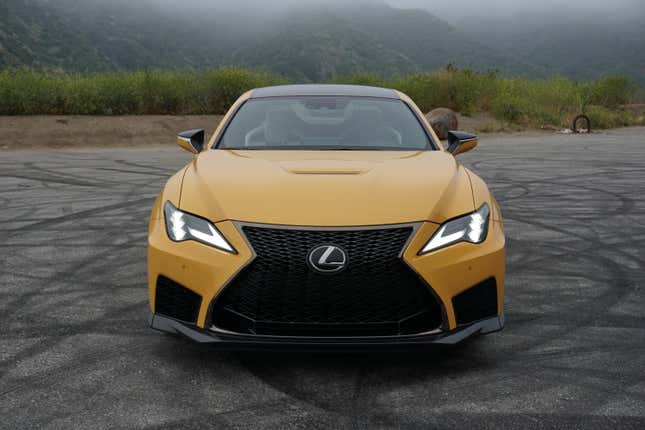 The RC F starts at $66,695 if you want a bare-bones example. And at that price – which is about $10,000 cheaper than a base BMW M4 – I think it makes a lot of sense. Hell, even if the RC F cost $75,000, I could probably wrap my head around that. It's really well made and it has one of the most wonderful engines I've had the pleasure of experiencing. However, with the Carbon Package, the special yellow paint and a handful of other little options, the RC F I tested costs $91,210. That is simply too much money for this car.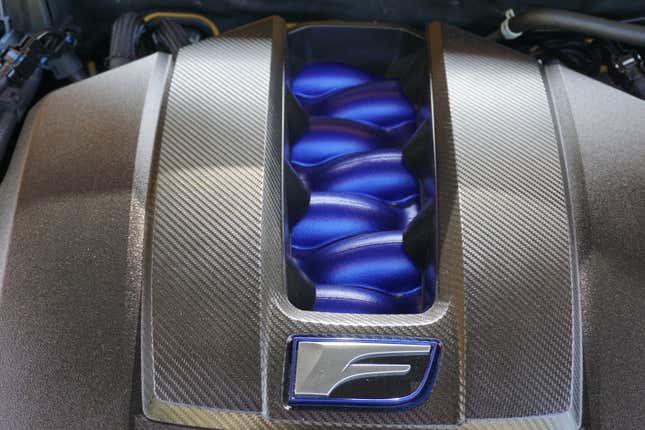 My real issue is that, at 91 grand, you are pushing up on Lexus LC 500 territory. A base LC 500 will set you back $98,850 (including destination). If you've got $91,000 to spend on a car, you've also got $99,000 to spend on a car. Plus, with the LC you get far better looks, a more modern interior and a better transmission – all with the same great V8 engine.
2023 Lexus RC F RC F RWD Specs
Engine type
Premium Unleaded V-8
Transmission/Drive
Automatic w/OD