You know, my co-worker Travis said something recently that really stuck with me. (Not when he said "Stop selling cigarettes to minors," because he's just jealous my side business is so successful.) It was in his 2015 BMW M3 review, where he basically said you can either have the M3 or the M3 fighter.
Maybe that's true, but we live in a world where the M3 fighter is better that it's ever been. And right now, arguably the very best M3 fighter is the new Lexus RC F, which has two more cylinders, about 40 horses, and a much cheaper loaded price than the BMW. But it's also considerably heavier.
Numbers can only tell you so much, though. How does it feel? That's what Matt Farah sought to find out in the latest /DRIVE video, which features a test of Lexus' newest sport coupe at Monticello Motor Club.
In short — it's very, very good. It's a sharp handling carbon fiber beast with a wonderful naturally-aspirated 467 horsepower V8 engine and lots of sweet tech. Its considerable performance is accessible, and it's easy to drive at speed. It also sounds pretty damned fantastic.
G/O Media may get a commission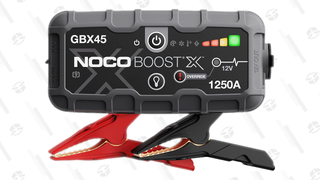 13% Off
Noco Boost X GBX75 Jump Starter
Is it better than the M3 and M4, though? Farah says he isn't sure, but he does think the Lexus is better than the outgoing C63 AMG and Audi RS5. Considerable praise for a car from a luxury brand that has — save for a few notable exceptions like the LFA and last IS F — not really been known for performance.
So yeah, I think the RC F probably is the best M3 (and also M4, you know what I mean) fighter there is right now. But this kind of prompts the question of whether that's good enough. Wouldn't you rather have the target it's designed to fight in the first place?
From all I've heard of the RC F, it's a car you'd enjoy driving every day and would probably never regret purchasing, whether you're in normal driving or on a track. But it's not the best in the segment. And I have to wonder if anyone will make a car that truly surpasses the M3 in every way and becomes the new standard.
The full video is below if you're a /DRIVE+ subscriber.