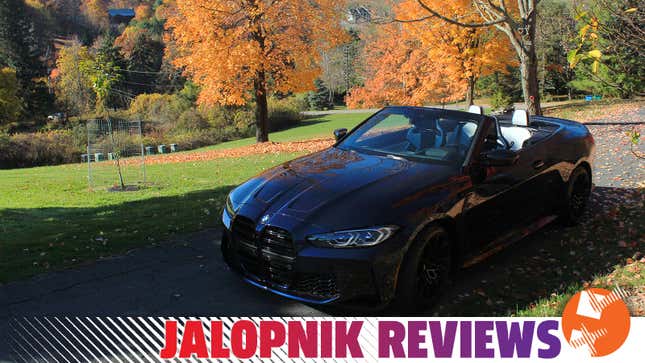 A two-door convertible sports car should make you feel special when you hit the road. With the wind rushing through your hair and a glorious engine soundtracking your ride, it's enough to put anyone on cloud nine. When you get in the BMW M4 Competition Convertible, you get all that, but also comfy seats and a trunk you can squeeze full of various squashes. It ticks all the boxes while also being one of the most practical convertibles you can buy today.

(Full Disclosure: BMW gave me a 2022 M4 Competition Convertible with a full tank for a long weekend. It turned out to be the best way to soak up the fall foliage.)
2022 BMW M4 Competition Convertible: What Have We Here Then?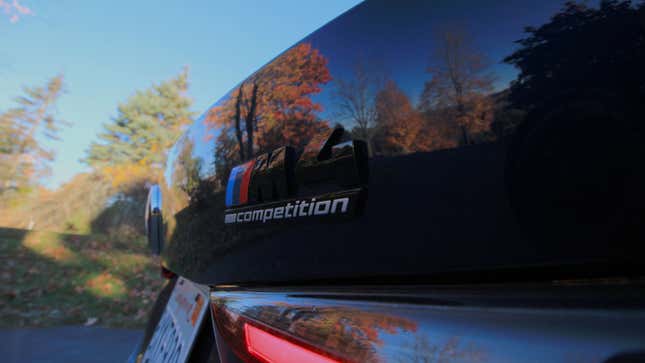 Quite simply, it's an M4 with more. For $89,700, BMW will send you out on the road with the same 3.0-liter, twin-turbo inline-6 engine you find in the standard M4, but for Competition duty, it produces 503 hp instead of 473. There's also standard all-wheel drive, as BMW only offers the M4 Convertible in the Competition xDrive spec, and a chunky set of rear tires — 285/30ZR20 Michelin Pilot Sport 4S — to help you get all that power onto the road. In my test car, options like tanzanite blue paint, a leather interior, parking assist and other niceties bring the on-the-road price up to $110,245, including destination charges.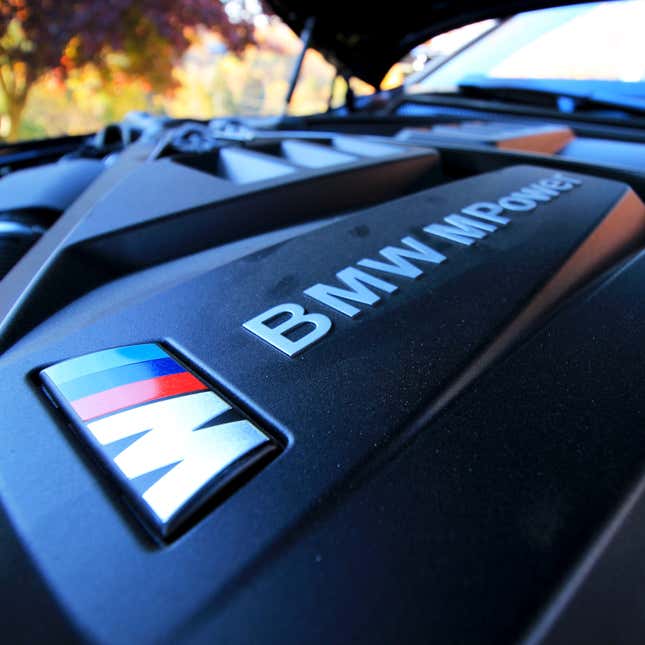 In the M4 Competition, the 3.0-liter engine is mated exclusively to an eight-speed automatic gearbox, which you can leave in full-auto or flick through via carbon-fiber paddles on either side of the steering wheel. My test car also has a set of optional carbon-fiber bucket seats, which add $3,800 to the base price.

On the whole, the styling is a familiar affair. Sure, those big kidney grilles are an acquired taste, but on the M4 Competition in this specific shade of blue, I think it works. There's a bit more contouring in the hood to make those enormous nostrils fit in better with the overall look of the car. Plus, the front end is festooned with polished black trim that brings a bit of cohesion to the design.
The rear end is a little more aggressive than a base 4 Series, thanks to quad exhausts and a little lip spoiler on the trunk lid. The fabric roof electronically stows into the trunk in just 18 seconds whenever you want to soak up the sun, and even with the roof down, the M4's luggage space is roomier than you'd expect. There's space for the luggage of four adults on a weekend away, and a weekly shopping trip's worth of groceries fits in nicely, as well.
2022 BMW M4 Competition Convertible: How Does it Drive?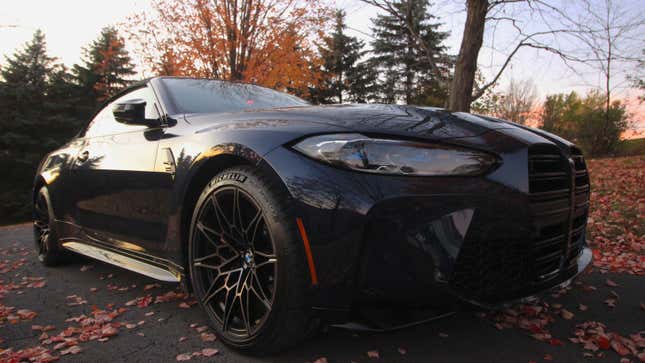 With its low-slung stance and snug-fitting front seats, the M4 Competition can initially feel like a daunting car. But after traversing Manhattan and working my way towards some more fun roads upstate, it all starts to feel right. From the front, visibility all around is good. You can keep tabs on the cyclists sneaking around you and won't lose sight of the trucks surrounding you at every turn. In the city, the M4 is even pretty comfortable thanks to adaptive dampers, which you can leave in Comfort mode. What's more, niceties like lane-keeping assist, blind-spot detection and parking sensors make keeping track of your pristine paintwork a breeze.
When you peel away from the city and onto an open ribbon of tarmac, the M4 Competition comes alive. The throttle response is sharp and a mere touch of the pedal plants you back in the seat. When a corner approaches, a set of ventilated front disc brakes quickly scrub off speed. Once you're out of the corner, a dab of the throttle surges through all four wheels and brings you back to cruising speed in a pinch. The steering wheel itself feels kind of small and could definitely be a bit chunkier for my big hands, but the way it makes this car turn is lovely.
Everything about this car feels fast. Throw down the roof and the sensory experience is dialed up to 11. The roar of the engine is more exciting and, despite the cold of a November morning, an open-top BMW is a lovely place to soak up the fall foliage.
That Sounds Fun, but Highly Impractical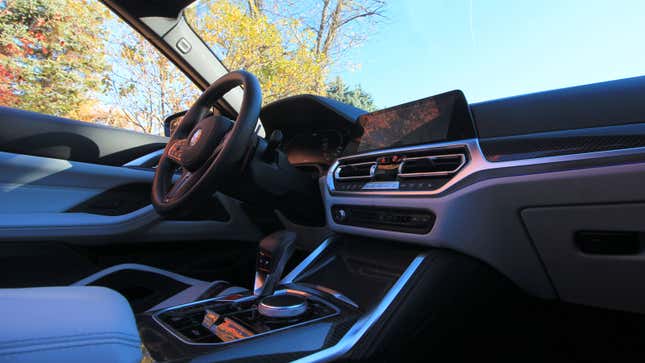 You might think a 503-hp BMW convertible would be a bit of a nightmare in terms of daily livability, but it really isn't. With the roof up, there are limitations, like the reduced visibility over your shoulder. But on the whole, the M4 Competition Convertible is a very livable car. The optional carbon bucket seats encapsulate you like a firm-but-comforting hug. But they do take some getting used to, as there's a weird carbon-fiber bulge in between your legs that flashes in the sun and can sparkle back at you like some unnecessary screen.
In the back, it's a simpler affair thanks to a two-seat bench. Reports from rear passengers find that there's enough room for anyone less than 6 feet tall. However, when you pack the roof away to soak up the views, those back seats become something of a wind trap. Apparently, when you're doing 55 mph with no roof, the heating offered in the rear of the car is as good as useless.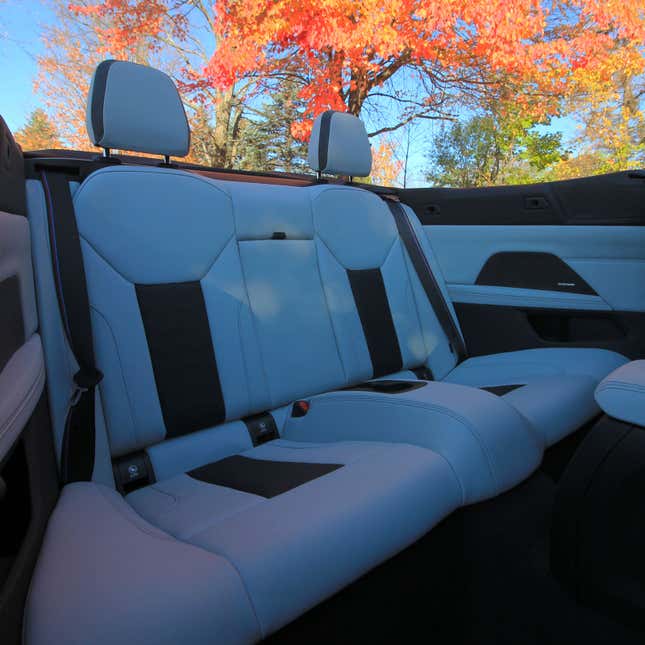 In contrast, up front, the heated seat keeps your body toasty as the wind rushes past, while the dash-mounted vents do a good job at blasting your knuckles to stop them from freezing. My hands would be even warmer with a heated wheel, but BMW sadly didn't option that on this particular M4.

Other than those optional carbon bucket seats, the interior on the M4 Competition is instantly recognizable. It's a cut-and-paste job from every other BMW on sale right now, so there's a 12.3-inch digital instrument cluster and 10.3-inch infotainment display. With a touchscreen doing most of the heavy lifting here, it bodes well for sunny-day drivers that it's nice and bright, and stays clear and readable even with the roof down.
There is also a row of physical buttons for things like the heater and the volume control for the 12-speaker sound system. And, beneath this, you'll find the carbon-fiber-covered center console, which houses the bright red engine start button and various switches to pick your driving mode or turn off the traction control. This is also where you'll find the controls for the roof, which consists of a simple switch to pull up or flick down to open and close the cloth top. It's all very easy to get used to – much like living with the M4.
2022 BMW M4 Competition Convertible: Final Thoughts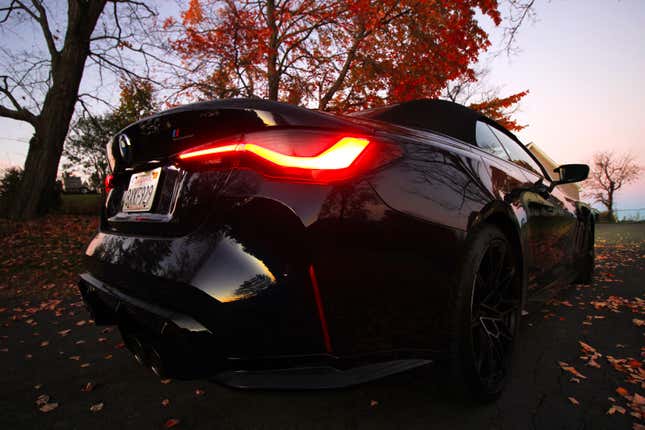 Driving the BMW M4 Competition Convertible is an absolute ball. It's fun and fast when it needs to be, and refined and comfortable when it doesn't. But that's what we've come to expect from BMW and its M cars: They take the automaker's performance know-how and cram it into a car you could live with every day.
Comparisons feel a little tricky, as the only way to get a convertible M4 is to get the all-wheel-drive Competition spec. So if you're weighing the pros and cons between coupe and convertible, there's one important thing to consider: Do you like fun?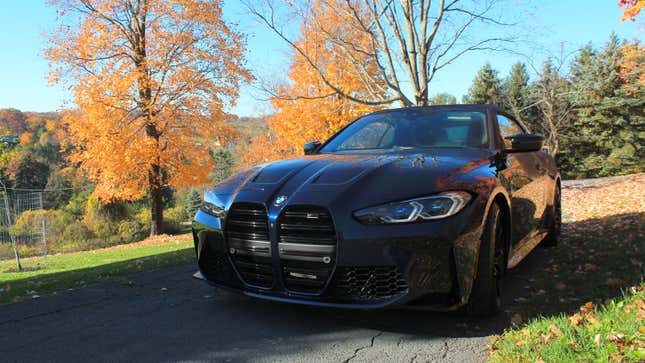 If so, then the obvious choice is the convertible, even if the Competition xDrive Coupe costs $6,975 less. Stowing the top before you hit the highway makes even the most mundane of journeys feel exciting. With the roof down, the engine rumbles a little louder and barks with more anger. It puts a smile on your face as soon as you hit the start button. You'll soon forget about the 2 cubic feet of trunk space you're missing out on versus the coupe as you enjoy the infinite space rushing past overhead. And, really, isn't that what BMW's M cars are all about? The M4 Competition xDrive Convertible's slightly higher price of admission is more than made up for with the joy it injects into every single drive.

2022 BMW M4 Competition xDrive Convertible Specs
Engine type
Twin Turbo Premium Unleaded I-6
Transmission/Drive
Automatic w/OD