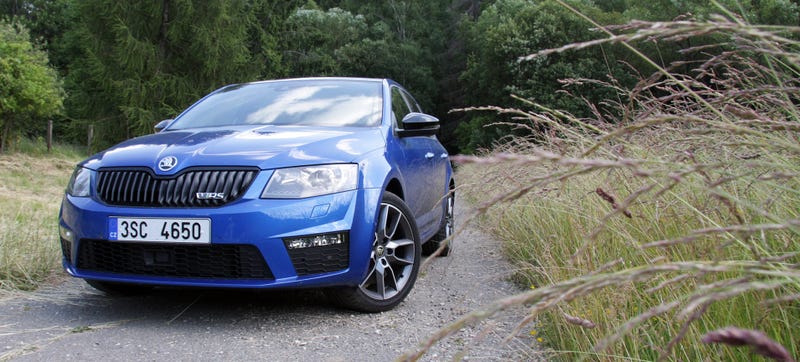 When I told a guy from VW that I think the Octavia RS is a better car than a Golf GTI, he replied "a much better car." How did the Czech version of this popular Volkswagen platform become the best version?
(Full disclosure: Since my American colleagues can't get their hands on their beloved Skodas without flying here, Skoda was nice enough to lend me four cars for a month to show you what they can do using VW's tech. No Czech engine jokes, I promise.)
The Skoda Octavia has been the best-selling sedan on this side of the planet for quite a while. Families, taxi drivers, numerous companies and police departments buy these Czech VWs when they need a car that's the right size and quality for the right amount of dough.
The RS (or vRS) is the fast version which — from the second generation up — is sold with both diesel and gas engines. The current, third-gen car is based on VW's MQB platform and is available in both the sedan and wagon bodies, powered by either the 2.0 TDI from the Golf GTD or the 2.0 TSI from the GTI.
There's no Performance Pack option here, but there are rumors that the RS might get the 280 hp engine from the Seat Leon Cupra 280 next year. That would be a blast.