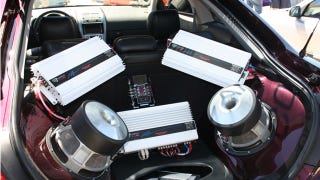 Car parts manufacturer Magna has agreed to buy GM Europe, which includes the Opel and Vauxhall brands, according to BBC News. The German government still needs to approve the deal, but may choose insolvency instead.
Apparently answering today's QOTD with a "hell yes," our friends in Auburn Hills have tied the super-best automaker from the Land of the Rising Sun in at least one category: Most productive manufacturer, according to this year's Harbour Report. What does that mean? That Chrysler assembles a vehicle in 30.37 hours on…
This week we heard about a couple of lawsuits mythical electric sports car almost-manufacturer Tesla has managed to get tied up in. The first one saw Magna suing Tesla for breach of contract over its transmission design, the other was Tesla going medieval on Fisker for allegedly stealing designs associated with the …
OK, so we'll totally called this one. True, we called it humorously, but whatevs, we'll take our wins when and where we can. Under the terms of an agreement announced early Thursday companies owned by Oleg Deripaska, the Russian entrepreneur, will pay $1.54 billion to acquire 20 million Class A shares of Magna…
Yet another strange-ass news mag we've never heard of out of Deutschland (but with a very Automotive News-like website) is reporting that the not-so-equal side of the merger-of-equals is playing games with private equity. They believe Magna International may be the only bidder the German-American hybrid's interested…
We just received the following press release from the Canadian auto supplier:
Nah, there's no assurance — but it sure is a great press release that makes it sound like it is. And really, even if nothing comes of all of this for the Canadians — at the very least they'll now look like a big-time player, won't they?
CNBC reported a little earlier this morning that a private equity group along with Canadian supplier Magna International's readying, or already has submitted, a bid for the Chrysler Group of between $4.6 and $4.7 billion dollars. Just wanted to tell you so that you can get ready to start blaming Canada for…