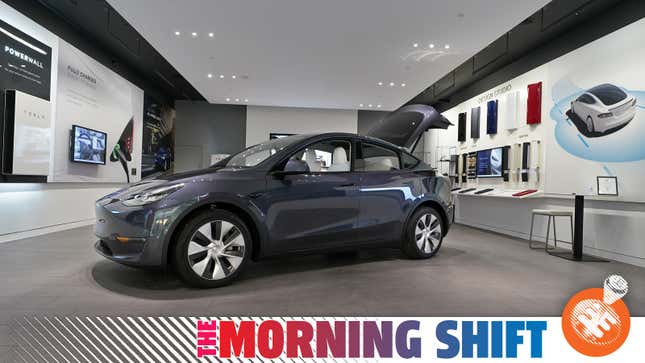 Good morning! It's Wednesday, May 17, 2023 and this is The Morning Shift, your daily roundup of the top automotive headlines from around the world, in one place. Here are the important stories you need to know.

This NYC Garage Takes Vanlife To The Next Level | Jalopnik Visits
1st Gear: Tesla Will Advertise
Yesterday was Tesla's annual shareholder meeting. And while a bunch of headlines came out of it, for The Morning Shift today we're focusing on one that's probably not the most impactful, but nevertheless amusing if you've been following Tesla for some time. Elon Musk is finally thinking about advertising his cars, probably because he now owns a platform that needs advertising to survive. Courtesy Bloomberg:
"We'll try a little advertising and see how it goes," Musk said Tuesday at Tesla's annual shareholder meeting, in response to an investor's question.

Shares rose more than 2% in premarket trading.

Tesla has long prided itself on word-of-mouth among its fan base to market its vehicles. It's built a formidable brand without paying for television, radio or print ads.

Musk said in a subsequent interview with CNBC that paying for ads could be a way to expand beyond Tesla's existing user base.

"It's worth a try and we'll see how effective it is," he said. "I only just agreed to it so it's not a fully formed strategy."
Musk also said of advertising that he "didn't realize that people wanted it that much" and this gem, by way of CNN:
"It's indeed ironic that Twitter is highly dependent on advertising," he said about his past views on advertising, and what he now faces in trying to bring advertisers back to Twitter. "I guess I should say, 'Advertising is awesome and everyone should do it.'"
It's unclear what form Tesla's ads will take because, as Musk admitted, there's no strategy yet. Will there ever be a strategy? Could Tesla have — gasp — a communications department again? My guess is as good as yours. As with everything Tesla does, it's fairly likely the company is just going to wing shit as it goes along. Watch this space!
2nd Gear: Merc Believes There May Be Something to These Vans
The overlanding craze has finally convinced one of the world's foremost producers of vans to make the kind of live-in vans that 20-something influencers on Instagram love. Frankly, I cannot believe this didn't happen sooner. From Bloomberg:
Mercedes wants to spruce up its van lineup for when its new platform for light commercial electric vehicles launches in 2026. In addition to not spewing tailpipe emissions, the new models are likely to feature interior materials more commonly found in plush vehicles like the flagship S-Class sedan and G-Wagon SUV. New editions of the V-Class touring van point to a future with kitchenettes and the kind of wooden flooring seen on yachts anchored on the French Riviera. [...]

Mercedes is betting that a pandemic trend of spending more time in the great outdoors is here to stay. Sales of outdoor goods surged during the pandemic as consumers engaged in physically distanced outdoor activities. But there are signs that may have been a flash in the pan, according to a study from McKinsey. The consultancy expects high inflation, rising interest rates and sinking consumer confidence to weigh on sales of recreational vehicles.

Mercedes also won't have the market for outdoorsy EVs completely to itself. Volkswagen last year launched the ID. Buzz, a modern take on its classic 1960s camper van.
This is, of course, a grand strategy to goose margins on big vehicles, which offer plenty of opportunities to punch up interiors with hardwood flooring and subway tiles. One owner of a Mercedes-Benz dealership in Connecticut seemed to be very enthusiastic about the prospect to Automotive News:
Mercedes-Benz is tapping a different luxury consumer segment with a portfolio of factory-customized campers.

Doing more of the upfitting work in-house is a "huge win" for both dealers and customers, [Mercedes-Benz of New London owner Jeff] Aiosa said.

"There's friction in having these vehicles fitted from third parties because of the time it takes," he said. "The vehicle is sometimes transported directly to the upfitter; sometimes, it comes to us and then goes to an upfitter. So eliminating all that is logistically a real benefit."
Can you imagine if Mercedes came out with this in 2020 and not 2023? Part of me wonders if it missed the boat... er, yacht.
3rd Gear: Huawei's Back
When you're desperate to sell cars to an unwilling market that takes technology very seriously (China) and your in-car software is despised by everyone, even internally, you kind of have to take a few risks. For Volkswagen, one of those risks may be working with Huawei, the Chinese tech giant that tried to become a thing here in the U.S. about six years ago and was driven away by a nebulous mix of legitimate national security concern and xenophobia. It's hard to say where one stops and the other begins! From the Financial Times:
According to three people familiar with the situation, the carmaker has engaged in conversations with Huawei over the use of its technology in VW vehicles, while another person said the German company had held similar talks with other Chinese groups.

VW's own software operation, Cariad, has been beset by problems since its creation in 2020, including budget misses and delays that led to hold-ups in the launch of new electric vehicles such as Audi's Q6 e-tron and Porsche's Macan.

The turmoil led Oliver Blume, VW's chief executive, to remove nearly all of Cariad's top executives this month. [...]

In a bid to gain ground in the country's EV market, the German group recently set out an "in China, for China" strategy and has in recent years announced billions of euros' worth of investment in areas including autonomous vehicles.

It has also been working to upgrade its existing operating platform with the sophisticated entertainment and driving assistance features that Chinese consumers expect from newer vehicles.

A move by VW to forge deeper ties with Chinese tech groups such as Huawei would come despite efforts by the US and Europe to reduce their exposure to China.
Of course it should be obvious that Volkswagen would only sell such vehicles with Huawei services in China, but nevertheless: I shudder to think of the absurdly outsized political fallout that will inevitably arise should Marco Rubio catch wind of this. Nobody tell him, OK?
4th Gear: Fisker Needs a Helping Hand
Yesterday we discussed how Polestar, which was spun out of Volvo and is backed by Geely, wants partners across every facet of EV production to lessen costs for itself and the market as a whole. Today Fisker is saying much the same thing. This makes a little more sense, because Fisker is the auto industry's perennial super-startup, if ever there was one. Courtesy Reuters:
"Buyers aren't loyal anymore to their traditional brands. That changes everything. If we collaborate with someone, you can scale quicker ... it could be with suppliers, other car companies, tech companies - we are exploring all these avenues," [CEO Henrik] Fisker said, speaking at the Reuters Automotive Conference in Munich.

Senior executives of rival EV makers Polestar and Smart, the EV brands backed by Mercedes and Chinese automaker Geely, said during interviews at the conference on Tuesday that they are open to partnerships to address supply chain and technology challenges. All three companies are still relatively small and are launching new product lines as larger rivals such as Tesla Inc, China's BYD and established global automakers are battling for sales by cutting prices.

Fisker said the EV startup has 65,000 reservations for its Ocean SUV, which is being launched from a factory in Austria operated by a unit of Magna International Inc.

He reaffirmed a target of producing 1,400 to 1,700 Ocean EVs this quarter. The company earlier this month cut its full-year production forecast for the Ocean, but Fisker said on Wednesday that problems securing a part for the Ocean's interior have been resolved.

For now, Fisker's agreement with Magna allows for production of up to 120,000 Ocean EVs a year from the Magna Steyr plant in Graz, Austria.
Fisker also wants Foxconn to build its entry-level Pear EV at its Lordstown, Ohio plant — in America, for Americans. I understand why, but these days that plant radiates real bad vibes. It might be cursed; I'd look elsewhere.
5th Gear: Maybe Scooters Are Just Bad
A new study from the Insurance Institute for Highway Safety has called attention to the electric scooter speed limit conundrum. If speed limits are too high, people ride on roads — and as speed increases, so does the likelihood of an accident there. If they're too low, people ride on sidewalks, which poses danger to pedestrians. Per Automotive News:
The nonprofit research organization compared scooter use in Austin, Texas, where the speed limit for scooter travel is 20 mph, and Washington D.C., where it is 10 mph. Where bike lanes are not present, D.C. riders were 44 percent more likely to venture off the streets and onto the sidewalk than in Austin. This was true even when road traffic was heavier in Austin and when pedestrian and cyclist populations were denser in D.C. [...]

The IIHS study found that while speed limits drove e-scooter riders onto sidewalks, they were somewhat effective at limiting the speeds on these pedestrian paths. Twice the number of riders in Austin were recorded traveling at or over 10 mph on sidewalks than in D.C. This was compared with sidewalk scooter bans, which the study noted have been found to be only marginally effective.
Perhaps e-scooters wouldn't be a blight on anyone going anywhere if there was any sort of training or education on safe practices and roadway rules necessary to ride one. Also, maybe if they weren't so shoddily built and blew up less frequently.
Reverse: You've Heard of 'Unsafe at Any Speed'
...but how about unintelligible at any speed? On this day in 1965 — 58 years ago — that's the conclusion our nation's top criminal investigators reached about the lyrics of "Louie, Louie." Taxpayer money well spent.
Neutral: Please Try Tesla Today
Tesla has never run a TV spot in its history, and it's admittedly impressive how much the brand's grown without any kind of public-facing strategy. Musk hopes some good old-fashioned marketing could help Tesla reach customers it never has before. But what would make you reconsider Tesla? What would Tesla have to do to win you over?