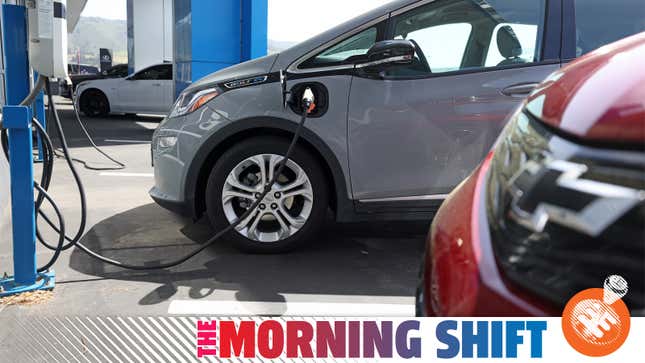 U.S. electric vehicle sales are reaching new highs as "legacy" brands muscle in on Tesla's market share, Polestar knows it can't do this alone and a former Audi chairman has pled guilty in this, the eighth year since Dieselgate. All that and more in this edition of The Morning Shift for Tuesday, May 16, 2023.

1st Gear: Winners and Losers
It's reasonable to expect electric vehicle sales to continually increase year-on-year, if not quarter-after-quarter. Sales of battery electric cars in the U.S. were up to seven percent of all new cars sold in the first three months of 2023, per Experian by way of Automotive News. That's a good deal better than the 4.6 percent of first-quarter 2022.
The more interesting development is that whereas a little more than seven of every 10 EVs sold about this time last year were Teslas, that's now down to six of 10. GM, Ford, Rivian and even Volkswagen have swooped in to divvy up that sliver of the market amongst themselves:
New [Chevrolet] Bolt registrations rose to 19,947 in the first quarter, compared with 477 last year, Experian data showed. The subcompact hatchback twins are Chevrolet's only EV models on sale.

The Ford brand was in third place for EV registrations with 13,362, for an 82 percent increase, the quarterly data showed. Its EV share in the first quarter rose to 5.2 percent from 4.6 percent a year earlier.

Mustang Mach-E registrations fell 12 percent to 6,110 in the quarter. Some Mustang Mach-E production was lost because of factory upgrades, Ford said. F-150 Lightning registrations rose to 5,652 from just 53 a year earlier, and e-Transit van registrations rose to 1,600 from 348, Experian data showed.

Volkswagen registrations for its ID4 rose 244 percent to 10,053 for fourth place on the EV brand chart. VW's market share more than doubled to 3.9 percent from the year-earlier quarter.
Pour one out for the Bolt, an actually reasonable electric car that Americans are waking up to just in time for GM to give up on it.
The story is less encouraging for Hyundai and Kia, who have actually regressed in ownership of the EV market, in part perhaps due to the lack of federal tax incentives on the Ioniq 5 and Kia EV6. In fact, Rivian moved 7,134 of its pricey trucks and SUVs — slightly below Hyundai's 8,064 units and notably better than Kia's 6,064. Bringing up the rear was Toyota, which could only muster a mere 1,570 registrations for the bZ4X. Who wants to take some bets on how much further the rest of the industry will bite into Tesla's big slice of the pie come this time next year?
2nd Gear: Polestar Needs a Helping Hand
I'll hand it to Polestar, one of the few EV manufacturers that actually seems to take the whole decarbonization thing to heart. The thing is, Polestar is a small fish (sort of) in a big pond, and even with Geely backing it can't enact change by itself. Costs are too high. You know what would help, though? Partnerships, and, by extension, economies of scale. One Polestar exec reflected on this at Reuters' Automotive Conference this week:
"If we align with partners and say this is how we decarbonise the supply chain... we can make an impact... we would like to team up," Dennis Nobelius said, speaking at the Reuters Automotive Conference in Munich.

Polestar, whose cars are produced by Volvo, lowered its 2023 production guidance last week and said it would cut headcount by 10% amid a challenging environment for the industry.

The car maker and Rivian, a competing EV maker, were backers of a study that said in February that the automotive industry was set to overshoot the 1.5-degree Celsius pathway by at least 75% by 2050, calling for collaboration to accelerate the transition to electric vehicles (EVs).

Car makers, partners and suppliers need to pool efforts on everything from traceability in the supply chain to greening the grid and tracking battery health to create cross-industry standards, Nobelius said on Tuesday.

Being able to shift quickly in line with new technologies was also key to succeeding in the EV market, Nobelius said, taking the example of battery cell technology.

"We need to have the capability to shift cell chemistry every second year based on competition," he said.
Pretty much since day one of Polestar being spun off as its own brand, it seemed like Geely was allowing it to exist as some weird, vanity experiment that was free to lose as much money as it wanted, so long as it served as an aspirational guide for Volvo. But it turns out Polestar is just like everyone else, subject to the same internal pressures.
3rd Gear: Today in Dieselgate
We learned some weeks ago that former Audi chairman Rupert Stadler was to plead guilty-ish for his role in Dieselgate. On Tuesday morning in Munich, he did exactly that. Via Reuters:
The former CEO has been on trial for fraud since 2020 over his role in the scandal after parent group Volkswagen and Audi admitted in 2015 to having used illegal software to cheat on emissions tests. Stadler had previously rejected the allegations.

Stadler's defence lawyer Ulrike Thole-Grolle read a statement to the court, saying the defendant did not know that vehicles had been manipulated and buyers had been harmed, but he recognised it was a possibility and accepted that.

"I understand that for my part, there was a need for more care," said the lawyer on Stadler's behalf.

Asked by the judge whether the words were his own, Stadler replied: "Yes".

The statement had been widely expected after the judge said earlier this month that Stadler would face a suspended prison sentence of 1.5-2 years and a fine of 1.1 million euros if he were to confess to a charge of fraud by negligence. The verdict is expected in June.
In March, The Guardian reported that it's estimated some 13 million diesel vehicles that exceeded legal emissions limits — not all represented by Volkswagen Group — remained on roads across Europe. Until they fade away from traffic, Dieselgate won't either.
4th Gear: Volkswagen's Out
A lane has opened for the German automaker to exit Russia. Volkswagen's sale of its assets in the country to Avilon, a dealer group, has reportedly been approved by Russian regulators. From Financial Times:
Russian authorities have approved the sale of Volkswagen's local assets to Avilon, one of the country's largest car dealers, in a cut-price deal that underlines the challenges western companies face when trying to exit Russia.

The value of the sale to Avilon, which is the main supplier of cars to the country's security services, will not exceed €125mn, state news agency Interfax reported on Tuesday.

VW's fixed assets in Russia, including buildings and equipment, were valued at Rbs111.3bn (€1.5bn) in 2022, according to company disclosures.

Last year, Russia introduced stringent criteria for western companies pulling out of the country following President Vladimir Putin's decision to wage war on Ukraine. Measures include selling at a discount of at least 50 per cent and making a "voluntary donation" to Russia's war chest.

Lawyers involved in recent corporate exits say meeting these criteria is necessary but not enough as the state foreign investment commission decides on each deal on a case-by-case basis, occasionally adding extra requirements. But in the west after more than a year since Russia's invasion of Ukraine, the political pressure on western consumer groups is mounting to stop doing business in or with Russia.
If you're an automaker doing business in Russia with hopes of making a clean break following the invasion of Ukraine, there's really no getting out without forfeiting something. Renault had to sell its stake in AvtoVAZ for a ruble, after all. However, it's unclear if the French manufacturer had to donate to the government — beyond, you know, giving them an entire automotive production infrastructure for free. Volkswagen couldn't move as quickly, as its assets had been frozen due to an ongoing lawsuit with its local partner, GAZ, until very recently.
5th Gear: Sergio, the Patriot
Stellantis chairman John Elkann has sent some love to his old colleague, Sergio Marchionne, in the latest edition of the deceased auto exec's biography, per Bloomberg:
"Sergio was a patriot in the highest sense of the word," Elkann, 47, said in an interview for the latest edition of the biography of the late Marchionne, who ran the Italian carmaker from 2004 until his death in 2018. As Fiat's chief executive officer, Marchionne and Elkann saved Fiat from near bankruptcy and combined it with US manufacturer Chrysler, turning two struggling regional players into one of the world's biggest auto producers.

"Our battles were always for Italy, never battles against Italy," Elkann said at the Agnelli Foundation headquarters in Turin, which houses the villa of his great-great grandfather Giovanni Agnelli, who founded Fiat with a group of investors in 1899.
Perhaps the most interesting part of Elkann's reflection is that Stellantis today has realized Marchionne's vision, which basically amounted to aggressive, rapid and unprecedented consolidation:
Elkann insists that without the current strategy — which dates back to Marchionne and envisages building a global leader strong enough to survive the disruption of electrification — the company's domestic plants would have been at existential risk.

"Stellantis is the evolution of Sergio's vision: the need for mergers in the car industry to avoid duplication ­of costly investments required for new technologies," Elkann said in a late February interview for the book. "Without the creation of Stellantis, all the investments we are making in Italy — from the Mirafiori electric hub to the battery plant in Termoli — would not have been possible."
It's hard to argue with the suggestion that Marchionne wouldn't be pleased with the progress of the company he left behind. He wanted to buy Opel and Vauxhall before they came under Peugeot's control, after all. How big will Stellantis be five or 10 years from now? What won't it own?
Reverse: Decades of 'Danger Zone'
On this day in 1986 — 37 years ago — Top Gun released to theaters. I still haven't seen it, or Maverick. I'm not proud of this, it's just that movies are so long. Our friend Andy would not be proud of me.
Neutral: Rad Summer
Amazingly I have never been to a Radwood, despite the fact that it is the perfect car event for me, someone who embodies the '90s in almost everything they do and like. I will be at the Philly one next month, and I'm looking forward to it. If I see a car from Sega Rally, my year will have been made.