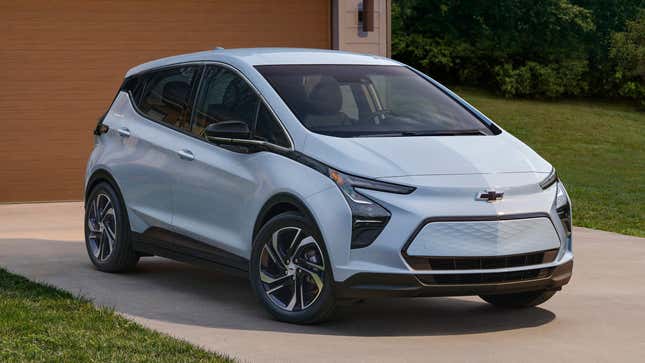 Less than a year ago, there was some evidence that the Bolt EV and Bolt EUV wouldn't be around for too much longer, with GM making its EVs on a new platform and the Bolt's sales never quite being so hot and also that whole fire disaster which really put a stain on things. On Tuesday, GM made it official: Production for the Bolt EV and Bolt EUV will end later this year.
Chase Elliott Explains the Challenge of Adapting to NASCAR's Next Gen Car
In case you missed it:
A current Bolt EUV owner initially tipped us off to this news this morning, before a spokesperson for Chevy sent along the following statement:
When the Chevrolet Bolt EV launched, it was a huge technical achievement and the first affordable EV, which set in motion GM's all-electric future. As the company continues to grow it's EV portfolio with the Ultium platform, and as construction continues at the Orion Township, MI, assembly plant in preparation for battery electric truck production beginning in 2024, Chevrolet confirmed Bolt EV and EUV production will end late this year. Chevrolet will launch several new EVs later this year based on the Ultium platform in key segments, including the Silverado EV, Blazer EV and Equinox EV.  
That spokesperson also sent along a fact sheet that said that GM would be spending $4 billion at Orion Assembly — where the Bolt EV and Bolt EUV are assembled — to convert it into making electric trucks on the Ultium platform. That's part of GM's goal to make more than a million EVs annually in America by 2025. GM also said it planned for "record" production of Bolt EV and Bolt EUV models this year, or over 70,000 units.
GM also said that "nearly 75 percent" of Bolt EV owners come from other brands — a stat that automakers like to call their "conquest rate," something of increasing importance to them since brand loyalty in the car space, which used to be the thing, is less and less of a thing.
Presumably, GM thinks that the Equinox EV, Blazer EV, Silverado EV, and other EVs it has in the pipeline might do even better than the Bolt EV, and GM may be right. Surely the Chevy Malibu isn't conquesting anything. Still, the Bolt EUV when it was introduced, had real aspirations of being a sort of cut-rate Tesla Model Y fighter, and even had Tesla slightly worried for a minute, but it was not to be.
The Bolt EV and Bolt EUV are, however, still eligible for the full $7,500 tax credit for EVs, so I don't think it'd be the worst idea in the world to check in at your local Chevy dealership in a few months to see if there are any deals to be had on one. My guess is that by the time the Blazer EVs show up the Bolt EVs and Bolt EUVs will be quietly moved to the back of the lot, and dealers will want to move on, you know, to the future.