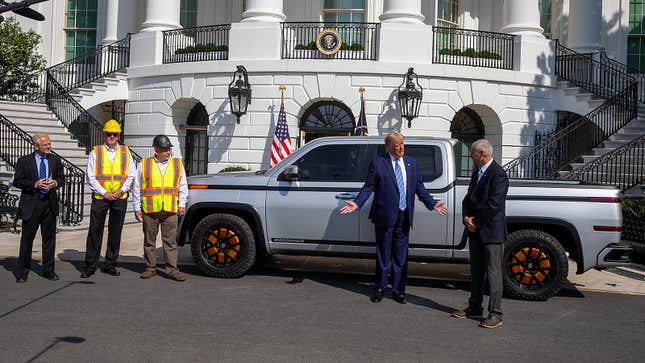 Embattled electric truck maker Lordstown is really going through it now. Shares of the company sank 29 percent on Monday morning from their already-paltry $0.52 price, following a quasi-public spat between itself and its manufacturing partner-slash-major shareholder Foxconn. Lordstown warns that if it doesn't get an injection of cash soon, it will have to file bankruptcy.

In case you missed it:
A little history here. Lordstown sold its namesake Ohio facility to Foxconn in 2022. A short while later, Foxconn agreed to supply up to $170 million in funding for Lordstown, which CNBC reports amounted to just under 20 percent of the truck maker at the time. It paid about the first $50 million of that sum last year, but has refused to pay the rest.
The problem is that Lordstown is absolutely flailing right now. As part of the agreement, Foxconn was to issue another $47 million within 10 days of the deal's approval by the Committee on Foreign Investment in the United States. That approval was granted on April 25. Unfortunately, that same week also marked 30 straight days of Lordstown trading below $1. Once that happens NASDAQ issues a warning, giving the company in question 180 days to lift its shares above the threshold. If it can't do it, the stock gets delisted — though some companies stave that off by executing reverse stock splits.
Now Lordstown is saying Foxconn is breaching their deal, flaking on a promised investment. Foxconn is arguing that Lordstown didn't hold up its end of the bargain — namely, not getting itself nearly kicked off the stock market. It's all very desperate. From Bloomberg:
The deal with Foxconn Technology Group could unravel after the Taiwanese company threatened to withhold funding, something that could force Lordstown into insolvency, the company warned in a securities filing on Monday. Lordstown said it was also seeking alternative financing.

"If we are unable to resolve our dispute with Foxconn in a timely manner on terms that allow us to continue operating as planned, identify other sources of funding, identify a strategic partner and resolve our significant contingent liabilities, we may need to curtail or cease operations and seek protection by filing a voluntary petition for relief under the bankruptcy code," Lordstown said. [...]

"Foxconn's actions are completely unwarranted," a spokesperson for Lordstown said in a statement after the market opened. "Their course of conduct has resulted in material — and what is becoming irreparable — harm to the company."
Foxconn representatives haven't said anything to the press on the matter as of this writing. However, the contract manufacturer did reportedly send Lordstown a letter on April 21 stating that NASDAQ noncompliance was tantamount to a breach of its "Investment Agreement."
Foxconn and Lordstown paused production of the brand's Endurance electric pickup earlier in the year due to quality and cost concerns. Up until February, Foxconn had only been able to churn out 40 examples. Given the latest news, it does not appear production is going to be ramped up in earnest anytime soon.