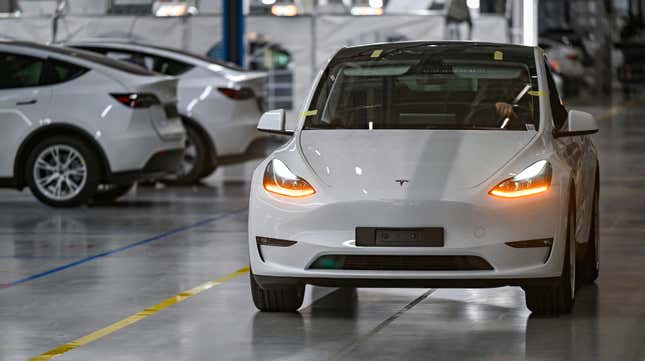 The Tesla Model Y, which is due for some sort of super-secret update this year or next, used to be priced at over $60,000, but, as of this writing, it starts at $46,990, for the base model, which Bloomberg now says is less than the average new car price in America by about $759. If you're looking for proximate causes, the upcoming update could be one, and also that there seems to be a bit of a glut of Tesla inventory at the moment. It seems Tesla has some incentive to move some Model Ys, in other words, and also Tesla can then say it delivered a lot of Model Ys, even though it was already delivering a lot of Model Ys.
2024 Nissan Z NISMO | Jalopnik Reviews
The price variation between the highs and lows of Model Y remains striking though, such that Bloomberg says that no other automaker has, "made such a dramatic a [price reduction] to a high-volume vehicle in the modern age of the automobile," or at least $20,000 difference between the high and low.
For many, to be sure, this might be reason enough to jump on finally getting a Model Y, because in addition to the lower price, the Model Y also qualifies for the full $7,500 federal tax credit, unlike some other EVs. For others, this will be a new reason to fret about Tesla's profit margins, because everyone's an amateur investor these days.
For analyst and Tesla watcher Adam Jonas, of Morgan Stanley, this is a reason to question whether Tesla's stateside price games — some have even called it a "price war" — will intimidate competitors.
Morgan Stanley analyst Adam Jonas said last week that Musk's US cuts are so aggressive, they may lead some automakers to slow down their breakneck pace of investment in electric vehicles, rather than compete with Tesla on price in an uncertain economy. "We are questioning whether this is the 'moment' where the boards of the legacy OEMs can reconsider dialing back the magnitude and timing of their EV capex and R&D plans," Jonas said.
It is one thing for Tesla to cut the starting price of the Model Y to $46,990 on its website, which looks good for Tesla, but that doesn't mean much if the new inventory is such that only the higher priced trims are available. On this front, within 200 miles of New York City, there are actually are a few new Model Ys available not far from $46,990. It's almost like they are sitting somewhere, waiting to be bought.