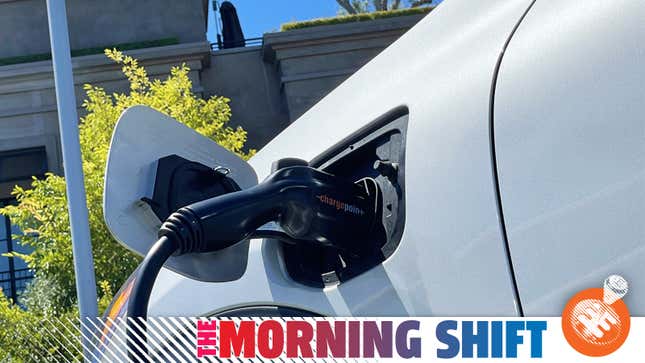 The electric vehicle tax credit's biggest enemy will stop at nothing, Tesla's doubling down on Semi production in Nevada, and Volvo has a big recall on its hands. All that and more in The Morning Shift for Wednesday, January 25, 2023.

Nate Bargatze's $1,500 Mazda Was a Beater That Wouldn't Die
1st Gear: Manchin's Not Happy
Since 2023 began, automakers have been able to skirt the rules about battery sourcing that break the federal EV tax credit into two halves. As a result, a number of vehicles that wouldn't ordinarily qualify have temporarily benefitted from the full $7,500 rebate and may continue to until March, when the U.S. Treasury plans to relay guidance to manufacturers about battery manufacturing. Once the Treasury does that, the party's over.
West Virginia Senator Joe Manchin, who fought to make the Inflation Reduction Act's EV credit as exclusive as possible in the first place, seems to hate the fact that buyers will be able to catch a break for the next five or six weeks. He hates it so much that he's proposed yet another bill, just to enforce the IRA's full requirements immediately. Courtesy Automotive News:
The bill — titled the American Vehicle Security Act — would amend the Inflation Reduction Act so that the effective date of the required EV battery sourcing is no longer tied to Treasury's release of proposed guidance on the restrictions.

If enacted, no credit would be available to any new EV that does not meet the critical mineral and battery sourcing requirements, effective retroactively as of Jan. 1.

A Democratic committee aide on Tuesday told Automotive News the bill did not yet have bipartisan support or co-sponsors because it had not been shared outside internal discussions. It also had not been shared with any auto industry representatives, the aide said.

Treasury is planning to issue proposed guidance on the consumer tax credit's critical mineral and battery component requirements in March after missing its year-end deadline in 2022. It also will issue a proposed rule-making that further clarifies key provisions already in play, such as price caps and how vehicles are classified.
Considering how complex the bill is, you'd hope the government would take the time necessary to clarify its language for corporations and consumers. There's a lot riding on this. But Manchin's interest in the credit stops at "energy security" — whether anyone can actually claim it is secondary, which is why the IRA was written in such a way as to exclude possibly every current EV from the discount. Fitting, given where the senator's allegiances lie. Here's what he had to say in a statement issued Wednesday morning:
In a statement Wednesday, Manchin said it was "unacceptable" that Treasury has not yet issued the proposed guidance but continues to make the full $7,500 credit available.

The Inflation Reduction Act "is first-and-foremost an energy security bill, and the EV tax credits were designed to grow domestic manufacturing and reduce our reliance on foreign supply chains for the critical minerals needed to produce EV batteries," he said.
There won't be a need to grow domestic battery manufacturing if nobody can afford EVs for the next five years, which was probably the plan all along.
2nd Gear: Tesla's Here to Stay (In Nevada)
Tesla has big plans for its Nevada plant, where it's invested $6.2 billion since construction began on the site in 2014. In addition to expanding 4680 battery cell production for passenger cars, the hope is that factory in Nevada will become the hub for the automaker's electric Semi manufacturing. From the Wall Street Journal:
Tesla Inc. said it would spend more than $3.6 billion to expand its plant near Reno, Nev., where the electric-vehicle maker assembles batteries and produces EV car components.

The Elon Musk-led auto maker said its investment plan would expand its lithium-ion battery and electric-vehicle-component facilities there and employ 3,000 additional workers.

One of the factories to be built would mass produce its semitrailer truck, while the other would make enough batteries for two million passenger vehicles every year, Tesla said in a blog post Tuesday.

The company since 2014 has invested $6.2 billion in Nevada and the 5.4 million square feet of facilities it has built there. It has also hired more than 11,000 employees to produce about 7.3 billion battery cells and 3.6 million drive units in the past nine years.

Nevada's expansion plans come soon after the company filed paperwork for a potential $775 million expansion at its electric-vehicle plant near Austin, Texas, also set to focus on the production of batteries and car components.
Tesla's Semis reportedly began production in October, and Pepsi — the EV maker's first customer — expects to field 100 of them later this year.
3rd Gear: Them's the Brakes for Volvo
Volvo announced a recall of almost 107,000 cars globally on Tuesday, covering 2023 versions of the C40, XC40, S60, V60, XC60, V90 and XC90. 27,500 of those are in the U.S., and the issue pertains to the brake control computer. Courtesy Kelley Blue Book:
The problem, Volvo tells federal safety regulators, starts when that computer runs a self-test to make sure it's properly grounded. If the test returns an error, it can enter a fault state that shuts off multiple electronic safety systems.

Volvo says, "The driver display will always warn the customer with DIM messages and malfunction indication lamps if this issue occurs."

Volvo is not aware of any accidents or injuries related to the problem.
The good news is that the remedy will be delivered over-the-air, as remedies to software problems always should. On one hand, that makes certain recalls much easier to deal with these days. On the other, it means carmakers feel encouraged to play fast and loose with this stuff, because it's easy enough to patch later.
4th Gear: Ethiopia Files an Unsatisfactory 737 Max Report
The U.S. National Transportation Safety Board is none too pleased with Ethiopia's report investigating its flag carrier's Boeing 737 Max crash in March 2019, arguing that it didn't "adequately address the performance of the flight crew" and handling of emergency procedures that contributed to the tragedy. From Reuters:
NTSB chair Jennifer Homendy said in an interview that Ethiopia's Aircraft Investigation Bureau (EAIB) had made errors in its report.

"We feel what they did not do is really delve into the flight crew performance issues and whether they were adequately prepared," Homendy said. "We felt like it was not as comprehensive and robust as it could have been."

The MAX crashes in 2018 and 2019 in Indonesia and Ethiopia, which cost Boeing more than $20 billion, led to a 20-month grounding for the best-selling plane that was lifted by regulators after Boeing made software and pilot training changes. Boeing declined to comment Tuesday.

The NTSB was not given a chance to review or comment on Ethiopia's final report before it was made public last month, a violation of rules overseen by the United Nations' Montreal-based aviation agency, ICAO, Homendy said.
In December, the Boeing 737 Max 7 and 10 jets were cleared to fly without installation of Engine Indicating and Crew Alerting System — technology that "tells pilots what is wrong onboard an aircraft and also provides pilots with instructions on how to resolve the problem," per SimpleFlying. It likely would've cost the company at least $1 billion. However, a stipulation by Washington Senator Maria Cantwell mandated that "a synthetic enhanced angle-of-attack (AOA) system and the ability to shut off stall warning and overspeed alerts" must be implemented by airline operators and funded by Boeing within three years of the aircrafts' certification.
5th Gear: European Ford Plant Has Some Suitors
The Saarlouis, Germany facility that currently builds the Ford Focus probably won't still be doing that in a few years' time. Ford of Europe has been honest in its consideration of a sale, and the company may soon lay off as many as 3,700 workers from its payroll in the region. But look, don't you worry about Ford — it'll be fine. There's already some outside interest in Saarlouis! From Automobilwoche, via Automotive News:
Magna International and contract manufacturer VDL Nedcar are interested in taking over Ford Motor Co.'s car plant in Saarlouis, Germany, according to sources familiar with the discussions.

The two companies join China's BYD in showing interest in the factory, which will have no new model when Ford ends production of its Focus compact car there in 2025.

The plant's future has been unclear since last June when Ford picked its factory in Valencia, Spain, to build its next-generation electric vehicles for Europe instead of Saarlouis.

Canada's Magna and VDL Nedcar, based in the Netherlands, are considering bidding for the Saarlouis plant, sources familiar with the talks told Automotive News sister publication Automobilwoche.

Magna builds BMW, Mercedes-Benz, Jaguar, Toyota and Fisker cars at its Magna Steyr factory in Graz, Austria.

VDL Nedcar builds the X1 and Mini brand cars for BMW Group.
BYD is reportedly a frontrunner, as Ford representatives expect to visit the Chinese EV maker next week to discuss the potential sale.
Reverse: The Dakar
On this day 55 years ago, Isreal's "Dakar" submarine disappeared in the Mediterranean Sea between Crete and Cyprus. It wouldn't be discovered until 1999, 9,800 feet deep.
Neutral: I Really Want to See a Super GT Race Once In My Life
It has the coolest cars of any form of motorsport, hands down, with the best liveries and racing at the finest circuits. Sega had an arcade game a few years back in Japan based on Super GT, and it's okay (you can play it if you know your way around an emulator) but the soundtrack goes so hard that I haven't been able to stop listening to it for days.