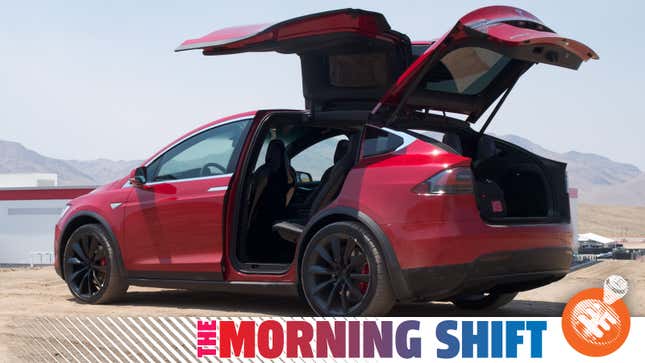 Tesla's under federal investigation again, Ferrari is thrilled it will be able to build old-fashioned engines for many more years, and Polestar's got its whole U.S. future riding on its first SUV. All that and more in this edition of The Morning Shift for Tuesday, March 28, 2023.

1st Gear: Now It's the Seat Belts
Back in October, Tesla recalled some 24,000 Model 3s due to problems with the second-row seatbelt buckles and anchors. Now it's under investigation from the National Highway Traffic Safety Administration (NHTSA) due to two customer complaints about improperly fastened seatbelts on 2022 and 2023 Model Xs, that have disconnected from seat frames under normal driving, without a crash. From the Associated Press:
The investigation by the National Highway Traffic Safety Administration covers an estimated 50,000 Model X SUVs from the 2022 and 2023 model years.

The agency says it has two complaints from Tesla owners that the front belts weren't sufficiently connected at the factory.

Documents posted by the agency Tuesday say the belt linkage and pretensioners, which tighten the belts before a crash, are anchored to the seat frames.

Both complaints allege that the linkage and pretensioner separated from the frames when the vehicles were driving and force was exerted. Neither incident involved a crash.

The agency says it's opening the probe to look into Tesla's manufacturing processes, how often the problem happens and how widespread it is. Investigations can lead to recalls.
As you may know, this is not NHTSA's only Tesla probe at the moment. The administration is currently looking into reports of Model Ys being delivered to customers without crucial steering wheel retaining bolts, and it also recently ended an inquiry into the company's Full Self-Driving technology that resulted in a recall covering 360,000 vehicles.
Compared with the software gremlins, seatbelt issues are relatively uncomplicated — the sort of manufacturing snafus that automakers typically resolve before the government has to get its hands dirty. But there seem to be a number of things loose on Teslas coming off the assembly line these days, so it's not entirely surprising that this one slipped right on by.
2nd Gear: Ferrari Is Feeling Good
Why wouldn't it? The European Commission is set to approve a regulatory carve-out for synthetic fuel — an expensive way to keep cars with internal-combustion engines on the road at a reduced environmental cost. Of course, Ferrari owners can foot that bill, and CEO Benedetto Vigna must be expecting that they will. From Reuters:
"The good news for us as a company (...) is that on top of electric cars, we'll also be able to go on with our internal combustion engines ones," CEO Benedetto Vigna told a Reuters Newsmaker event.

"This decision is very interesting for us because it allows ICEs to go beyond 2036," he added. [...]

Presenting its new business plan last year, Ferrari said fully-electric and hybrid models would make up 80% of those in its range by 2030, while 20% would still be powered by internal combustion engines.

"This does not change," Vigna said. "We don't want to tell clients which car to use. We want to make three kinds of propulsion available for them - hybrid, electric and ICE - and they will chose" [sic].
You have to believe a Ferrari EV will be a big seller, just like Maranello's first SUV. You also have to believe there are self-proclaimed purists out there who will settle for nothing less than the raspiest V12. It is frankly ridiculous to imagine that Ferrari may very well be making a car with such an engine in 13 years, when everyone else has stopped. Given the exclusivity and factoring in the trajectory of inflation, I assume it will cost about $50 million, new.
3rd Gear: Polestar's Making its Big Play at the U.S.
The imminent Polestar 3, the Volvo spinoff's first midsize SUV, is due for an arrival in North America near the end of this year. We love SUVs in this part of the world, and so Polestar is seizing the opportunity to remind or perhaps inform Americans for the first time that it exists, and there are options besides Tesla's Model X in the segment. From Automotive News:
Polestar plans to launch a $20 million marketing campaign in the second quarter as the Swedish EV maker primes the pump for its first crossover in the truck-dominated U.S.

The investment will surpass Polestar's marketing spend in the first quarter of 2021 when the fledgling EV brand splurged on a Super Bowl commercial.

The Volvo Cars affiliate will spend more on marketing the Polestar 3, a Porsche Cayenne-sized crossover, to Americans in the second quarter than in the past nine months combined, Polestar's North American boss Gregor Hembrough told Automotive News.

[...]

North America, consisting of the U.S. and Canada, will be Polestar 3's largest market, accounting for about 25 percent of the global sales, Hembrough said.
Polestar USA chief Gregor Hembrough added that unlike with the Polestar 2, which was not quite a sedan nor an SUV, the manufacturer has ensured that "the U.S. marketplace is first in the production line" for this model. The Polestar 3 will be a tad too expensive to qualify for EV tax credits — it starts at $85,300, and the cutoff for an SUV is $80,000 assuming all battery sourcing stipulations are satisfied. But considering the category it plays in, you have to imagine buyers won't be put off by that.
4th Gear: Japan, the U.S. and Batteries
The Biden administration on Tuesday announced a trade agreement with Japan concerning export duties on raw materials used in EV battery production. From The Wall Street Journal:
Under the deal, the U.S. and Japan agreed not to levy export duties on critical minerals they trade and coordinate labor standards in producing minerals, among other steps, according to a U.S. announcement. The pact builds on a limited trade accord the two countries reached in 2019, and they will review the minerals deal every two years to see if they should end or change it.

The Biden administration has started pursuing trade deals with close allies on critical minerals as it tries to address two problems: restrictions it has placed on new subsidies for electric vehicles and China's current dominance of the supply of minerals such as lithium and graphite that are necessary for making electric vehicles.
What's important to clarify here is that the deal only applies to batteries and other energy-related technologies — it doesn't broadly extend to all goods traded between the nations. And depending on how the U.S. Treasury delivers its battery-sourcing guidelines due this week, it may not necessarily render Japan-origin EVs and batteries eligible for the IRA's credit. Courtesy CNBC:
But asked whether the trade agreement would qualify Japan-sourced batteries, components and vehicles for that part of the tax credit, the officials said that determination was up to Treasury.

The officials said that USTR does not intend to seek approval by Congress for the minerals trade agreement because it falls under the agency's authority to negotiate sectoral trade agreements at the executive level.

But they said provisions in the deal to promote labor rights and recycling in their battery mineral supply chains would help both countries.

"Japan is one of our most valued trading partners and this agreement will enable us to deepen our existing bilateral relationship," U.S. Trade Representative Katherine Tai said in a statement.
The anticipation for these dang rules that are now almost four months late is killing me.
5th Gear: Magna Is Shopping a Future Factory Around
Everyone who is anyone is building a North American plant for EV manufacturing, to get in on the subsidies available. Magna likes the idea of that, too. However, all the big automakers have pretty much already figured out what, where, and with whom they're going to build their American base of operations, and the nature of Magna's business is that it builds specific models across a number of brands. That makes the company's next move unclear at the moment. From Automotive News:
"We're working with a number of customers on ideas to help them in North America," Prettner said. "We have a team looking at selecting sites, looking at options, working on layouts and offering different solutions for customers on how we can help them manufacture a vehicle in North America." [...]

That could leave Magna Steyr to work with EV startups and other new market players. It's a strategy the company is pursuing in Graz, where it has contracted to build the Ocean SUV for EV startup Fisker.To new EV makers with less capital to spare than the major automakers, Magna Steyr is pitching itself as a one-stop shop for engineering and manufacturing. In that strategy, aspiring EV entrants and smaller-volume manufacturers could rely on Magna to help get their vehicles to market sooner, without needing enormous amounts of capital to build those internal capabilities."We have complete vehicle know-how [and] technical know-how," Prettner said. "We have access to the entire supply base because of that."
One analyst quoted in the story — RBC Capital's Tom Narayan — is skeptical as to how profitable a strategy of teaming up with startups will ultimately prove for Magna. The contract manufacturer might be forced to absorb the costs of cash-strapped companies, and you never want to be in a position where you're waiting for a Fisker or Faraday to pay up. Maybe Magna should've seized the opportunity to take up the production version of the EV prototypes it built for Sony, before the tech company shacked up with Honda.
Reverse: Geely Buys Volvo
It was on this day 13 years ago that China's Geely purchased Volvo from Ford for $1.8 billion. You have to hand it to Geely chairman Li Shufu, who said at the time that he had "a deep belief that the manufacturing footprint in Gothenburg and Belgium will be preserved in the longer term." It has been, and much like Mazda and Land Rover, Volvo's much more unique these days out from under Ford. The same can't really be said for Jaguar, though.
Neutral: Speaking of
Has anyone checked in on Jaguar lately? Apparently the latest is that Jaguar dealers are being pushed by corporate to consider selling Land Rovers instead. JLR is kind of like the American part of Stellantis, insofar as Land Rover is Jeep and Jaguar is Chrysler, and the latter remains technically alive out of caché alone.