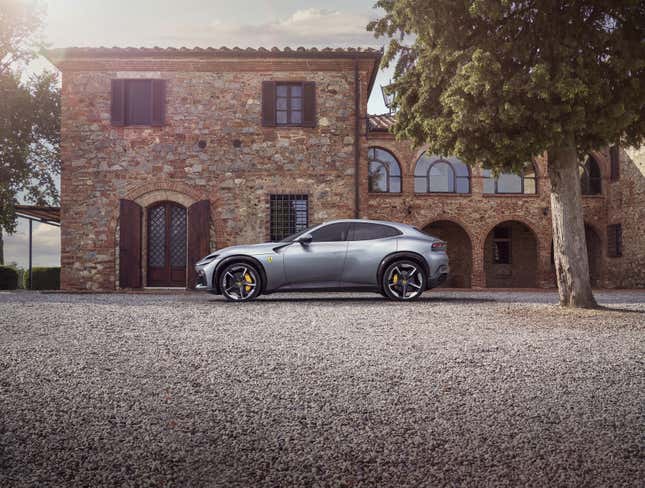 It's okay to have mixed feelings about the fact that Ferrari is making an SUV. Sure, it was inevitable, and the rumors flew around for years that one was in the works, but part of me always hoped that Maranello would be the last holdout in the hyper-expensive sports SUV game.
Luckily, the 2024 Ferrari Purosangue is actually pretty cool (if not exactly pretty) and definitely a very Ferrari take on what an SUV can and should be. Plus, it's got a 715-hp naturally aspirated V12 under the hood, and that's always a nice thing, especially in a world where just about everyone else has slapped turbos on their engines.
Of course, anything with a prancing horse on its nose is bound to come with a fairly hefty price tag. In response to a request from Jalopnik, Ferrari was kind enough to share pricing details on the company's first utility vehicle.
Are you sitting down? Good, because the 2024 Ferrari Purosangue will start at an eye-watering $393,350. Add in a $5,000 delivery charge and taxes, and you're looking at a $400,000-plus Ferrari family hauler before you even glance at the extensive options list. Frankly, I'd be shocked if the average transaction price for the Purosangue is anywhere below the mid-$500,000 range. Because of course you'll want your V12 all-roader in a custom paint color, or with ostrich upholstery, or whatever luxuries people spec on their half-a-million-dollar vehicles.
US deliveries are slated to begin in Q4 of 2023, just in time to take wintry advantage of that weird all-wheel drive system that the Purosangue borrows from the GTC4 Lusso.