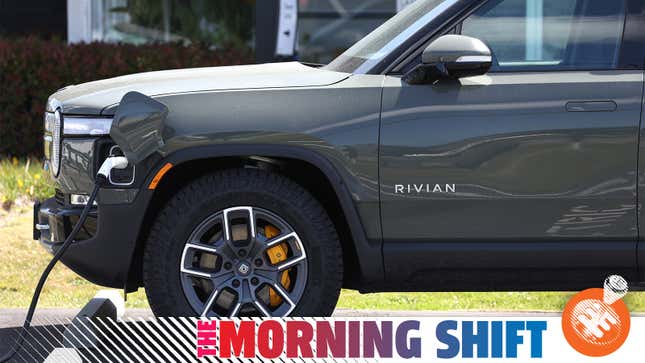 The U.S. Treasury is about to issue its guidance on electric vehicle battery sourcing, automotive unions are starting to be skeptical of the Inflation Reduction Act's positive effect on American manufacturing, and Ford's going to build a whole lot of money-burning electric pickups in Tennessee. All that and more in this edition of The Morning Shift for Friday, March 24, 2023.

2024 Nissan Z NISMO | Jalopnik Reviews
1st Gear: Party Might Be About Over
If you're on the fence about purchasing an EV but don't want to forfeit a potential $7,500 tax credit before it disappears, you may want to consider signing some papers within the next few days. The U.S. Treasury has announced that next week it will reveal its guidelines so automakers and suppliers can comply with the Inflation Reduction Act's battery origin requirements. When that happens, tax credits could be reduced or disappear entirely for a vast swath of vehicles on the market today, because final assembly will no longer be enough to guarantee eligibility. From Reuters:
The auto, battery and clean energy industries have been awaiting guidance on complex questions governing eligibility for hundreds of billions of dollars of incentives in the Inflation Reduction Act, signed into law last year.

After outlining battery sourcing rules, officials said, Treasury will follow in the next couple of months with guidance around bonus tax credits for clean energy projects sited in fossil fuel-dependent communities, those built with domestically produced equipment, and those paying workers prevailing wages and employing apprentices.

It will also issue guidance on selling tax credits and making them refundable, which allows entities without tax liability to use them.

Treasury did not specify when the future guidance announcements would be made.

Many of the rules are aimed at weaning the United States off dependence on China, which dominates the global supply chains of products like EV batteries and solar panels. Those industries are key to Biden's goal of decarbonizing the U.S. economy and fighting climate change.

The IRA specifices, for instance, that a $7,500 EV tax credit is only available to North American-assembled vehicles that meet certain local battery production and mineral extraction processing standards.

In December, Treasury decided not to issue proposed guidance on battery sourcing rules until March, effectively giving some EVs not meeting new requirements a few months of eligibility in 2023 before battery rules take effect. Senate Energy Chairman Joe Manchin harshly criticized that decision saying it "created an opportunity to circumvent stringent supply chain requirements."
We always knew this day could be coming, but in retrospect, it makes Senator Joe Manchin's tantrum about Americans saving a little money on EVs for three months seem especially silly. You have to wonder if America's energy independence will ever recover from the 200,000 or so EVs people purchased during that timeframe.
2nd Gear: Unions Feel This Is All Slipping Away From Them
A number of U.S. allies have been understandably peeved at the Inflation Reduction Act's mandates that discourage EV and battery production outside of North America. The Biden administration's real target in this was of course China all along; in the weeks and months since it's extended olive branches to Europe, South Korea and Japan — pretty much everyone except China.
You can imagine how American auto union members probably feel about that, as they'd been told that the bill was ostensibly designed to bolster domestic manufacturing from day one. Courtesy Bloomberg:
Potential deals on so-called critical minerals with the EU and Japan would allow their firms to reap some benefits from the billions of dollars in tax breaks expected for EVs in last year's climate legislation, known as the IRA.


And while the world still has an extremely long way to go to trim its reliance on China, the very fact that US efforts are underway to secure supplies with allies marks a key national security point for the Biden administration.

Unions, including the United Steelworkers, want the agreement to be limited to about five minerals the US can't produce domestically, according to one person who asked not to be identified discussing private negotiations.

Labor is also seeking a review every two years that examines the latest developments of critical material projects in the US, including domestic consumption and how close American producers are to bringing their own output online.

"There is concern about making sure this is all moving in the right direction," Senator Debbie Stabenow, a Michigan Democrat who has spoken with unions on the trade deal. "We want good-paying union jobs."
At this point, given the conflicting goals of securing an exclusionary, domestic EV supply chain while also easing the access and affordability of EVs, it's hard to see which direction the IRA is moving things. So far, it's just a mess of rules nobody, not even automakers, properly understand or know how to comply with. That said, auto labor is at least getting a slew of new local plants out of it.
3rd Gear: Tennessee, Future Home of the Electric F-150
Ford is losing a ton of money on EVs, so I don't know whether it's good or bad news for the company that it's projecting annual production of a half a million F-150 Lightnings out of its Tennessee plant starting in 2025. From the Wall Street Journal:
The Dearborn, Mich., car company said Friday it plans to start production of its next-generation electric truck in 2025 at a new factory campus, called Blue Oval City, located about 50 miles from Memphis. This truck will follow the rollout last year of the Ford F-150 Lightning, an all-electric version of its bestselling full-size pickup.

The 500,000-truck production target for Tennessee represents a significant step up in manufacturing capacity for the company's line of pickup trucks, historically among its biggest moneymakers. Last year, Ford built about one million trucks overall at several plants in North America.

It also comes as other car companies, including crosstown rival General Motors Co. and electric-vehicle leader Tesla Inc., are rushing to put out their own battery-powered trucks, filling a market niche that has seen a surge in consumer demand in recent years.

Ford has twice increased production of the Lightning truck as it has worked to fill a backlog of orders.
The Lightning ramp up has not been easy, so if nothing else, it's likely soothing for Ford to imagine a time in the not-too-distant future where it's figured out how to make electric cars reliably. Then again, it's had a hard enough time with regular cars as of late, and it's been making those for more than a century.
4th Gear: Cruise Will Stop at Nothing
General Motors' Cruise self-driving taxi unit can't progress if it doesn't have as many cars on the road as possible. So it's submitting the paperwork to make that happen in every major city in California, outside its current domain of San Francisco. From Automotive News:
Company executives asked California regulators Monday to amend their existing permit to allow for testing of autonomous vehicles throughout the state. Cruise's efforts have been restricted to specified areas of San Francisco.

Should the California Department of Motor Vehicles grant the company's request, General Motors-backed Cruise will be "ready to expand to essentially any city in the state," CEO Kyle Vogt told Automotive News.

While he declined to provide specifics on which California cities the company might target, he signaled Cruise would look southward.

"Warmer cities are, you know, on the table for us in the near term," Vogt said.

That might indicate Cruise is eyeing Los Angeles, a place where robotaxi competitors like Waymo and Motional are already testing self-driving vehicles and planning ride-hailing services. None of those companies has requested the necessary permit from the California Public Utilities Commission to begin driverless commercial service.

The application is the "first step" in the process of broader California efforts, a Cruise spokesperson said, and there are no immediate changes to the company's testing or operations. No decisions have been made on any California locations outside San Francisco, the spokesperson said.

A California DMV spokesperson declined to comment Wednesday on the company's pending application to expand the scope of its permit.
The anticipation of Cruise announcing where it's going next feels like the sort of misery roulette for Californians that the announcement of a new Amazon facility is for the rest of the country, except obviously on a much smaller scale.
5th Gear: Akio Toyoda Isn't Going Away
The recently-retired CEO of Toyota will remain on as the head chair of the Japan Auto Manufacturers Association for one more year because his colleagues liked him too much to see him go. From Bloomberg, by way of Automotive News:
The departing CEO agreed to extend his tenure following a unanimous vote in January by members of the association's executive board, JAMA Vice Chair and Isuzu Motors Ltd. President Masanori Katayama said Thursday.

JAMA collectively represents 5.5 million employees from 14 of the country's automobile manufacturers. The industry is undergoing a "once-in-a-century change" as car manufacturers around the world aim to electrify their vehicles to counteract worsening climate change despite restrictive pandemic measures and ongoing component shortages, Toyoda said at a briefing Thursday.

Toyoda voiced his intention in January to resign from his JAMA post in keeping with the rule that the chairman must be a sitting president of an automaker. But he agreed to stay for another year. Toyoda, grandson of Toyota's founder, will become chairman of the automaker after stepping down as CEO.

Incoming Toyota CEO Koji Sato was made a JAMA vice chair. Sato unveiled several changes to Toyota's senior management last month as he prepares to take over, seeking to improve the carmaker's strategy and messaging in the shift to an electric future.
Look, Toyoda's no longer got his day job to worry about, so this seems like a good spot to be in. He can attend meetings in the morning and hit the track in a hydrogen-powered Corolla in the afternoon. The dream work-life balance.
Reverse: Exxon Valdez
On this day in 1989, 34 years ago, the second-worst oil spill in U.S. waters in history happened. The local ecosystem still hasn't recovered. From History.com:
One of the worst oil spills in U.S. history begins when the supertanker Exxon Valdez, owned and operated by the Exxon Corporation, runs aground on a reef in Prince William Sound in southern Alaska. An estimated 11 million gallons of oil eventually spilled into the water. Attempts to contain the massive spill were unsuccessful, and wind and currents spread the oil more than 100 miles from its source, eventually polluting more than 700 miles of coastline. Hundreds of thousands of birds and animals were adversely affected by the environmental disaster.

It was later revealed that Joseph Hazelwood, the captain of the Valdez, was drinking at the time of the accident and allowed an uncertified officer to steer the massive vessel. In March 1990, Hazelwood was convicted of misdemeanor negligence, fined $50,000, and ordered to perform 1,000 hours of community service. In July 1992, an Alaska court overturned Hazelwood's conviction, citing a federal statute that grants freedom from prosecution to those who report an oil spill.

Exxon itself was condemned by the National Transportation Safety Board and in early 1991 agreed under pressure from environmental groups to pay a penalty of $100 million and provide $1 billion over a 10-year period for the cost of the cleanup. However, later in the year, both Alaska and Exxon rejected the agreement, and in October 1991 the oil giant settled the matter by paying $25 million, less than 4 percent of the cleanup aid promised by Exxon earlier that year.
Neutral: Please Read This
I end this Morning Shift with a shameless plug. If you like racing games, or video games in general, or enjoy learning about how the military industrial complex has disturbingly sunk its claws into random aspects of our everyday lives, please read the story I wrote that was published today about the strange origins of the birth of 3D gaming and, by extension, Virtua Racing and Daytona USA. It's all I'll ever ask of you! That and what your weekend plans are. Feel free to drop those in the comments, too.