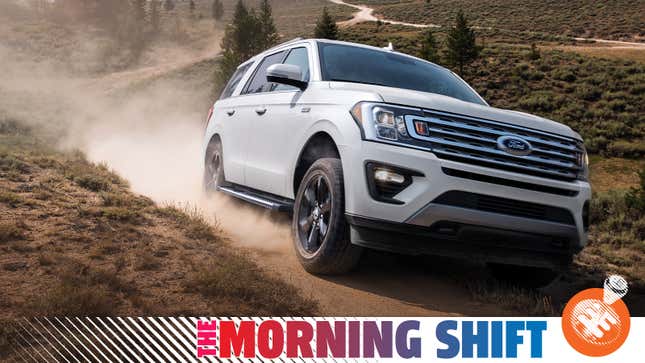 2022 did not pan out the way Ford was expecting it to at all, Elon Musk's trial over a tweet is drawing to an end, and Honda's dealer and service network isn't liking anything it's hearing on the automaker's plans for Afeela. All that and more in this Friday edition of The Morning Shift for February 3, 2023.

1st Gear: Not a Great One for Ford
The Dearborn-based manufacturer posted its fourth-quarter earnings on Thursday afternoon, maybe because right before the weekend is the ideal time to bury bad news. Ford's $1.3 billion in net income was a whopping 89 percent lower than it had been during the same period in 2021, and the company's share price dropped 6 percent as a result in aftermarket trading. From the Wall Street Journal:
Fourth-quarter revenue increased 16.7% to $44 billion, largely benefiting from buyers continuing to splurge on its vehicles as a lack of dealership inventory has led manufacturers to dial back discounts and prioritize pricier pickup trucks and SUVs.


Ford, in October, said it was on track to meet the lower end of its yearly guidance of between $11.5 billion and $12.5 billion in pretax operating profit. But executives say parts shortages, particularly on semiconductors, and other challenges getting vehicles into the hands of customers, led it to fall short of the earlier projection. It posted $10.4 billion in adjusted pretax earnings for 2022.

The car company was also hit with higher-than-anticipated supply-chain costs and elevated expenses related to problems with vehicle quality, executives said Thursday.
This quote from CEO Jim Farley, via Automotive News, is particularly eye-opening:
"To say I'm frustrated is an understatement because the year could have been so much more for us at Ford," Farley said on an earnings call with analysts late Thursday. "We have deeply entrenched issues in our industrial system that have proven tough to root out. Candidly, the strength of our products and revenue has masked this dysfunctionality for a long time."
According to Ford's Chief Financial Officer, John Lawler, trouble stocking up semiconductors was the primary reason the company underperformed relative to its guidance. Other automakers — General Motors notably being one — have suggested that the industry has turned a corner, and chips are beginning to flow again. But it appears Ford is still stuck in 2021. I'm sure all those recalls didn't help either. From the Journal:
"I know there's been a lot of discussion about, 'Well, the chip supply issue is over,' " Mr. Lawler said. "But on the larger, older nodes that are primarily the chips we use in the auto industry, there are still capacity constraints."

He also said the car company's cost-structure needs to be streamlined. Mr. Lawler estimated that for every dollar Ford spends, there is 25% to 30% inefficiency, and that Ford is focused on improving productivity this year.
So Ford looks on to 2023, where the company expects it'll end the year with between $9 billion and $11 billion in pretax operating profit. Improving quality is another "top priority," according to Farley, but the hard truth is that it'll probably take years before that renewed focus bears out.
2nd Gear: Tweet Trial to Terminate
It's been a quick three weeks, but the trial over Tesla CEO Elon Musk's tweets about securing funding to take the EV maker private in 2018 is finally drawing to an end. Closing arguments are expected to be heard today, and it'll all come down to the verdict from a jury of nine. From Reuters:
During the three-week trial, jurors heard testimony from witnesses including Tesla directors, Musk's financial advisors, and Musk himself.

Musk testified funding was not an issue when he sent the tweets. He said he had lined up financing, including a verbal commitment from Saudi Arabia's sovereign wealth fund, the Public Investment Fund, and could have used his stake in SpaceX to fund the deal.

But Musk admitted on the stand that he lacked specific commitments from potential backers.

The defense team, which also is expected to make closing arguments on Friday, has acknowledged the tweets contained "technical inaccuracies," but said Musk was focused on making sure small shareholders had the same information as large investors who knew about the potential buyout.
I like that the defense's argument pretty much appears to boil down to "Elon's just an extra good communicator." He's so good, sometimes he communicates things that aren't fact yet. Think of it like an early warning.
3rd Gear: Also, Tesla's Cutting Prices in South Korea Again
Tesla slashed prices across its range in South Korea last month, and it appears the automaker has decided on a second round of cuts. Per Reuters:
The price of the basic Model 3 rear-wheel drive vehicle was listed as 59.9 million won ($48,728.50) on the company's website on Friday, down more than 5% from a month earlier.

Its Model Y Performance sports utility vehicle was 82.69 million won ($66,075.27), down nearly 13% from the January listing price of 94.73 million won ($76,333.06).

The price cuts differed from model to model but ranged from about 3.5 million won ($2,820.29) to 12.6 million won ($10,153.03).

[...]

Reuters reported on Wednesday that Tesla plans to step up output at its Shanghai plant over the next two months to meet demand ignited by aggressive price cuts on its best-selling models.

There are differing reports as to the validity of Reuters' claim that Tesla intends to accelerate production at its Shanghai plant as a response to increased demand from lower prices, but how else was this exactly supposed to end? Shanghai can probably handle it — it's been the brand's most prolific site by far — but really, this just seems like Tesla's reached the "find out" stage of its own fucking around.
4th Gear: Honda and Acura Dealers Are Going to Hate Afeela
Not just the name, either. If Sony and Honda's strategy bears out, Afeela's EVs won't only be sold online — they'll be serviced outside Honda's network. From Automotive News:
In the U.S., the new EV venture may also look to brands outside the Honda and Acura dealer networks — including retailers from rival automakers.

"Not only Honda dealers. There may be several opportunities," Yasuhide Mizuno, CEO of Sony Honda Mobility Inc., said about plans for Afeela's critical after-sales network.

"It might be that is the best way for the customer," he said.
And here's what the chairman of the automaker's U.S. dealer advisory board has to say about that:
Many Honda and Acura dealers assumed they would at least serve as the official customer-facing part of the equation, delivering the Sony-Honda EVs, servicing them and communicating with owners about Honda's other products.

Bill Feinstein, chairman of the Honda National Dealer Advisory Board, was surprised to learn otherwise.

He told Automotive News dealers had not been advised that the Sony venture will work through other networks. But he had previously voiced worry the new brand could possibly compete with existing Honda dealerships.

"Unfortunately, there has been a lot of speculation and rumor regarding the Afeela product," Feinstein said. "What I do know is that Honda dealers strongly believe that products designed and/or produced by Honda should be sold by Honda dealers."
The problem, of course, is that Honda considers Afeela something else, and its dealers very much don't, because they are hungry for product. "The customer might feel this is Honda's company or maybe this is Sony's company," Yasuhide Mizuno, Sony Honda Mobility CEO told the publication. "But basically, Honda Motor is completely segregated from Sony-Honda." So there, I guess.
5th Gear: VinFast Is Waiting for a Software Update
If you are waiting on your new VinFast and wondering why it isn't in your driveway yet, 1) don't read this story and 2) apparently the delay is due to new software being flashed on every single U.S.-bound car. From Automotive News:
Vietnam's electric automaker VinFast said on Friday it will delay deliveries to its first U.S. customers to the second half of February after it finishes updating the vehicles with the latest software.

The Vietnamese company, a unit of conglomerate Vingroup, is gearing up to expand in the U.S., where it hopes to compete with existing automakers.

It started to ship its first 999 EVs in November, but has not delivered them to customers yet after the company initially targeted December deliveries.

"The cars have been updated with the latest software. We are planning to hand over the first VF8 vehicle models to customers in the second half of February," VinFast said in a statement.

"The second batch will be shipped to the U.S. in the second quarter of 2023," the statement said, without specifying the size of the lot.
Of course, you very much should read Kevin Williams' incredible piece, it's my favorite thing we published all of last year. Either way, if VinFast sticks to its plan to begin U.S. deliveries at the end of this month, those very ambitious visions of growth are about to be tested. The company has already lopped $6,500 off the price of the VF8 City Edition.
Reverse: Eileen Collins Makes History
On this day in 1995, 28 years ago, Eileen Collins became the first woman to pilot a space shuttle, "flying the Discovery to the Russian Mir space station," per the National Archives Pieces of History collection.
Neutral: This Ford and Red Bull Thing Is Weird
Yes, I know Ford supplied engines to Formula 1 teams for a good while. I also know the Jaguar F1 Team eventually morphed into Red Bull, which of course gives some weird cyclical tint to this whole thing. But Red Bull and Ford is a weird pairing, especially while Honda remains on the car. I guess we'll have time to get used to it; besides, it's not like there isn't precedent for the two names coming together in the world of motorsport. I have to wonder what Porsche's thinking right now.