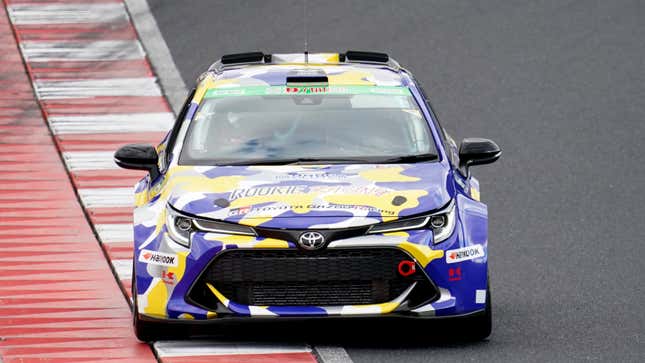 Akio Toyoda, who served as president of Toyota for the last 13 years before announcing on Thursday his plan to step down, always seemed a little too good to be true. The grandson of Toyota's founder, he nonetheless seemed to genuinely enjoy making cars and driving them, which is not a job requirement for being a car executive, though it helps.
This NYC Garage Takes Vanlife To The Next Level | Jalopnik Visits
Remember, for example, that time when Akio showed up to the track in his custom Century GRMN? Or when he set about personally testing the GR Yaris? Or when Akio drove in an endurance race at the Nurburgring? Or when he decided to rip some donuts in an 86? Or that other time he did that? Or how one of the first things he did as president was to get the new Supra in motion? Or that time he dressed a little too well?
What I'm saying is that Akio Toyoda had a day job — and was quite good at it, except for that whole transition-to-electric thing — and he also knew enough to stop once in a while and enjoy the privilege of the role. Ford's CEO, Jim Farley, also does this sort of thing, but with Farley, racing on the weekends feels almost compulsory. For Akio, driving is more about changing things up and having fun.
"I have driven a variety of cars at the Nürburgring," Toyoda said once, "but the new Supra provides the greatest peace of mind of them all. I was even able to enjoy the final few laps."
It helps, too, that Akio put his money where his mouth is with the GR Corolla, 86, GR Yaris, and Supra. Sure, Toyota could get by on its many other cars and trucks, but there is no fun in that.
On Thursday, Akio's remarks about his decision to step down as president to become chairman of the board — stepping back from the day-to-day business of running Toyota — were humble, and even funny at times. Neither are traits typically associated with people in the auto industry, especially car executives.
Some excerpts, according to Toyota Times:
I was appointed president immediately after our company's fall into the red due to the global financial crisis.

Following that, our company faced a series of crises that threatened our survival, such as the global recall crisis and the Great East Japan Earthquake.

In retrospect, these 13 years have been a period of struggling to survive one day after the next. That is my honest feeling.
Akio's also very proud of the 86, Supra and GR Yaris:
This has been a rocky path requiring tremendous amounts of time to bear fruit, and one not understood or appreciated by those who focus on the short term.

And time, indeed, it has taken.

Even so, as a result of the 370,000 members of Toyota striving in their various roles in each town around the world to make ever-better cars, our products have been greatly transformed.

We have revamped long-time bestsellers such as the Crown and Corolla, and we have brought back sports cars in the form of the 86, Supra, and GR Yaris. At the same time, we have also paid attention to our commercial vehicles.
And he has some kind words for the incoming Toyota president, Koji Sato. (Morizo, by the way, is Akio's car-obsessed alter-ego.)
Next, I would like to explain the reasons for appointing Mr. Sato as the new president.

One is that he has worked hard in the workplaces of car-making to embrace Toyota's philosophy, techniques, and practices.

Those are exactly the traits I would want whoever stands at the top of Toyota to embody.

Another reason is that he loves cars.

There was a time when Mr. Sato was struggling with what he should convey at a Lexus dealer convention.

My advice was: "Rather than try to be like me, I want you to value your individuality." That's all I said.

He responded by saying: "If Morizo is someone who loves driving cars, I am someone who loves making cars that make drivers smile."

Being able to say that you love your company's products is truly important.

I believe that Mr. Sato, as our new president, will take our product-centered management even further forward.

Another thing that he has going for him is youth.
Finally, there is a line here that I think is in Citizen Kane:
When I look at incoming President Sato, I see someone who, rather than try to please me as company president, has pursued Master Driver and Morizo, and wanted to perfect the driving feel of Toyota and Lexus.

He has wanted to make ever-better cars.

He has wanted to earn a smile from the master driver, Morizo himself.

I think that is the passion that has driven him.

I am a carmaker, through and through. I believe that's how I have successfully transformed Toyota.

However, a carmaker is all that I am. And I see that as my own limit.
"I am a carmaker, through and through... However, a carmaker is all that I am," will now become my new go-to mantra. 'Til next time, Akio.