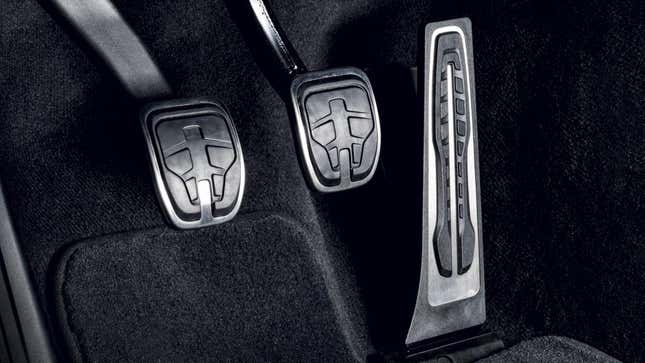 The Toyota Supra is a very good car, but enthusiasts have long decried its lack of a third pedal for maximum driving enjoyment. Some have even gone so far as to say that the only reason they don't own a Supra, right now, is because they can't possibly imagine having any fun with a mere two pedals. Well, for those holdouts, Christmas is coming early: The Toyota Supra is officially getting a manual transmission.
At midnight on April 15, Toyota USA made the one short tweet that many had waited for so long to read. A single photo of a Supra driver's-side footwell featuring three pedals, two of which bear an engraving that resembles a stick figure wearing jodhpur pants. You see it too, right?
The tweet was followed by a press release from Toyota UK promising an "all-new, tailor-made manual transmission" for the Supra. Toyota representatives wouldn't clarify what that meant via email, whether a transmission from Toyota or BMW or a third party would end up in the car, but they did confirm that the new gearbox was bound for North American shores.
Manual-equipped Supræ will also get a shiny new piece of flair to show off their enthusiast cred. The car's rear Supra badge, traditionally black or chrome, will now come in red — but only with the stick. Place your bets now as to how long it will take for red vinyl badge overlays to hit eBay, for use on auto-equipped cars.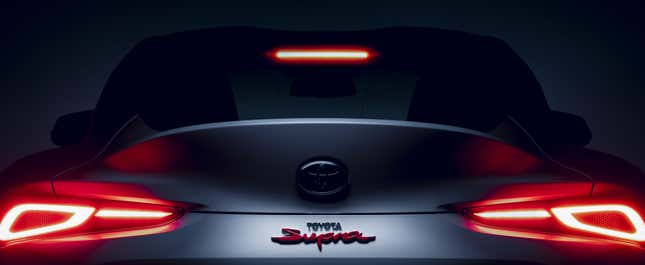 The Supra's existing ZF eight-speed is by no means a bad gearbox, and I can firmly say that in my own experience with the car I never felt it was lacking that third pedal. But for the enthusiasts who will only ever want to row their own, the Supra of their dreams is coming soon.