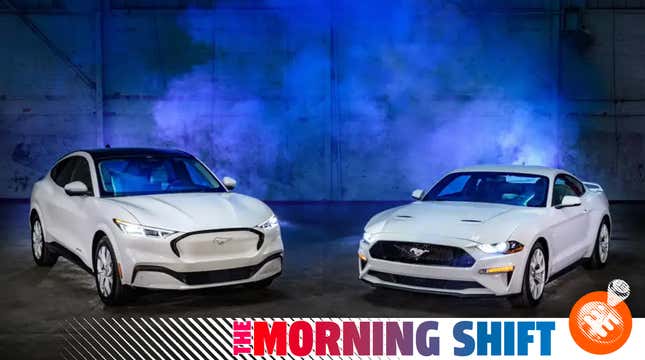 Ford is spending a lot of money on EVs, Tesla has ignited an EV price war in China, and Volkswagen. All that and more in this edition of The Morning Shift for March 23, 2023.

What Exactly Is Going On at Tesla Right Now?
1st Gear: Ford
I wrote about this a bit yesterday, before we knew the numbers, but on Thursday, Ford made the numbers very clear. It said it estimates that it will lose $3 billion in 2023 on "Model e," the name it has chosen for its EV division, separated as such from its internal-combustion division and its commercial division.
The announcement came as part of a plan today to explain to investors why Ford is changing its financial reporting structure. The gas-and-hybrid division is now called Ford Blue, and the commercial division is Ford Pro, alongside Model e. Ford is casting this as a "refounding" of the company, which, sure. From Ford's release:
Additionally, Ford today will:

Reiterate a 10% margin target for company adjusted EBIT (earnings before interest and taxes) by the end of 2026
Confirm that, among the new business segments, Ford Blue and Ford Pro are both solidly profitable and well-positioned for growth
Repeat its 8% EBIT margin objective by late 2026 for Ford Model e, which is tied to planned global electric vehicle production run rates of 600,000 units by the end of 2023 and two million by the end of 2026
Say that the contribution margin of Ford Model e's first-generation EVs – representing revenue minus certain variable costs – is expected to approach break-even this year, but be more than offset on an EBIT basis by higher investments in new EV products and manufacturing capacity
Reiterate that it anticipates full-year adjusted EBIT to be $9 billion to $11 billion – and adjusted free cash flow to be about $6 billion – based on assumptions outlined in the fourth-quarter 2022 earnings release on Feb. 2, and
Provide 2023 segment-level EBIT expectations: about $7 billion for Ford Blue, a modest improvement from last year; a full-year loss of about $3 billion for Ford Model e; and EBIT approaching $6 billion for Ford Pro, nearly twice its 2022 earnings.

Ford plans to announce first-quarter results on Tuesday, May 2.
I like that Ford threw in the bit about losing $3 billion at the bottom of the release, just a little aside. Obviously, this morning, that is the top line for everyone's stories about Ford.
2nd Gear: Tesla Is Engaged in What Sounds Like a Pretty Nasty Price War in China
Bloomberg says that some automakers might not survive in what is the world's biggest car market. The situation is such that several cars in China cost significantly less than what they do in the United States.
In October, Elon Musk's electric-vehicle maker — a major player in hyper-competitive China — cut prices on models produced at its enormous factory on the outskirts of Shanghai. Matters escalated in January, with another discount that left Tesla's locally-made cars up to 14% cheaper than last year, and in some cases almost 50% less expensive than in the US and Europe.

The moves left rivals with little option but to follow suit. Among them were local EV upstarts such as Xpeng Inc. and Nio Inc. as well as leading international brands like Volkswagen AG and Mercedes-Benz Group AG, which offered discounts of up to 70,000 yuan ($10,000). Ford Motor Co.'s Mach-E electric SUV is down to a starting price of 209,900 yuan, about a third cheaper than in the US.

"Tesla created havoc for rest of the market," said Jochen Siebert, managing director of JSC Automotive, a consultancy with offices in Shanghai and Stuttgart.

At least 30 more carmakers have cut prices, according to calculations by Bloomberg News and local media.
Tesla can do all of this because it is sitting on a lot of cash, while others aren't so lucky.
"The price cuts on EVs make them even more attractive compared to gasoline cars, further squeezing traditional carmakers," Yang Jing, director of China Corporate Research at Fitch Ratings Ltd., said in an interview. Separately, in a March 16 note, she said companies without sound external funding may face "survival challenges" in the coming two years.
This is what I take to be the future in the U.S., as we've been a step behind China with EVs at pretty much every juncture. A price war here featuring lots of different options and competitors? Bring it.
3rd Gear: Volkswagen's Lending Arm Says It Expects Less Profit Because the Used Car Market Is Becoming More Normal
VW's lending department makes a lot of money when there is strong demand for new cars, like there has been for a couple years now because of parts shortages leading to fewer new cars to satisfy market demand. That also led the used-car market to go a little nuts, but things have slowly but surely eased. And now Bloomberg says that because the used market is not so crazed, Volkswagen Financial Services says that its profits will be lower.
Earnings in 2023 are expected to be significantly below last year's level, Volkswagen Financial Services said in a statement Tuesday. Operating profit slipped to €5.6 billion ($6 billion) last year from a record result in 2021.

[...]

"2022 was once again an exceptional financial year strongly affected by special factors," Frank Fiedler, chief financial officer of Volkswagen Financial Services, said in the statement. "It can be anticipated that a repeat of such a result will not be possible in the short term."
Basically no one should care about the profits of Volkswagen Financial Services, but as a broader market indicator, I take this as good news.
4th Gear: Domino's Pizza and EVs
Last-mile delivery has been a hot topic for years now, pretty much thanks to Amazon, though the pandemic also accelerated the discussion, because everyone is getting so many things delivered. Like pizza, which, I'm told, was also delivered before the pandemic, but you can never stop innovating.
Automotive News says that some Domino's locations are now using EVs for delivery, in part to attract drivers, who have a lot of options in the delivery economy to choose who they want to drive for.
Domino's franchisee Dally Investment purchased 25 custom-wrapped vehicles, a portion of the fleet of nearly 800 Chevrolet Bolt EVs that Domino's is launching as part of the company's goal to achieve net zero emissions by 2050.

While environmental and maintenance cost considerations influenced the decision, Dally operations director Wade Ross said marketing was a major factor behind the move as EVs help increase Domino's presence in neighborhoods and attract new drivers. The wrapping stands out from the personal cars pizza delivery drivers typically use.

"There are a lot of different driver jobs out there with DoorDash, Uber Eats," Ross said. "So, attracting good, qualified drivers has been difficult, and offering a company vehicle is a huge benefit that can attract drivers."

Previously, Dally required drivers to use their personal vehicles. It reimbursed for maintenance at a rate set by federal guidelines per mile driven daily. Now the stores can provide an alternative; drivers don't have to worry about wear and tear, Ross said. "Everything is paid for in a sense by the company."
Domino's also is dealing with the realities of EV ownership, with charging taking several hours and weather being a factor:
Dally has also noticed a decrease in the miles it can get out of a full charge when weather conditions require more vehicle systems, such as heating and fans, to be on throughout the day. Heating and air conditioning are known EV "range killers," which can cause actual mileage to fall short of estimates.

"I'm not sure I'm looking forward to the dead of summer, when it is 90 degrees outside and the AC is cranking," Ross said. "Is that going to have as much of an impact as in the wintertime with the heat? I don't know that for sure."
Domino's has been a big hit with millennials, which surprised me a little, as there is nothing hip about Domino's. Then one day I ordered Domino's and was like, actually, this is good.
5th Gear: The EU Is Close to a Deal on 2035 Internal-Combustion Phase-Out
There was a little recent hiccup in the plan, because Germany likes e-fuels or something, but today Reuters says that Germany and the European Union are getting closer on an agreement.
Germany and the European Union are on a good path to solve a row over the bloc's planned 2035 phaseout of CO2-emitting cars, German Chancellor Olaf Scholz said on his arrival to an EU summit on Thursday.

The official summit agenda covers a broad range of issues from migration to sending ammunition to Ukraine, but last-minute opposition from Germany to one of Europe's biggest climate change policies is looming over the talks.

"If I understand correctly the talks between the Commission and the German government... everything is on a good path," German Chancellor Olaf Scholz said on his arrival to the summit.

Scholz did not specify when he expects a deal to be reached. Some leaders and EU officials suggested it would be a matter of days.

"I think we can get there, not today or tomorrow but over the coming days," Dutch Prime Minister Mark Rutte said.
Reverse: Donald Campbell Born
Campbell was a British racer who set several midcentury speed records. He died attempting to set a new water speed record in 1967. From The Guardian's obituary back then:
Yesterday morning was clear, with ice around the lake and snow on the hills when Bluebird was launched at about 8.45. Mr Campbell, whose latest pursuit of the world water speed record has been troubled for nine weeks by weather and engine failure, gave the thumbs-up and started his first run on seemingly smooth water.

Southbound he recorded an average of 297 m.p.h. over the kilometre, which left him with 303 m.p.h. to do on the return run if he was to achieve the 300 m.p.h. average which was his aim. Four minutes later he started again.

Bluebird met some slight ripples and Mr Campbell said over the radio, "She's tramping." A moment later he said "full power," then "the water is not good, I can't see much," then "I am upside down," and at last "she's going." The next voice on the radio was a timekeeper's. "Complete accident, I'm afraid. Stand by!" he said.

Mrs Campbell - Tonia Bern, the cabaret artist - came form London to Coniston last night.

The chief official observer, Mr Norman Buckley, of Windermere, said the accident had happened at more than 300 m.p.h. and within 200 yards of the end of the measured kilometre. Almost certainly the accident had happened because Bluebird had been travelling too fast. Mr Campbell had always said if the nose lifted as little as three degrees the boat would topple over backwards.