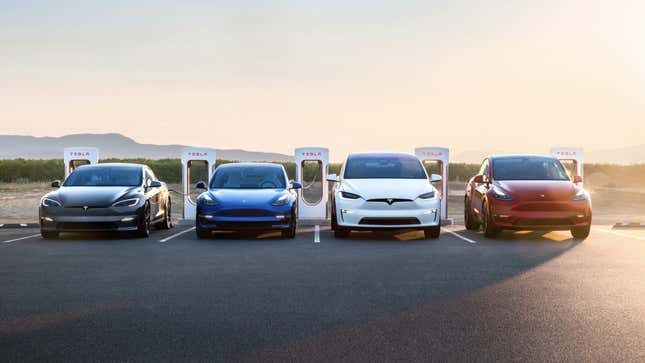 Tesla is recalling over 300,000 Model S, Model X, Model 3 and Model Y vehicles equipped with Full Self-Driving Beta software — in other words, every single Tesla with FSD Beta in the United States. According to the National Highway Traffic Safety Administration, in its current form, the $15,000 FSD Beta program may allow the vehicle to act "in an unlawful or unpredictable manner," increasing the risk of a crash. An over-the-air software update will be provided by Tesla to remedy the issue.
NHTSA alleges that the 362,758 impacted vehicles equipped with (or pending installation of) FSD software may travel straight through an intersection while in a turn-only lane, enter an intersection with stop signs without coming to a complete stop, or drive through an intersection under a yellow traffic signal without due caution.
The recall goes on to say that FSD Beta may respond incorrectly to speed limit changes, and it may not "adequately account for the driver's adjustment of the vehicle's speed to exceed posted speed limits."
Specifically, the recall applies to 2016 through 2023 Model S and Model X, 2017 through 2023 Model 3, and 2020 through 2023 Model Y vehicles equipped with the optional FSD Beta package. Tesla's "Autopilot" driver-assistance system is not covered by the recall.
Documents show that Tesla decided to administer the voluntary recall out of an abundance of caution on February 7, 2023. As of February 14th, Tesla said it had identified 18 warranty claims between May 8, 2019 and September 12, 2022 having to do with these issues. Despite the unpredictability of FSD Beta, Tesla says it is not aware of any injuries or deaths related to the current recall.
NHTSA says Tesla will issue an OTA update free of charge for all affected vehicles. Owners should expect a notification letter to be mailed by April 15, 2023. There's no word on exactly when the OTA update will be dispatched; NHTSA say it will happen "in the coming weeks." It remains unclear whether drivers will be able to use FSD Beta before the software update is performed.
When reached by Jalopnik, NHTSA provided the following statement:
Analysis and testing performed as part of NHTSA's Engineering Analysis (EA22-002) revealed that in certain situations, Tesla's Autosteer on City Streets (Full Self Driving (FSD) Beta), led to an unreasonable risk to motor vehicle safety based on insufficient adherence to traffic safety laws. As required by law and after discussions with NHTSA, Tesla launched a recall to repair those defects.

NHTSA will continue to monitor the recall remedies for effectiveness. This recall seeks to address a specific set of concerns identified by the agency. It does not address the full scope of NHTSA's EA22-002 investigation as articulated in the opening resume. Accordingly, NHTSA's investigation into Tesla's Autopilot and associated vehicle systems remains open and active.
Jalopnik also reached out to Tesla for comment, but all we got is an error message back saying its inbox was full.