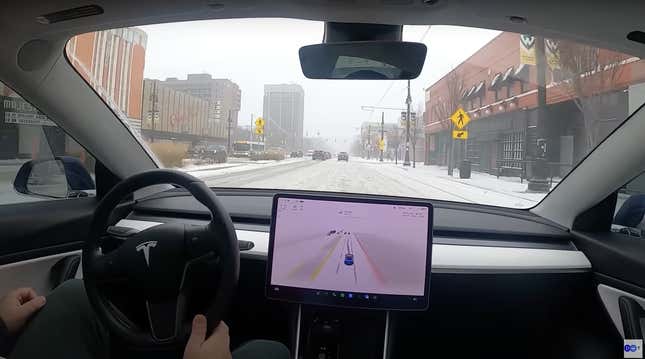 The U.S. Department of Justice has requested that Tesla share documents pertaining to the EV maker's Full Self-Driving and Autopilot driver-assistance systems. Tesla disclosed the letter of request from the DOJ on Tuesday, Reuters reports, as scrutiny of the automaker's systems and misleading claims is kicked into high gear.
This NYC Garage Takes Vanlife To The Next Level | Jalopnik Visits
The DOJ first launched the probe back in 2021 after numerous crashes – some of which were fatal – involving the $15,000 Autopilot system. Regulators are looking into whether or not the system's design and capability claims gave drivers a false sense of security, which led them to not paying enough attention behind the wheel of their Tesla.

The acting National Highway Traffic Safety Administration chief, Ann Carlson, told Reuters that the agency is "working really fast" on the investigation which she called "very extensive." In June of 2022, NHTSA upgraded its probe to an engineering analysis that is taking a look at 830,000 Teslas with Autopilot. It's the final step before demanding Tesla perform a recall.
We recently reported that Tesla CEO Elon Musk was directly involved in staging a misleading self-driving video that the automaker produced in 2016. Musk made it clear via email that he wanted the Model X demo vehicle to be better at self-driving than it actually was.
"Just want to be absolutely clear that everyone's top priority is achieving an amazing Autopilot demo drive. Since this is a demo, it is fine to hardcode some of it, since we will backfill with production code late in an OTA update," Musk wrote in an email. "I will be telling the world that this what the car *will* be able to do, not that it can do this upon receipt."
Here's the issue, Musk and Tesla presented that information as if the cars could already do that, and that's a sure fire way to get in trouble with the government.