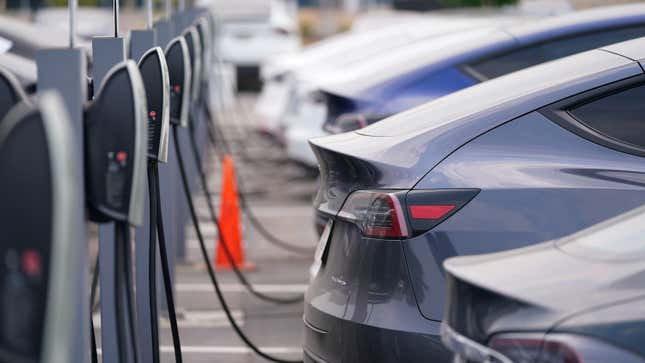 The National Highway Traffic Safety Administration is asking Tesla about a funny tweet Elon Musk sent on New Years Eve about the company's plans to removing the "steering wheel nag" from cars with drivers who successfully complete 10,000 miles in the beta testing program.
It's a real mixed bag of messaging over at Tesla these days; it seems the more spills Full Self-Driving Beta causes, the more the company's CEO wants to take the training wheels off. Here's how the tweet went, according to CNN:
The National Highway Traffic Safety Administration confirmed Monday that it is in contact with Tesla about Musk's tweet in which he "agreed" that Tesla drivers should be allowed to disable the alert reminding them to keep their hands on the steering wheel while in "Full Self Driving" mode, which is a driver assist system in an early "beta" version that does not fully drive the car itself.

On December 31, Musk replied to a tweet by @WholeMarsBlog that said "users with more than 10,000 miles on FSD Beta should be given the option to turn off the steering wheel nag."

"Agreed, update coming in Jan," Musk replied.
The "steering wheel nag" involves pressure sensors on the car's steering wheel that can sense when the driver has removed their hands. Tesla's Autopilot and FSD Beta are Level 2 advanced driver assistance systems and therefore require a driver to be attentive and alert at all times in order to take over should the system fail. Some drivers attempt to fake out the sensors using tennis balls, water bottles or purposefully designed products that would fool the car into thinking the driver had their hands on the wheel. It was only this year that the automaker to attempt to fix the oversight via software updates, Electrek reports. Tesla initially didn't want the sensors or the eye tracking cameras due to expense and driver comfort.
NHTSA told news outlets that Musk's tweet falls under its ongoing investigation into FSD Beta in general. That's at least a piece of good news for Tesla, which is currently under a mountain of investigations, from federal safety regulators to state DMVs to the U.S. Department of Justice. CNBC reported last month that NHTSA had at least 41 investigations into FSD Beta crashes open as we headed into the new year. There have been over 750 reports of hard braking randomly while using Autopilot, according to Insider.
News of the investigation broke the same day as Tesla announced it would only suspend drivers from FSD Beta program for two weeks following several reprimands from the vehicle for inattentive drivers, including warnings from the steering wheel nag, Not A Tesla App reports. Previously, drivers who were kicked off of the Beta program for inattentiveness could wait up to 6 months before they got their semi self-driving privileges back. In late November of last year, Tesla opened up FSD Beta to all drivers, regardless of if they failed or passed Tesla's safety test.