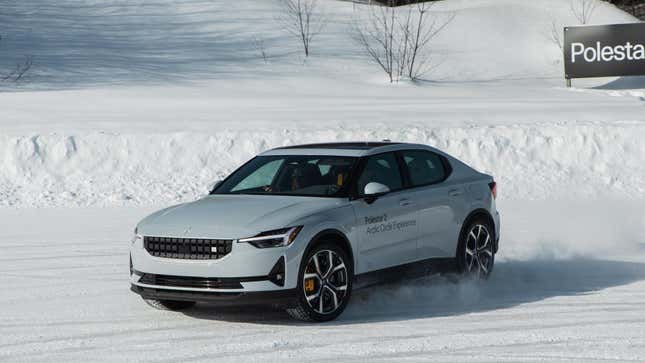 If you were to guess which EV maker would be the most capable in snow, there's a good chance you'd settle on Polestar. A Scandinavian brand spun off from Volvo, it would make sense that the Polestar 2 in particular could handle the worst of winter. Recently, Polestar invited a group of journalists out to the wild, wintry Canadian north to prove those assumptions correct — and as one of Jalopnik's resident Texans with rusty ice driving skills, I was going to put the EV to the test to see if could help me re-learn winter driving dynamics that just don't come naturally to me.
Readers: I left having nailed a Scandinavian Flick.
Full disclosure: Polestar invited me out to Québec, Canada for a day of playing on the snow-covered race track at Circuit Mécaglisse, and multiple meals that I am still drooling over.
Let's Talk About the 2023 Polestar 2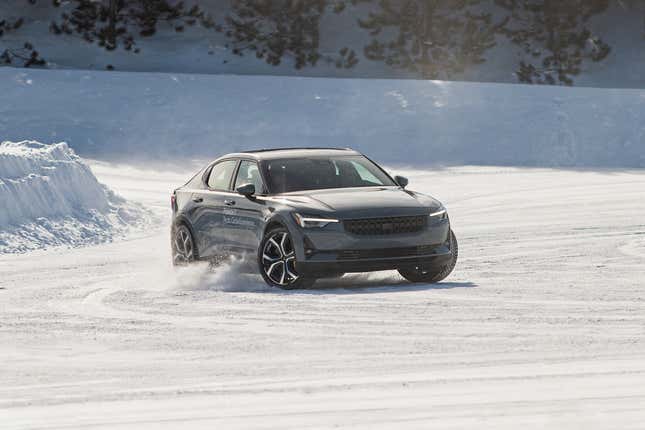 If you've read our previous coverage of the Polestar 2, you're going to have a pretty good idea about this year's vehicle, since 2023 largely saw a series of refinements to an already-solid base. Volvo's EV subsidiary added 11 miles of battery range to its dual-motor all-wheel drive version — the car I took on the ice, with one motor driving each axle. The 2023 model also gets a few updates to the vehicle's aesthetics (namely, new wheels and paint colors), but with so many additional models on the way, there wasn't a reason to do a heavy update on the Polestar 2.
Scandinavian Engineering Excels in the Snow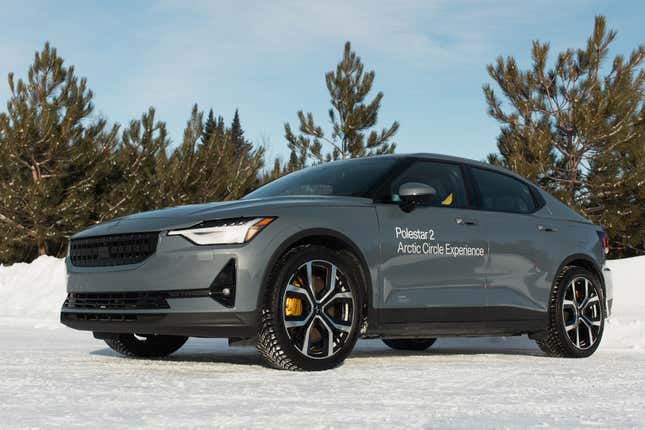 Electrification creates a new set of driving dynamics when compared to combustion engines; power comes immediately when you press the accelerator, which can be a challenging feat to master when you're dealing with the 400-odd horsepower of the Polestar 2.
That was something the company was conscious of — especially because Polestar knew that instant torque can be especially tricky in icy conditions.
"When tuning a car, setting the suspension characteristics and driving characteristics of the car, you have to aim for balance of power," Christian Samson, Polestar's brain behind product attributes, said at the event. "But that's in normal conditions. You need a certain maturity when taking it into the snow."
Samson highlighted that Polestar's test drivers push their vehicles into situations that would "scare the customer." The goal is to find ways to eliminate any characteristics that would cause that fear, and instead engineer predictability into the EV.
"We wanted a light car to have an athletic approach," Samson said. "It's on its toes — confident but alert. It should not be nervous, but it should be responsive." Polestar worked to implement those key attributes in the 2, while still providing more than enough opportunities for driver enjoyment.
Suffice it to say that Polestar is conscious of the varying ways we humans relate to our vehicles. Engineers worked to put together a vehicle that can deliver a stable winter cruise if you want it, while also giving you a chance to turn off the tech and get a little sideways if you're looking to raise your heart rate.
How the Day Worked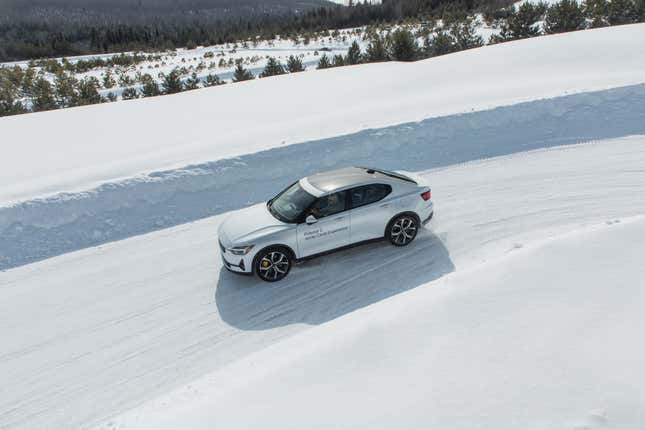 Our day at Circuit Mécaglisse was separated into four different modules: a slalom with acceleration and braking; a skidpad to play with initiating oversteer (and understeer, to demonstrate how the car overcomes it); standard lapping; and a final section where we put all our knowledge together to try our hands at mastering the legendary Scandinavian flick.
The Scandinavian flick is one of rally's most challenging moves. As well as looking cool as hell, the Scandi flick involves intentionally unbalancing your car to produce a drift. The sliding of the rear wheels scrubs off enough speed to make cornering easier without needing to get on the brakes. Drivers who can successfully complete this technique are absolute masters of winter-weather car control.
Manufacturer-hosted race tracks sessions like this are generally designed to familiarize drivers with a new car. So, at Circuit Mécaglisse, we started out small: In the slalom section, for example, we were tasked with trying out the Polestar 2's different steering and one-pedal driving modes to see how various settings impact the car's handling. When we'd gotten a feel for that, we moved on to the skidpad, where we turned on Sport mode to get loose and learn how to control the car in increasingly slippery conditions. Then we were able to put those skills together on fast laps around the snow-covered track before graduating to the sheer joy of executing a Scandi flick.
Our group of journalists was paired with highly skilled instructors: Martin Roy, former NASCAR Canadian Tires competitor; Louis-Philippe Dumoulin and Jean-François Dumoulin, a pair of motorsport brothers akin to the Busch brothers here in America; and Philippe Létourneau, one of the hosts of Canada's Worst Driver. (Blessedly, my performance didn't qualify me as a potential candidate for that show.)
Putting the Polestar Through Its Paces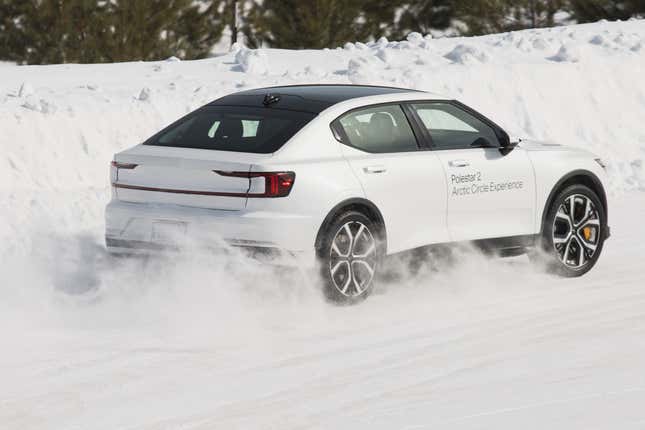 I've never driven an EV in the snow, so I had my hesitations about unleashing more than 480 lb-ft of instant, all-wheel drive torque in winter conditions — but I should have known better. Polestar has built customizability right into the driving dynamics.
In the 'Drive' section of the infotainment system, you can choose from three settings for both steering feel and one-pedal driving: Steering effort can be light, standard, or firm, while one-pedal driving can be set to standard, low, or turned off entirely. With those options alone, you'll have plenty of opportunities to tune the Polestar's performance to your tastes.
I started out the slalom and braking/accelerating event with standard steering and one-pedal drive to mimic the base settings of most daily drivers. Basically, that meant my steering was responsive without requiring a ton of effort, and lifting off the accelerator would bring me almost to a complete stop.
Switching to firm steering enabled me to feel more in control of the car, but it requires a refined touch: you need to steer with your fingertips, not your whole arm. I struggled a little more with the combination of standard one-pedal braking and firm steering; in a performance setting, I had to be extra conscious of my slalom entry speed. If I lifted off the accelerator while I was weaving, the rapid weight transfer caused by regenerative braking got me a little squirrelly, and that was only exacerbated by my rapid corrections. (I am, after all, not totally used to winter driving.)
The firm steering paired with one-pedal driving set to Low, I found, was ideal for the slalom; it gave me the precise input I needed with just a smidge of regenerative drag. As the track got more slippery thanks to our tires whisking away the top layer of snow to reveal ice underneath, the regen gave me much better car control. I didn't have to apply a ton of brake pressure when rounding the tight corners to re-stage for the slalom. With one-pedal driving turned entirely off, I had to swap between the accelerator and brake more often; that probably would have been fine on a dry asphalt track, but I was wearing winter boots, so the transition became a little clumsier.
Our next exercise took us to the skidpad, where the goal was to get loose and sustain a drift. To do so, I set steering to firm, one-pedal driving to low, and switched to Sport mode, which "turns off" electronic stability control.
I put "turns off" in quotes because the ESC is always active in some capacity in the Polestar 2 — but when you switch to Sport mode, the system is reduced, which provides more opportunities for lateral movement before the car starts trying to save you.
I really struggled with mastering the skidpad drift on the snow, because my instinct is not to maintain a skid, but to correct it ASAP. I learned from experience, multiple times, that the Polestar 2 is absolutely fantastic at helping you maintain control, even when you're trying to go sideways!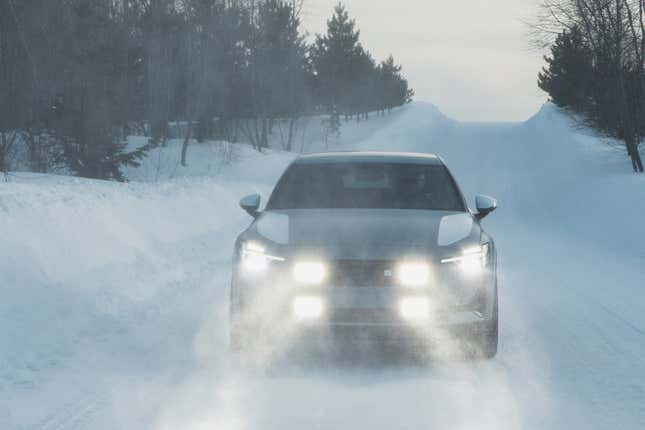 The kinda-sorta-slightly-enabled ESC also means you can have a ton of fun in the snow if you can figure out what the stability control will allow before it steps in. After multiple go-rounds, I finally started to find the balance I needed. I'd punch the accelerator, let the rear end of the car swing out, and then maintain just the right amount of accelerator input and countersteer to hold it on a sideways course as I rounded the skid pad. Turn off sport mode, and the front tires will start to bite a lot sooner, making it easy to get your car pointed straight again — a pretty great trait if you're not hooning.
With those basic skills and Polestar experience in place, we transitioned into the final two modules of the day: lapping and trying out the Scandinavian flick. I used my laps to once again sample different steering and one-pedal-drive settings, ultimately settling on firm steering and standard one-pedal driving as the track got slicker. As we cleared away the snow on the racing line and were left with nothing but ice, I appreciated the control I gained from a more communicative steering input. At the same time, I wasn't exactly pushing my performance limits on the tight, low-speed track, so I really valued the rapid deceleration afforded by standard one-pedal drive setting. The track was composed of a lot of tight turns and one immensely tight hairpin that filled me with anxiety every single time I saw it. With more time, I think I'd have grown more confident, but I was not in a mood to beach Polestar's car in a snow bank.
And that brought us to the final module of the day, the one I think everyone was most looking forward to: trying to master the Scandinavian flick. To do it would require putting together everything we'd learned so far, from mastering a comfortable lap to positioning your car properly on the track to maintaining a drift without spinning — and I have to be honest, it was one of the most intimidating maneuvers I've ever done on a track. I wasn't even expecting to nail it.
But with the Polestar, it was almost easy. While I struggled through my first few laps, I started to figure things out. Punch the accelerator to let the rear of the car swing out, just like I did on the skid pad — then punch the accelerator again as I turn the wheel in the opposite direction to drift the opposite way.
After those first few exploratory laps where I let my hesitation reign, I took the chicane that had been set up for the flick with the merest smidge of lateral movement. On that last lap, when I knew it was now or never, I got decisive. I snapped the wheel and punched the throttle and held myself firm. I could feel the Polestar trying to kick me back into a straight line, and I found the right amount of steering input to balance out the technology. I was sideways. I turned the wheel, and I was sideways again. I'd nailed — in an extremely mediocre but very thrilling fashion — a Scandinavian flick.
The Verdict
If you were to ask me to throw together a list of automotive-related situations that I find most intimidating, you'd pretty much end up with the schedule for the day I spend with the 2023 Polestar 2 at Circuit Mécaglisse: Performance driving, rapidly changing winter conditions, electric vehicles, a whole lot of power, and an audience of instructors and fellow journalists watching me the whole time.
I shouldn't have worried. Polestar put together a vehicle that's more than capable of handling the wintry conditions of its native Scandinavian homeland in a way that can suit multiple driving approaches. If you're a reluctant winter driver just trying to get to work without any shenanigans, you can rely on the Polestar's predictability, comfort, and advanced technology to keep your wheels pointed right where you want them, even if you don't have any icy experience under your belt. At the same time, if you're a seasoned Arctic veteran who just happens to find an empty parking lot coated in an untouched blanket of snow — well, you'd be able to turn on sport mode and see if you can master a Scandinavian flick for yourself.