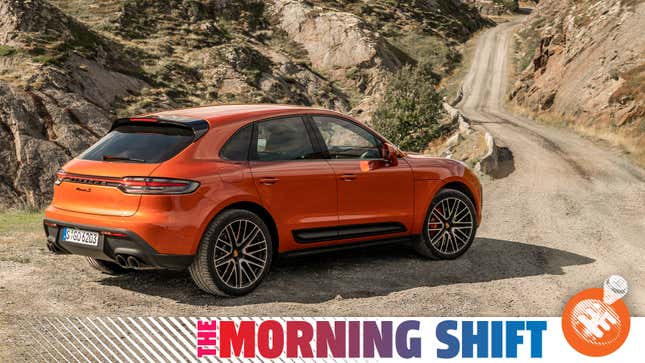 Porsche's first-quarter 2023 results are in; suppliers for Stellantis, General Motors and Ford are dreading a potential United Auto Workers strike later this year; and Ineos' wildly expensive off-roader will call Austria its home. All that and more in this edition of The Morning Shift for Monday, April 17, 2023.

1st Gear: First Quarter, Best Quarter
Porsche just capped a banner first quarter in which it outsold the same period last year by 18 percent, a record year-over-year increase. The improvement was thanks in large part to SUVs and also China. Courtesy Reuters:
The German luxury carmaker delivered 21,365 cars in China, its largest single market, representing 21% growth over the previous year. The result there, which is the biggest among regions, was driven by the post-pandemic surge in demand.

Peer Mercedes delivered 191,000 vehicles in China in the first three months of 2023, which is 3% higher over the previous year.

Premium brands are benefiting from the rebound in demand in China, the biggest market for luxury products, after its harsh COVID-19 lockdown policy was scrapped in late 2022.

Worldwide, Porsche delivered 80,767 cars during the period, with an increase posted in every region. SUV models such as the Macan and Cayenne, as well as the iconic 911 sports car, were the most popular among Porsche customers.
Of course the Macan and Cayenne are going to deliver the biggest volume, though it's nice that the 911 still captured a podium spot. Sales of the brand's flagship improved by 19 percent compared to first quarter 2022. Additionally, Porsche moved 19,651 vehicles in North America overall, good for a 30 percent rise in the market.
As for what's next for Porsche, it's hard to say just yet. The 718 is expected to go all-electric by 2025, by Porsche's own admission. It's unclear if the internal-combustion version will be phased out in concert, but seeing that the Macan, Cayenne, 911 and Panamera all outsold the Boxster/Cayman duo, it probably makes the most sense to electrify the entry-level sports cars first.
2nd Gear: Suppliers Caught in the Middle
The United Auto Workers' current contract with Detroit's Big Three expires on September 14. In the event a strike happens this year, tight margins and ongoing production bottlenecks mean suppliers are in a far worse position to weather the storm compared to the last pre-contract strike in 2019. From Automotive News:
The 2019 strike occurred in a much different economic environment than today. While the new-vehicle market at that time was cooling off from all-time highs earlier in the decade, business was significantly better then than what the industry has been used to lately, as microchip shortages and other supply chain woes cut vehicle production.

The big volumes leading up to the 2019 strike meant many suppliers were in a position to absorb some of their strike-related losses, and they were confident about recouping those lost sales in the following months.

But the immediately ensuing pandemic in early 2020 foiled that plan.

"Fundamentally, the suppliers were in much better shape before the pandemic than they are now, especially as it relates to cash on hand," said Carla Bailo, an industry consultant and a member of the SAE International Board of Directors.

That's unlikely to be the case in late 2023, she said.

While many suppliers have finally returned to pre-pandemic revenue levels, profits have generally lagged. Suppliers that operate on a just-in-time delivery system have dealt with a lingering financial squeeze over the past several years as high material costs and less predictable vehicle assembly schedules eroded profit margins.
New UAW president Shawn Fain recently stated he's "not married to any philosophy when it comes to bargaining" and is willing to use any tool at the union's disposal, including a work stoppage. The most suppliers can do to mitigate the ramifications of a strike is build up inventory — but only up to a point. "When your final customer doesn't need the part, they just don't need it," Michael Robinet, executive director of automotive advisory services at S&P Global Mobility, told Auto News. "It wouldn't help you much to build ahead, especially with just-in-time delivery."
3rd Gear: Tesla's Shanghai Employees Are Not Happy
Workers at Tesla's Shanghai plant learned that their quarterly bonuses would be reduced last week, and some were told by supervisors that a workplace death in February is the reason why. Some employees took to social media to spread the word, while others shared their accounts with Reuters:
"Please pay attention to the performance (bonus) of frontline workers at Tesla's Shanghai factory being arbitrarily deducted," said a person with the handle @AFeiywu on Twitter in a tweet directed at Elon Musk and Tesla's Asia unit.


Two workers at the plant, where Tesla employs around 20,000, told Reuters they were informed by their supervisors over the weekend about a cut to their quarterly bonus payout, which is linked to the factory's performance.

The workers said Tesla supervisors mentioned a "safety incident" when they were asked about reasons for the bonus cut. They declined to be named out of concern for their jobs. [...]

Some workers said in online posts their quarterly bonuses had been cut by around 2,000 yuan ($291.19).

Base salaries at the Shanghai plant start from around 5,340 yuan ($776.70) per month, with additional income in some cases coming from over-time work, shifts and annual and quarterly bonuses.
One labor researcher in China quoted by Reuters said that while it's not unusual for companies to withhold additional compensation after a workplace accident in the country, it doesn't typically come out of a performance bonus. The EV maker has deeply discounted its vehicles since the start of the year, especially in China, though those programs eventually expanded to North America and Europe as well.
4th Gear: The Lithium Roller Coaster
In other news related to EV production in China, lithium prices seem to have bottomed out and some believe may finally begin to stabilize again, according to the latest from Bloomberg:
Smaller producers are looking to stem losses after the price of the key battery material collapsed by over two-thirds in just five months. Thin stockpiles and improved prospects for battery storage and electric vehicle sales suggest that demand may be about to recover.

For firms without their own mines or long-term supply deals, prices have already fallen to the cost of production, according to Huaan Securities Co. "Inventory in the supply chain is already at a low level, and with the recovery of downstream demand in the second quarter, lithium prices could stop falling and stabilize," the brokerage said in a note.
If you're wondering why lithium collapsed so precipitously, Tesla's aforementioned EV price cuts, which spiked a pricing war in the market, certainly played a role:
The lithium roller coaster captures a two-year rally that lifted the market to a record 597,500 yuan ($86,910) a ton in November as EV demand in China boomed, before a rapid retreat that saw prices hit 187,500 yuan on Monday, according to data from Asian Metal Inc. The price of the lithium-bearing rock, spodumene, mined in Australia has fallen 16% from last year's peak, according to Benchmark Mineral Intelligence.

The declines came as companies across the battery supply chain avoided high prices by drawing on inventory rather than buying afresh, while the end to Chinese subsidies on EVs and a price war among automakers curtailed demand. Although the slump has offered some relief to downstream customers, the mineral is still over four times more expensive than the low hit in 2020.
5th Gear: The Grenadier Has a Home
The Ineos Grenadier, which has cost its creator a startling sum of money to get into production, will in fact be built by Magna Steyr in Austria, just like the Supra! From Automotive News:
The Canadian parts supplier is expected to begin production of the Ineos EV at its Magna Steyr complete vehicle assembly plant in Graz, Austria, in 2026. The companies did not disclose how many vehicles Magna plans to engineer and assemble for Ineos, nor did they reveal further details about the EV model.

"Right now, we're working to get the design concepts ready and are working to get the supply base on board to support this program," said Roland Prettner, interim president of Magna's complete vehicle business unit, in an interview with Automotive News.

The addition of Ineos as a customer at Steyr adds to Magna's growing portfolio of EV models it produces there. Magna is pitching itself to automotive newcomers such as Ineos and Fisker as a one-stop shop for engineering and assembly capabilities as those companies look to get their vehicles onto the market faster.
This news actually represents the latest chapter of a five-year-long partnership between Ineos and Magna, which started when the Canadian contract manufacturer offered engineering services to the chemicals firm-turned-SUV maker in 2018. Magna has publicly flirted with the idea of raising a new EV facility in North America for the tax incentives, but its business model of specializing in limited-production models for startups puts it in a relatively tricky position.
Reverse: At the World's Fair
On this day in 1964 — 59 years ago — the Ford Mustang was revealed by Henry Ford II in Flushing Meadows, New York. From History.com:
Neutral: New Faces
I saw a 2023 Accord on the road over the weekend for the first time, and it looked stunning. A few days earlier I saw a new BMW M2 in gender-reveal blue, which looked decidedly less stunning. What recent new car turned your head the first time you saw it in the flesh?