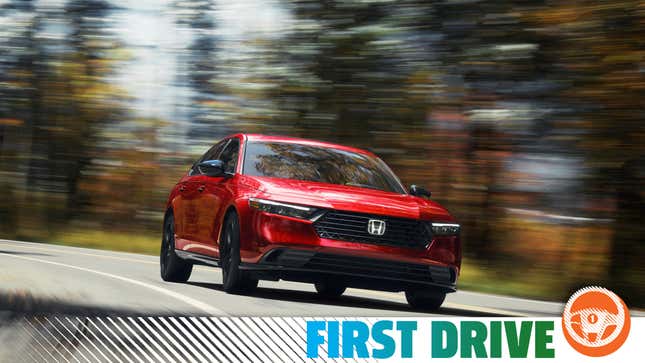 Being a true car enthusiast means not having tunnel vision. Manual transmissions, high horsepower, and high prices don't necessarily make a car good. That's why I love cars like the Honda Accord. Maybe it's the dad in me, but there's nothing like a comfortable family sedan that does well at what it's supposed to do, and looks good doing it. That's why the basic Accord formula hasn't changed much, and why the Accord has been one of the best-selling cars in the U.S. for over 30 years. The new 11th-generation Accord should continue that trend. Its combination of handsome styling, comfortable and stylish interior, and newfound fuel efficiency is welcome sedan supremacy in an ever-growing sea of crossovers.

Full disclosure: Honda was kind enough to invite me out to Encinitas, California to try out the all-new 2023 Accord. They put me up in a sustainable hotel and let me put the Accord through its paces in the mountains outside San Diego. They also bought me pie.

2023 Honda Accord: Dynamics and Drivetrains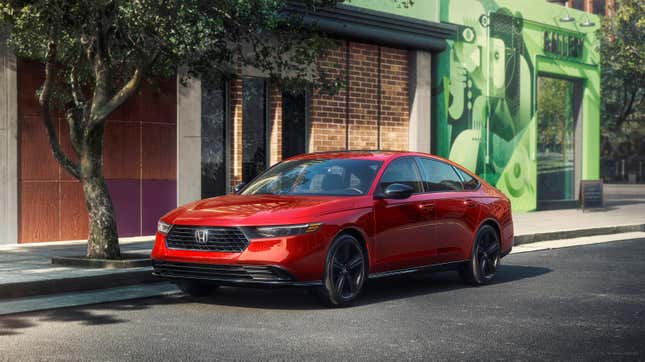 Honda sells a ton of Accords. People may say sedans are dying, but the segment is going strong at Honda. Even with all the difficulties the car market had last year, Honda still managed to move nearly 156,000 Accords in 2022. So when a new generation Accord debuts, it's pretty huge for the company. And when they do a new Accord, they do it right.

Honda will offer buyers six flavors of Accord: Base LX, EX, Sport, EX-L, Sport-L, and top-of-the-line Touring. No matter the trim you chose, you'll be treated to some excellent engineering underneath the skin.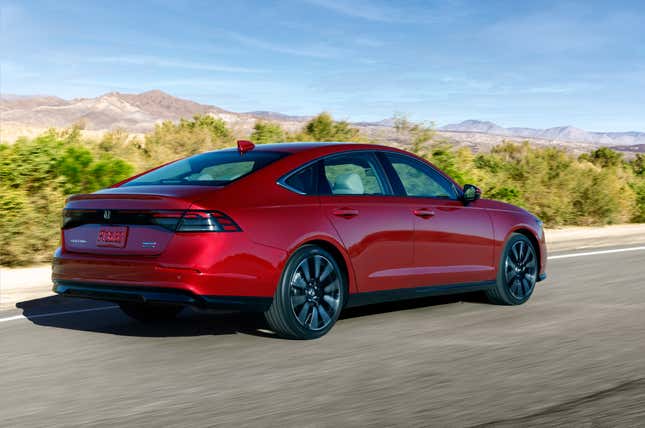 It all starts with a new chassis, built on what Honda calls its enhanced global architecture. This new platform results in a body that's strong and rigid, for improved ride and handling. Honda improved the steering feel, with a claimed 33-percent decrease in steering friction compared to the previous generation. Ride comfort has improved as well with a slightly wider rear track and improved compliance bushings to better absorb road imperfections. It all works to make the 2023 Accord smooth and comfortable, but not floaty. You wouldn't think twice about taking this Accord through the canyons.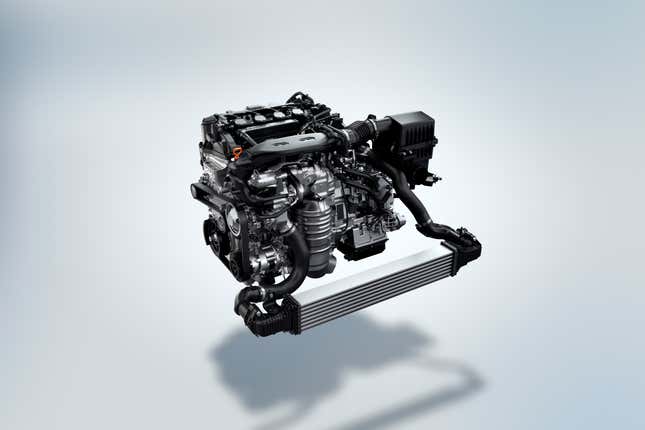 To hustle you along, Honda has given the Accord two all-new engines. Accord LX and EX get a 1.5-liter turbocharged inline-four making 192 horsepower and 192 lb-ft of torque. Enthusiasts may be disappointed to find out that the 2.0-liter turbocharged engine — closely related to the FK8 Civic Type R's powerplant — has been dropped from the Accord lineup for the 2023 model year.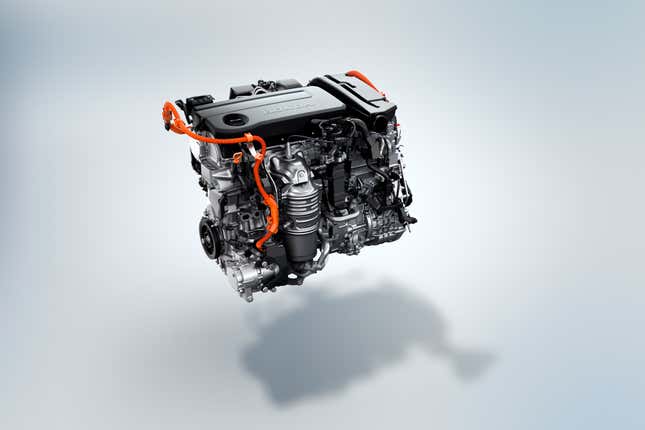 In its place is a hybrid drivetrain. An improved version of the system used in the last gen Accord Hybrid, Sport and higher trims get a 2.0-liter Atkinson four-cylinder paired with a dual electric motor setup to produce 204 total system hp and 247 lb-ft of torque. Honda fitted things like more powerful traction motor and power generators to the Hybrid system to improve performance. Honda seems to understand that people will feel some type of way over the loss of the previous 2.0-liter engine, as the company made pains to point out that this new hybrid engine has increased power and torque — compared to the previous Accord Hybrid, that is. The 252-hp, 273-lb-ft output of the last-gen Accord 2.0T will not be matched in the 11th-gen car.
No matter, though, as both engines available for 2023 will make it up to you in fuel efficiency. EPA ratings for the 1.5-liter sit at 29 mpg city, 37 highway, 32 combined. The Accord Hybrid offers two EPA ratings depending on trim. Commuters will want to go for the 2023 Accord EX-L, rated at at 51 mpg city, 44 highway, 48 combined. Sport, Sport-L, and Touring hybrids get ratings of 46 mpg city, 41 highway, 44 combined. No matter which engine you choose, the only available transmission is a CVT.
Of course, these aren't high-performance engines, but they're smooth and efficient — and capable enough to win a couple of stoplight sprints, as I was able to confirm. The Accord gets a couple of different drive modes including Eco and and Sport, the latter of which works surprisingly well, increasing throttle and steering response. It made the Accord pretty fun to hustle through local mountain canyons.

11th-Generation Honda Accord: Styling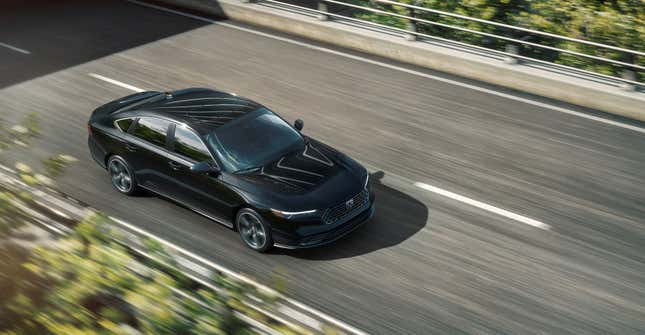 Outside, exterior styling has been cleaned up to be even more handsome than before. It's way more modern than before, but especially up front, you'd never mistake it for anything other than an Accord. The front fascia is more pronounced, with a broader hood, narrow blacked-out headlights and a nearly vertical grille.
Along the side, there's a character line that runs the length of the body that Honda designers say creates "a sense of motion." More than that, it highlights the Accord's length — the sedan has grown 2.7 inches longer compared to the previous generation. This line runs into the great looking, Volkswagen-esque taillights and really emphasizes how wide this new Accord looks (though at 72.2 inches it's exactly the same width as the last model).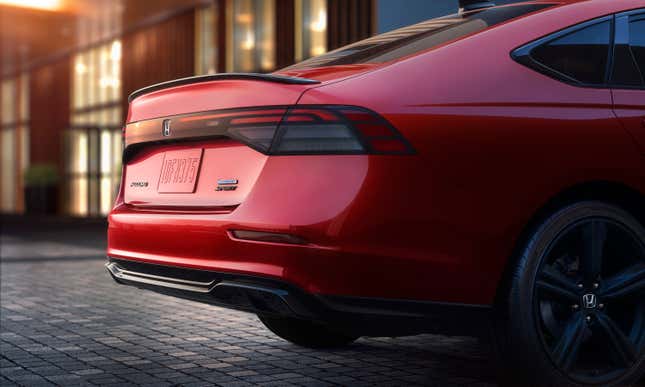 One design trait carried over from the previous generation was the use of a sloping, fastback-esque roofline. While it looks great, in the last generation this design trait had the disadvantage of eating into rear-seat headroom, especially on models with a sunroof. The new Accord seems to pull this off a bit better — I was able to sit in the back rather comfortably without my head touching the headliner.
The interior design has been cleaned up too, in keeping with the design language we've seen on the current Civic and recently introduced CR-V. There's the familiar full-width grille pattern hiding the dashboard vents, and the analog gauges have been replaced by a standard 10.2-inch digital instrument cluster standard across all trims. Base and EX models get a seven-inch center touchscreen, while an upgraded 12.3-inch touchscreen comes on Sport trims and above. Honda says it's the largest display the company has ever put into any vehicle. The graphics are great and the menus are well laid out. Throughout the interior, all the materials are high-quality and feel great to the touch, even on the pre-production cars we sampled.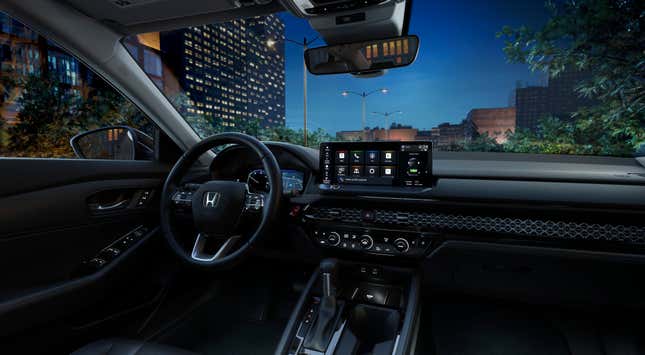 Techie buyers will be drawn to the loaded Accord Touring, which gets Honda's first integration of Google Built-In. A native operating system, it utilizes Google Assistant and allows voice control of interior features like the stereo and climate control. I'm a dedicated Apple CarPlay fan, but Google Assistant is way easier to use than Siri, and having all these vehicle functions available by saying "Hey Google" is a major convenience factor. The Touring trim also gets a fantastic-sounding 12-speaker Bose stereo.
Honda has drivers covered on the safety front as well, with collision mitigation braking, road departure warning, adaptive cruise control, and lane-keep assist standard on all trims. EX-L trims and higher get blind spot monitoring with rear cross-traffic alert, while the top-of-the-line Touring gets low-speed braking control and parking sensors standard.
2023 Honda Accord: Pricing and Final Thoughts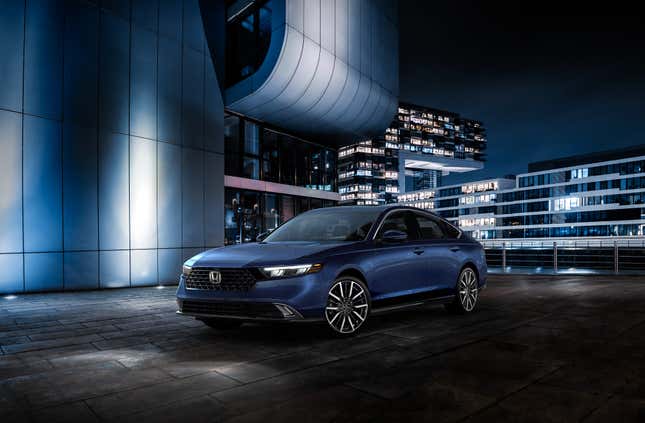 Honda has priced the 2023 Accord competitively. In this world of ever-increasing car prices, it's great to see a sedan that's still relatively accessible to the buying public. The '23 Accord starts just $775 higher than the outgoing model. Including a $1,095 destination charge, pricing starts at $28,390 for the base-model LX and runs to $38,985 for the top-tier Touring.

Honda stuck with what it knows for the 2023 Accord. It's new, but it doesn't stray too far from the familiar formula of a high-quality, efficient and comfy family sedan. And with pricing that spans most of the market, it has the opportunity to bring in new buyers and not break the bank for familiar Accord fans. It's an all-around great package, and I predict Honda is going to sell a ton of them.