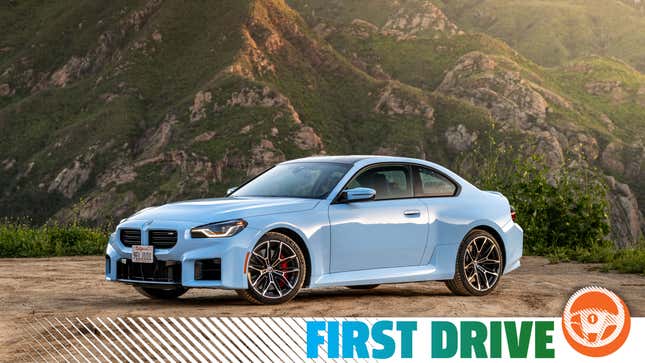 Okay, so maybe you're having a hard time with the whole "BMW's performance future is a hybrid SUV" thing. You aren't out of touch; it's the children who are wrong. Thankfully, BMW isn't just wholesale abandoning the traditional sports cars its M division is known for. In fact, the 2023 M2 takes a refreshingly back-to-basics approach to performance.

Full disclosure: BMW flew me to Arizona and put me up for two nights so I could drive the M2 with other journalists. BMW also let me drive an M2 back home to Los Angeles, which meant I got to stop and see my dear friends, the Cabazon dinosaurs.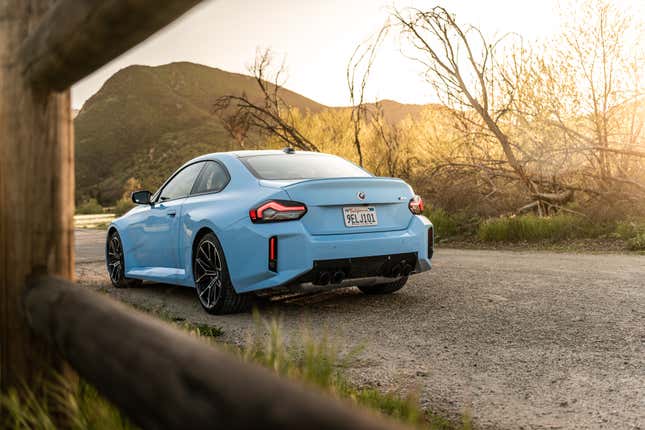 The current G42-generation 2-Series coupe uses the same modular architecture that underpins the BMW 3-Series and 4-Series, so it's no surprise that the M2 is closely related to the M3 and M4. All three cars have the same engine, chassis and brake hardware, and the M2 comes standard with the staggered 19-inch front and 20-inch rear wheel setup that's optional on the M3 and M4, wrapped in Michelin Pilot Sport 4S tires.

Dimensionally, the M2, M3 and M4 are an identical 74.3 inches wide, with the same 63.7-inch front and 63.2-inch rear track-width measurements. However, the M2 has a 4.4-inch shorter wheelbase, which makes it noticeably more agile. Aiding in the M2's nimbleness are front springs that are stiffer than what you get on the M4, making for sharper turn-in. Softer rear springs make the M2's tail a little more lively, as well, and since this setup requires extra damping forces, BMW fits this coupe with firmer dampers borrowed from the European-market M3 Touring.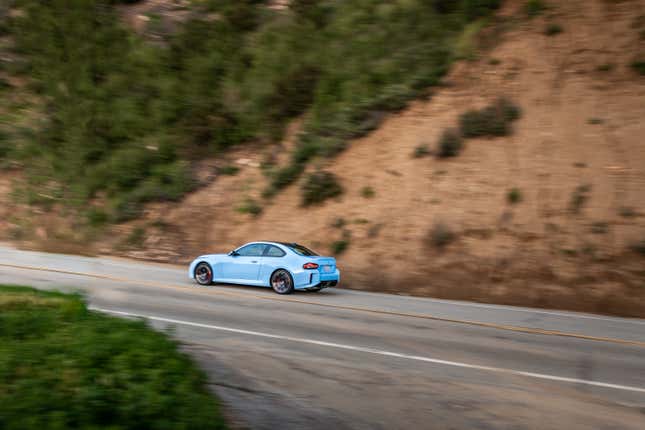 Every M2 comes standard with BMW's Adaptive M suspension, and there are tangible differences between the coupe's Comfort, Sport and Sport Plus settings. On the hilly roads up near Prescott, Arizona, or on my favorite local canyons back home in California, Sport Plus does a super job at keeping the M2 stable while cornering without being overly chatty on broken pavement.

Comfort mode works nicely, too, just in the opposite direction. Don't get me wrong, the M2 is stiff, but it's an M car, so that's to be expected. That doesn't mean the M2 is a pain in the ass to live with day to day, or even on a six-hour slog between Phoenix and Los Angeles. This car is just as compliant as an M3 or M4. But maybe don't spec the hella-aggro carbon bucket seats with the weird thigh bulge if you're planning to drive long distances on the regular.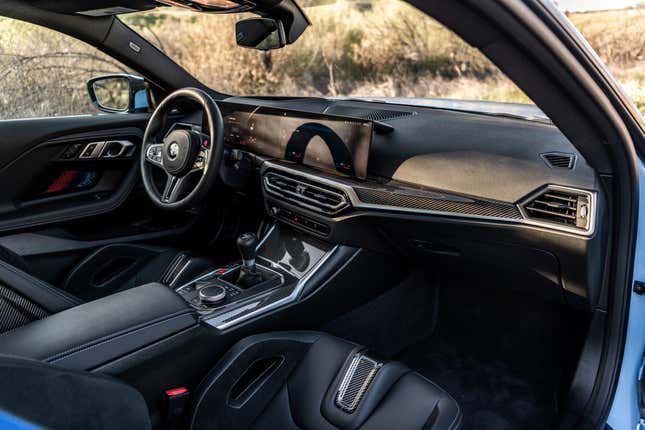 The M2 has the same brake-by-wire setup as the M3 and M4 – noticing a pattern? – with Comfort and Sport settings, but unlike the adaptive suspension, the difference between these two modes is pretty much imperceptible. More importantly, the brake-by-wire technology doesn't feel artificial or difficult to modulate, with the six-piston vented front discs providing adequate stopping force without pronounced nose dive.

BMW's 3.0-liter twin-turbo inline-6 engine is a peach across the board, and you won't notice the 20-hp shortfall in the M2 compared to the M3/M4. With 453 hp delivered at 6,250 rpm and 406 lb-ft of torque available between 2,650 and 5,870 rpm, the M2 rips. BMW says it takes the M2 4.1 seconds to hit 60 mph – just like the M3 and M4 – or 3.9 seconds if you ditch the standard 6-speed manual transmission for the optional 8-speed automatic.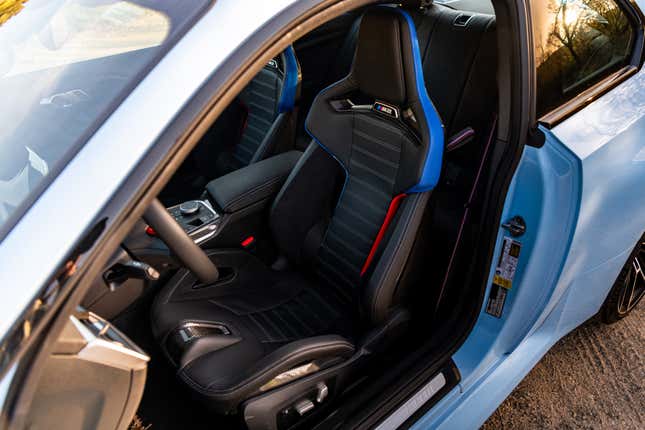 The automatic transmission is fine, and the steering-wheel-mounted paddles are relatively satisfying to use, but if you pass up the six-speed manual, goodness are you missing out. I know some people complain about BMW's manual gearboxes feeling rubbery, but I love it; there's great tactile action while moving between the gears. You can easily turn off the automatic rev-matching tech in the drive mode menu, but I'm a big fan of leaving this on. Smoothing out downshifts makes the manual transmission much less of a hassle when you're stuck in stop-and-go traffic, and it lets you grab lower gears quicker and more smoothly, too.

The M2 is rear-wheel drive, and BMW isn't planning to offer an xDrive all-wheel-drive variant, but an electronic limited-slip differential manages power delivery and vectors torque across the axle to help with overall grip. There are ten different levels of traction control intervention, which is really just overkill, as far as I'm concerned. There's also a Drift Analyzer function to critique your TC-off slides, but please don't be one of those people who uses this in a grocery store parking lot or a canyon road turnout. No one is impressed by your smoky antics, I promise.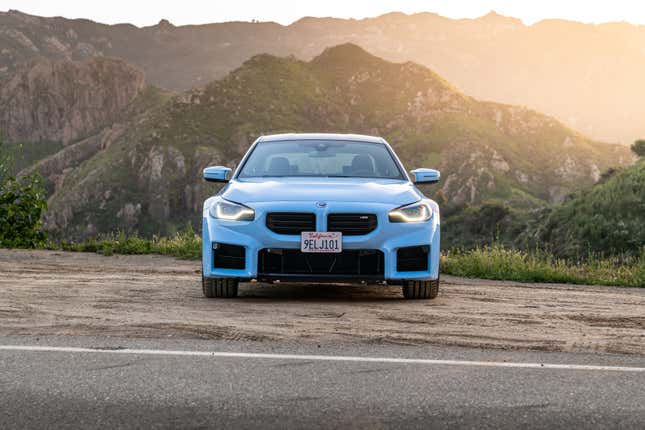 The lack of all-wheel drive is hardly a dealbreaker, and it's one of the only things that truly separates the M2 from the M3 and M4. The interiors of these M cars are all basically the same, especially now that the M3 and M4 get the new curved infotainment display that incorporates a digital gauge cluster and BMW's iDrive 8 multimedia suite. In every other regard, compared to a base M3 or M4, the M2 is just as good – if not better.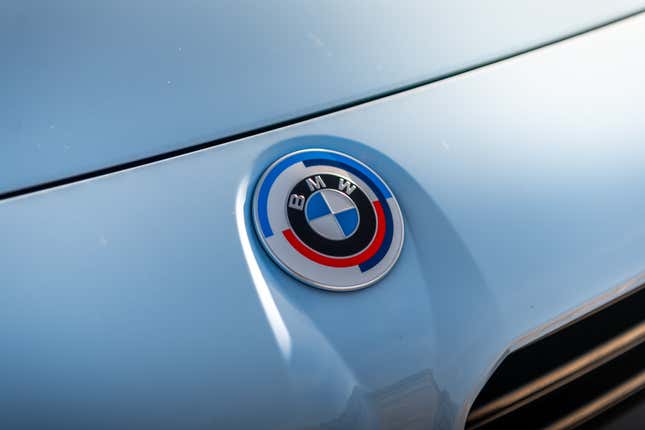 Besides, don't forget: If you want an xDrive M3 or M4, you have to pay for the privilege. All-wheel drive is only available on the Competition variants of the M3 and M4, which cost $83,595 and $85,935, respectively, including a $995 destination fee. Sure, you get 503 hp and 479 lb-ft of torque with the Competition models, but is that really worth the upcharge? With a base price of $63,195 – or $75,395 including delivery on my well-optioned test car – the M2 is a serious bargain. It also looks a hell of a lot better in my view, though given BMW's styling direction of late, that's obviously debatable.
More than anything, the M2 is a reminder that BMW cares about building exciting sports cars even as its portfolio expands to include new kinds of M products. The M2 might be a larger, more complex, slightly uglier version of the coupe that came before, but it's every bit as satisfying. I'd totally have one over an M4.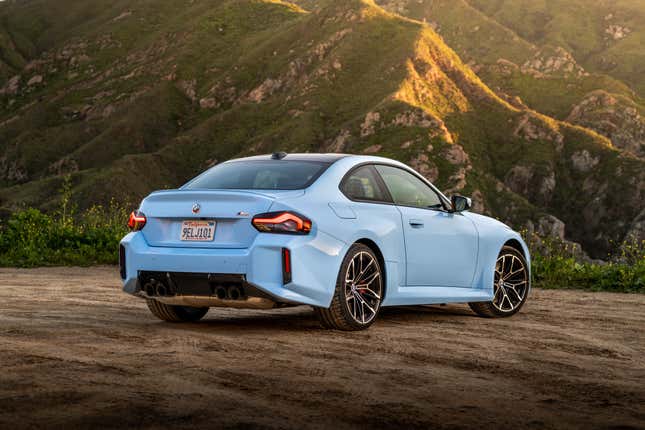 Engine type
Twin Turbo Premium Unleaded I-6
Transmission/Drive
Manual w/OD