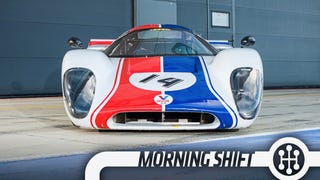 This is The Morning Shift, our one-stop daily roundup of all the auto news that's actually important — all in one place at 9:00 AM. Or, you could spend all day waiting for other sites to parse it out to you one story at a time. Isn't your time more important?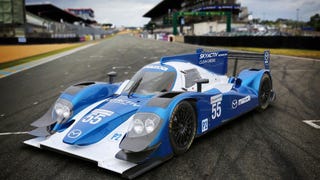 Patrick Dempsey is your racing savior. The actor-turned-driver's team will campaign a Skyactiv diesel-powered LMP2 car in the 24 Hours Of Le Mans next year. Not only will this bring the famous automaker back to the place of its greatest motorsports victory, it'll help break Nissan's stranglehold on the LMP2 category.
Caterham's building its first "new" car in years, and like the Caterham Seven, it's all about joy-per-dollar. The Lola SP/300.R is a $100K prototype racer that'll blast to 60 mph in 2.5 seconds and hit 170 mph. We'll take three.
If you're one of the million gamers laying virtual tracks in Forza Motorsports 3, the Hot Holiday DLC pack offers ten cars with a combined 5,649 HP. Below, discover why you'll want these bruisers in your virtual garage.
Nationalistic British race fans rejoice! Aston Martin will be entering into the top class at Le Mans, going head to head with the dominant Audi R10s. The decision to run in the class was made after new rule changes gave an advantage to production-based engines. The 6.0L V12 is the same engine used in the GT1 class…
The 1966-1974 salad days of Can-Am racing were a result of the Sports Car Club of America and the Canadian Automobile Sports Club joining forces. The adoption of Group 7 FIA rules spawned a North American racing class with no restrictions on engine size or boost pressure. Tire size was wide open. Weight was optional.…
We've always loved Lola. But who wouldn't love a green-haired, tatted-up Oregon stripper (full nudity + alcohol) who pole-danced to Iron Maiden and Slayer, whose real love was erotic performance art? Oh wait, sorry. Cars, right. Eric Broadley's brainchild bore fruit on the American open-wheel circuit as early as…

If you're not a motorsports engineering wonk you've likely never heard of Al Melling; but if you're a fan of old Lola V10s or late-model TVRs, you've most assuredly heard one of his engines at full rip. Now, the 60-year-old is creating a luxury brand empire that includes high-end motorcycles, speedboats, fashion…
Two of the most hotly-anticipated prototype racers of the last um, uh, real long time made their full-series ALMS debuts at Sebring with mixed results. The pole-qualifying #2 Audi R10 of Tom Kristensen, Allan McNish and Rinaldo Capello took the race, while the #1 car, driven by Marco Werner, Frank Biela and Emanuele…
A diesel-powered Audi will run in the next 24-hours of Le Mans race, so why not a biodiesel Lola? Why, indeed, says the head of UK-based D1 Oils, a maker of biodiesel products, which entered a Lola B2K — powered by a Volkswagen Touareg's TDI V10 — modified to run on a mix of diesel and vegetable oil. It's 15mph…
Oh, be still our engorged genitalia Lola's just announced the T70 Mk3b continuation series. First unleashed upon the racing world as an open car in Can-Am competition, the Mk3 coupe variant went on to win the Daytona 24 in '69 with none other than Mark Donohue and Chuck Parsons as pilots. Unlike Ford's GT-40 (which…
Lola, whose chassis have dominated the Champ Car field as of late, is a bit perturbed that the series has inked a deal with Panoz to supply cars for the series. The British race car manufacturer has been building Champ Cars since the 1970, but it's not their only meal ticket, as they're the sole supplier to the new…