Three major crashes happened on the second day of the 74th Goodwood Members' Meeting, and while everybody will live to tell their tales, that was down to luck as well as Goodwood's crew doing their jobs flawlessly. And that's why it doesn't need to change.
For the uninitiated, the Goodwood Members' Meeting is a weekend of vintage car racing at the Goodwood Circuit, one of the last historic race tracks in the world that kept its original layout since 1948. Charles Gordon-Lennox, Earl of March and Kinrara—better known as Lord March—re-launched the event in 2014 after his grandfather shut it down in 1967, and it may very well be one of the last last bastions of proper vintage racing.
If we want Goodwood to remain that way, and a place where everybody can meet their heroes at full tilt while enjoying some organic ales by the fire, the rules cannot be tightened. The fences can't be taller or further away, the speeds can't be limited and the FIA has to trust Lord March's team to know what they are doing. Mostly because they really do.
At this point, nobody is talking about tightening the regulations or changing the event. But one look at Formula 1's safety efforts will tell you exactly how little today's society can accept that fact that people can die at a racing track. And if politicians or the FIA decides to puts pressure on Goodwood, I'm not sure what Lord March can do about it.
What's certain is that the Members' Meeting is the smallest of Goodwood's event trio, which means tickets sell out faster than to the Revival or the Festival of Speed despite costing at least £131. And all 33,000 visitors' wristbands have the same disclaimer in the middle:
Motorsport can be dangerous. Despite the organizers taking all reasonable precautions, unavoidable accidents can happen. In respect of these, you are present at your own risk.
G/O Media may get a commission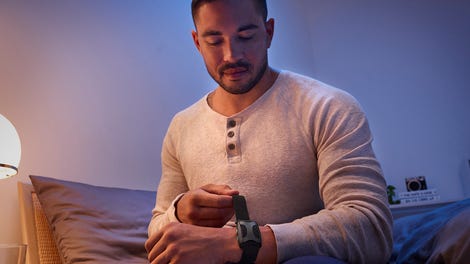 In vintage racing, at a historic racing circuit, they absolutely mean that. For example, I totally did not see this coming:
I just put down my coffee on the balcony when it happened. The first race of the day coming to a spectacular halt, right in front of me.
A simple race accident that could have been much worse if the car fell on anybody in the tunnel, if its torn wheel hit someone after flying into the disabled balcony, or if Stephen Bond wasn't a lucky devil, walking away from all this with a broken collar bone after going underground upside down in an open-wheel 1950s grand prix car.
Mark Valvekens lost control over his 1959 Aston Martin DBR4 just after the chicane, colliding with Stephen Bond's 1961 Lotus-Climax 18 while reentering the track. Bond's Lotus went airborne immediately, flipping numerous times before jumping over the wall and falling into the spectator's tunnel just behind it.
Goodwood's emergency team is a well-oiled machine that takes care of crashes in a highly professional manner, but the crew also knows better than anybody that during the Goodwood Revival, people are constantly queuing up in that tunnel. A close one, as they say.
After everybody managed to finish the GT40's race in once piece the day before, I was hoping for the yellow and red flags to stay put after the morning accident. But the Safety Car didn't get time to cool down at all.
While the GT40s managed to find their designated run-off areas on Saturday, others turned out to be less fortunate.

Crashes come with the sport, and at Goodwood, both the Circuit and the Hillclimb Course take their toll—be that with a priceless Mercedes against a priceless Lister-Jaguar, a priceless Group C Mazda against the hay bales or a priceless Maserati with no seat belt against the tire wall.
And as the speed escalates, so does the risk. Racing against other GT cars, an AC Cobra looks like this during a hot lap:
After locking up the brakes in one of these and hitting the grass, the car will go straight into the wall, no matter what the steering angle is.
Karsten Le Blanc walked away from this accident, but the car was toast and took so long to pull onto the flatbed that the 20-minute race had to be finished behind the Safety Car. That sucked for the other drivers, the spectators paying hundreds of pounds to be there and the people who spent all the money preparing and transporting their precious race cars to the English countryside.
It also made Lord March's day worse, because due to the local noise regulations, the Members' Meeting has to be finished by 6 p.m. Goodwood only gets five race days a year, and there's just no time for any delays.
The day before, Philip Hall's 1966 Lola-Chevrolet T70 Can-Am did a second faster lap during qualifying than the record it set last year. The race promised a lot of excitement. Goodwood is a very fast circuit, and the Bruce McLaren Trophy always takes full advantage of that, often pushing the boundaries further than they can go. Not surprising when it comes to Can-Am cars.
Bruce McLaren lost his life at this track driving the M8D prototype, but while many drivers gave the lawn a trim this year as well, only one of them had to be airlifted to hospital.
I tried to zoom in as much as possible, but looking at the pictures, I still couldn't figure out whether Michael Smits' 1965 Lola-Chevrolet T70 Spyder was upside down in the distance, or just heavily damaged.
The Bruce McLaren Trophy got red flagged. Smits was in a helicopter on his way to the hospital, while his Lola was taken back to the paddock. Looking at the wreck, my good mood was gone for the day.
Rumors started circulating that it was only the Dutch driver's second time in his Lola after yesterday's practice, and that his previous race car was a Mustang, something hardly comparable to an insane Can-Am. Whether this was true or not, I have no idea.
After this third accident, all remaining races had to be shortened by 10 minutes, while demonstrators like the Super Saloons only got a single lap. Goodwood was running out of time.
Smits spent a week in hospital with two vertebrae and several ribs broken. After his release on Tuesday, he had this to say:

I'm enjoying my own bed at home at the moment. My injuries are serious but will heal within 3 months, given the situation I am a happy person as it could have turned (out) much worse. The car will be repaired a.s.a.p. to be able to join races when I can. Further I'm already looking forward to next year's event.
That's dedication right there. Goodwood also issued a statement, ending all those nasty rumors:
On Sunday 20 March at 15.45hrs, M.S.' Lola T70 was struck by stray bodywork from another car, causing him to crash.
Lord March has to have the actual Lord's number, because both the English rain and the Grim Reaper stays away from his events year after year. Will our luck run out? Most certainly. And when that happens, we need to keep calm and carry on, because Goodwood is magical, unique, and we need to preserve it that way.
Why exactly? Well, just from the top of my mind: It's the only place where Porsche will take its freshly restored 917s from the Museum, to go head to head with Ferraris and Lolas of the period.
It's also the track where Mercedes Classic gathered seven original 300SLs last year, saying that something like this will probably not happen in the next decade or so simply due to the value of these cars. Lord March also managed to park half of the Jaguar XKSSs population next to each other during the largest gathering of D Types ever, and had the only six Daytona Coupes ever made line up on his grid.
In more general terms, this is where children can see race cars in action their grandparents might have back in the day, where pro racing drivers get a chance to drive anything that ever raced between 1902 and the eighties, and the list goes on and on. The local organic farm's bangers and mash ain't bad either.
And honestly, where else could a guy win a race with this under his way too easily removable seat?

Only outside Chichester, by the Rolls-Royce factory, at that old airfield. Once you make it to London, it's just an hour away. No excuses.

Further good reasons include these:
Do you still believe Lord March's forehead needs more Health&Safety stickers? I'll let Robert Stokes's photos do the rest of the talking:
Daffodils smell nice in March, but I prefer race gas.
Photo credit: Máté Petrány/Jalopnik and Robert Stokes/Jalopnik