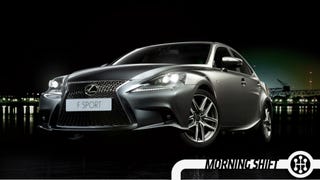 This is The Morning Shift, our one-stop daily roundup of all the auto news that's actually important — all in one place at 9:30 AM. Or, you could spend all day waiting for other sites to parse it out to you one story at a time. Isn't your time more important?
Every automaker enhances their official images in Adobe Photoshop, often adding billowing smoke clouds to burnouts. Just like Lexus did here. Hilariously, they forgot a key detail. Lexus, here's a hint: Who's driving? [Lexus.ca via TheCarLounge]
If you have a Lexus IS Convertible or GS and still want to look like you're driving a Lexus, but not the Lexus IS-F, you'll soon be able to upgrade with official "F-Sport" parts.
The tuners at Fox Marketing, fresh on the heels of their twin-turbo IS-F, have returned to the RWD Lexus sedan for a convertible coupe version. Better still? The "Ecto Cooler" green color.
Remember that mystery Lexus IS circling the ring last week? Due to the camo, guesses as to what it could be ranged from a new hybrid to a mid-cycle refresh. Turns out that the most obvious answer was right: it's a race car. Those questionable hood bumps were merely an illusion created by the camouflage. This is the…
Let the Nürburgring mysteries continue! Today's super secret car out testing on the 'ring is clearly a Lexus IS, but the intel from our spies at BridgeToGantry is limited at the moment. Under that camo, there's some sort of faded paint job inspired by a '70s custom van which leads us to believe the car may be…
One of the posters at Club Lexus managed to get their hands on a scan from some unknown German magazine with a shot of what is purported to be a Lexus IS convertible in light camouflage. The claimed horsepower numbers range from 177 to 423 horsepower, which covers the IS from the entry-level diesel (in Europe) to the …
Hoping to put the Man back in the American LeMans series, Lexus released pictures of their new Panoz-fighting Lexus 350 GT2. Powered by a V6 that should generate more than 470 horsepower, the new Lexus hopes to compete with the likes of the M3, Viper Competition Coupe, Ferrari F430 GT and eventually the upcoming Aston…