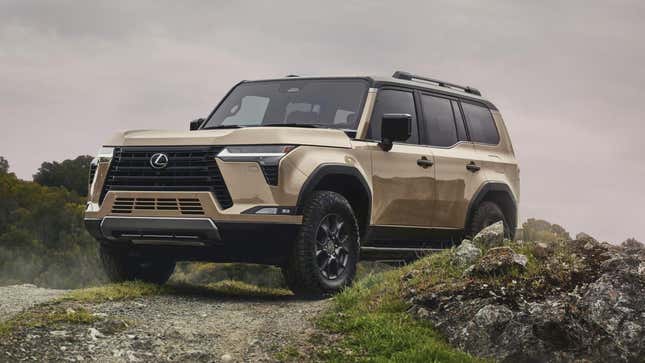 The 2024 Lexus GX is back to basics with boxy good looks that made the older Toyota Land Cruiser Prado a mainstay in the off-roading community. But the new GX builds on the SUV's legacy as one of the carmaker's most capable and sophisticated off-roaders with a new Overtrail trim, a first for the Lexus GX.

Clearly, this is Lexus cashing in on the latest off-road and overlanding craze. But the 2024 Lexus GX Overtrail and Overtrail Plus (+) grades are, more or less, natural progressions for the GX, which is to say this doesn't seem like a futile exercise in branding.
The Overtrail trims don't just debut the rad two-tone paint of the latest Lexus GX; they also add functional upgrades and mechanical changes. These include an electronic locking rear differential and standard aluminum skid plate, among other things. The lineup of the new model begins with the base Lexus GX Premium, then the Lexus GX Premium Plus (+), Lexus GX Luxury, Lexus GX Luxury Plus (+), Lexus GX Overtrail and Lexus GX Overtrail Plus (+).
The two Overtrails (or is it Overtrailers?) are now the pinnacle of the GX, but unfortunately, we don't know what these will cost yet. For now, let's take a look at what the new trims add to the venerable GX, and peer into the SUV's design.