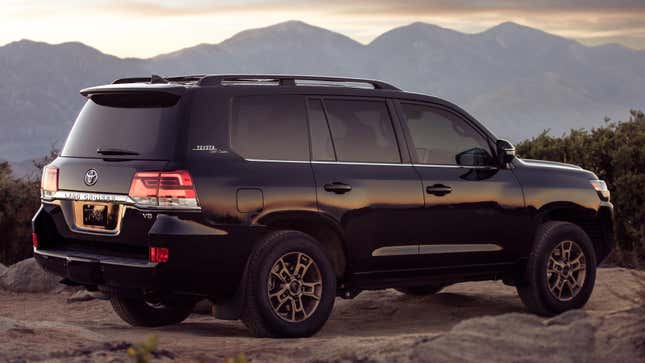 The Toyota Land Cruiser was gone for the U.S. with the 2021 model year, a victim of being too old or something, despite being a big-ish SUV in a country that really likes big SUVs. The Land Cruiser was replaced by the Toyota Sequoia, even though the Sequoia already existed and is in a slightly different segment. Ever since then, too, there have been rumors that the Land Cruiser would come back to the U.S., because it really was a fine big automobile that lasted a long time and, sentimentally, was nice to have around, a reminder of when Toyota was more of an underdog and challenging, you know, Land Rover and Jeep.
Anyway, the latest hint that the Land Cruiser might be back for the U.S. comes in Automotive News on Wednesday, which says that they have spoken to a source, and their source says that the Land Cruiser might come again here in the form of the Land Cruiser Prado, which is sold elsewhere in the world. The news is conveniently timed to the unveiling of the next Lexus GX, which is happening on Thursday.
Toyota Motor Corp. could revive the venerable Land Cruiser nameplate in the U.S. as early as next year when it plans to introduce a redesign of the SUV's little brother, the Land Cruiser Prado.

In bringing the rugged truck stateside, Toyota may simply drop Prado from the name and badge it a Land Cruiser. The automaker is considering the move in the U.S., a person familiar with the plan said.
According to Auto News, the new Land Cruiser could look something like the Land Cruiser 300 Series, itself based on the newest Land Cruiser (which we don't get in America). Avert your eyes, because the Land Cruiser 300 Series looks like this: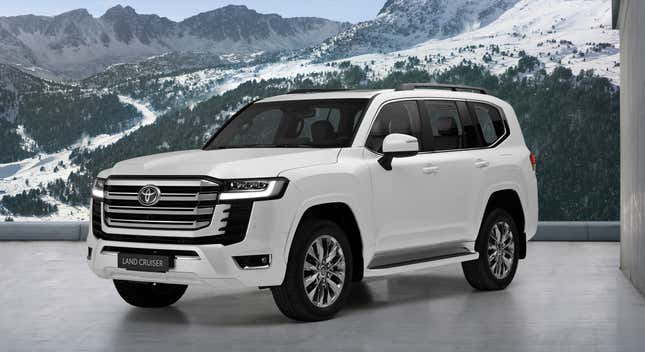 The big grille thing is here to stay I guess, until it isn't; perhaps we weren't missing much with the new Land Cruiser after all. Still, with Hummer, Volkswagen's Scout, the Jeep Grand Wagoneer, and other big SUVs happening, a new Land Cruiser would make sense, if only to give those who don't want to buy a Grand Highlander some choice.