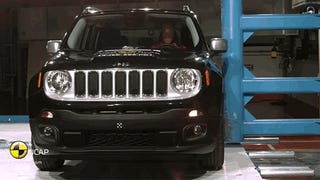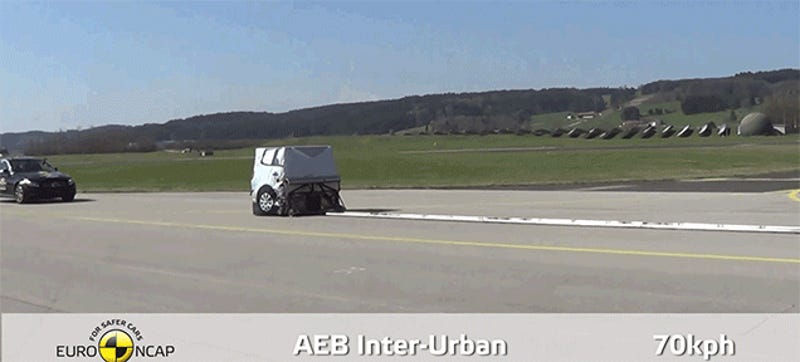 The 2015 Mercedes-Benz C-Class scored the maximum five stars on the Euro NCAP crash test not only because of its occupant or pedestrian protection qualities, but also thanks to its crash prevention systems. Which almost works perfectly. Almost.
The latest Euro NCAP crash test results are in, and I'm afraid it's bad news for BMW as the BMW i3 electric city car scored four out of five starts in the small family car category. Here's why.
Statistics show that when Americans are looking for a midsize family car, they usually end up with a Toyota Camry. In beige white. In the case of hybrids, the same rules apply to the Prius V, which came out as a completely new model this year. The Insurance Institute for Highway Safety now says you might want to think…
In a strange celebration of the multitudes of wrecked exotics we've recently seen, we've compiled the ten best NHTSA crash tests of sports cars and super cars. You'll laugh, you'll cry, you'll thank us.
In a conversation with WardsAuto.com, GM vice-chairman and product czar Bob Lutz stated his desire for at least a three-year suspension of US frontal and side-impact crash testing standards. Said Lutz, "In Europe, the crash-test procedures are different than in the U.S., so the tests are different. If our government…
When we first saw the 2009 Skoda Superb we got weak in the knees. We asked the doctor to Czech us out and his Prague-nosis was that this Passat platform mate, with its twindoor system, was just too sexy. We know, it's a liftback sedan like all the others. But is it? Euro-NCAP, sort of the IIHS of Europe, tested the…
Did you know that a Smart car has better adult occupant protection than a 2007 Chrysler Voyager? Why does the diminutive Smart score 3 stars to the behemoth Voyager's 1 ½? How does a Toyota Prius offer better child protection than a Jeep Grand Cherokee? The European New Car Assessment Program is an independent…