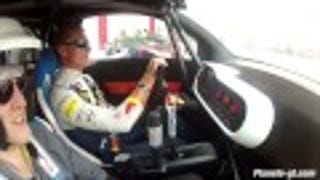 Did you get enough of the crazy rear-engined Renault Twin'Run revving its engine yesterday? Me either. And while that video was great, I'd rather see what it can do on the track. With an experienced racing veteran behind the wheel. You know, like David Coulthard.
The Texas hill country was alive with the sounds of a Formula One V10 this past weekend as racing superstar and F1 commentator David Coulthard shredded tires of the Red Bull F1 showcar on the streets of Austin. Jalopnik had a chance to talk to Coulthard and get his impressions of F1 in the United States and breakfast…
Most of the Circuit of the Americas outside of Austin is just a cleared dirt track, but that didn't stop David Coulthard from ripping it up in the Red Bull demonstration car while being chased by cowboys. An epic video is clearly in the making with the Capitol donuts from this weekend.
It always rains in Malaysia. It didn't rain in Malaysia yesterday. Never underequipped when it comes to show biz, Formula One bridged the precipitation gap with a flying Russian (above), a jinxed Brit, and an old rivalry rekindled. A fun race—for second place. Warning: spoilers.
Take a pair of 563-hp Mercedes SLS AMG sports cars, combine with two racing drivers, add a bunch of 3D cameras and you've got a 3D film shot at 162 mph. Here's the 2D trailer.
It must be hard to be a retired Formula One driver. David Coulthard just visited the KAMAZ HQ in Moscow and was forced to hoon their Dakar race truck in the snow. Later, he also won a game of bingo.
As history sometimes sort of repeats, David Coulthard escaped injury when his car went up in flames during today's first free practice session ahead of the Turkish Grand Prix at Istanbul Park. Seconds after whipping past the session's checkered flag, Coulthard spun his Red Bull racing car in the first corner, when…