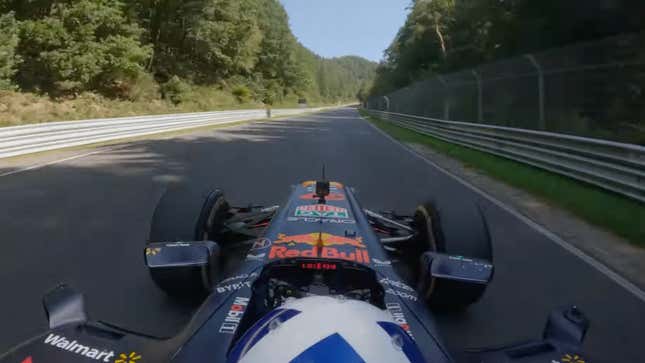 Grand Prix cars first raced on the famed Nürburgring Nordschleife the year it was inaugurated in 1927, and would continue to race there every year until 1976 (with notable exceptions for The Great Depression, a World War, and a demand for increased safety in 1955 following the tragedy at Le Mans). The German Grand Prix continued on at either the Grand Prix Strecke or the Hockenheimring until 2019 and there hasn't been a German Grand Prix since. Despite turning out some of the most talented drivers of all time, Germany doesn't get Formula One action much these days, so Red Bull set out to fix that with a little demo day.
Red Bull Formula Nürburgring was an event over the weekend bringing F1 back to the Germans. Featuring a pair of championship-winning chassis, Sebastian Vettel's 2011 and 2012 cars, 'Kinky Kylie' and 'Abbey' respectively, Vettel himself would drive and former Red Bull race winner David Coulthard would sit in as well. Vettel wanted to run the event on pure synthetic fuels as part of his Race Without Trace initiatives.
"Motorsport is my great passion and I want to keep the sport alive. Fuels can be produced synthetically and serve as a substitute fuel," said Vettel. "It is important that we all become aware that we must do something. And the great thing is – you don't feel any difference in the car, it's just as much fun driving it on synthetic fuel."
Daniel Ricciardo was supposed to drive the RB8 for this event, but was forced to sit out in recovery from his crash in FP2 at the Dutch Grand Prix. Championship leader, and defender, Max Verstappen requested that he be able to drive at the 'Ring for this event, but was told by management that he would push too hard and they couldn't risk it. Alpha Tauri driver Yuki Tsunoda, grand prix legends Gerhard Berger and Ralf Schumacher, and endurance racer Mathias Lauda were also in attendance.
Unfortunately for the world, the session wasn't timed, and the drivers weren't allowed to go streaking off and set a new lap record. There was a pace car there to keep the drivers in check, but they were given a few opportunities around the circuit to really give 'er the beans. The event sounds like it went off without a hitch, and those in attendance (over 60,000 people) apparently had nice things to say. I, for one, am just happy to get to hear the old V8s roaring again.
The full-day festival of all things Red Bull Motorsport also included drifting, motocross stunts, Mathias Lauda driving his father's late-1970s Ferrari 312T, the Red Bull NASCAR race cars, and even Ford's all-electric Supervan 4. Yeah, I totally get why 60,000 people showed up for this. What a cool event!