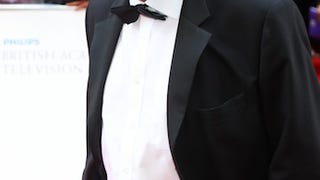 Top Gear's top geek James May says the show's almost a sitcom, one which he occasionally thinks "Can't we do something properly that will work, not that has to catch fire or fall over?" So, no British cars, then? [EveningStandard]
James May just purchased this Grievous Angel custom cafe racer from hip Austrailian builder Deus Ex Machina. Based on the JDM Yamaha SR400, Captain Slow's new bike puts out 27 HP and costs around $20,000.
Captain Slow is now Dr. Slow. [BBC]
British motoring show Top Gear was recently part of some stupid contrived controversy, which means you should warm up your BitTorrent software for Season 14. We look forward to writing about their antics and not people's responses to them.
Originally intended to start on October 26th, Top Gear is now officially slated for a return to television on November 2nd. We can hardly wait for Series 12 to start, particularly because of the
American road trip
Jeremy and the boys had in a , and a . Though we'll have to see if their hour-long special is part of…
Moonlighting in this clip for his Big Ideas program, presenter got behind the wheel of a Soviet-era . Piloting the small example of our favorite non-wheeled mode of transportation over a frozen body of water, Captain Slow stayed true-to-form, only bringing the ekranoplan up to not-quite-flying speed. Of course, the…
Top Gear's very own Captain Slow was recently seen filling up this Radical SR4, not with fossil fuel, but Bruichladdich malt whisky. The demonstration will be part of Oz & James' Great British Adventure, in which May and wine critic Oz Clarke will tour around the country in a 1982 Rolls Royce Corniche convertible…
It must be rather unfortunate that the Ferrari Mondial QV was the first Ferrari James May ever drove. Then again, he is Captain Slow. I've known Mondial owners who love their cars, and the sound of any Ferrari eight is guaranteed to send shivers. But when somebody says, "Blah, blah...my Ferrari..." we inquire as to…
All praise due to Tom Anderson for the question. But really kids, this one writes itself. Especially now that Spin is out of town and we can make fun of him. So, all praise due to Ray Wert? I feel dirty just typing that. Anyhow, on the left, representing the US of A, double-guns blazing, the founding father of all…