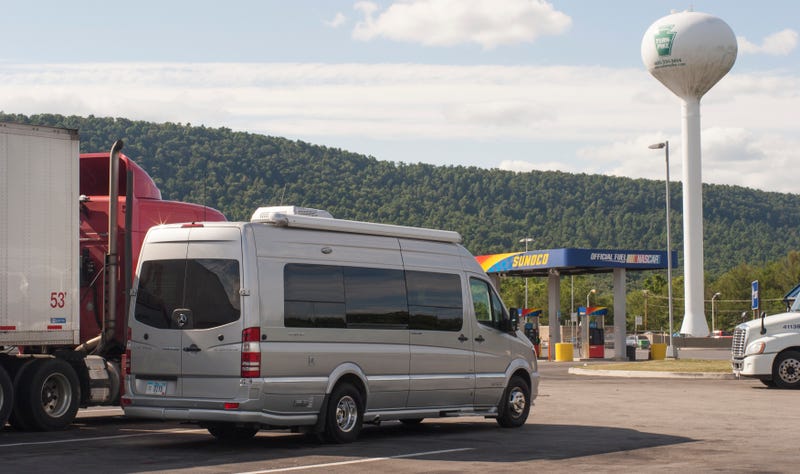 I've gone from sea to shining sea in a high-powered convertible. I've crossed amber waves of grain from an empty train car and seen fruited plains from the back of a plane. But nothing made me feel the brotherhood of America more than the solar-powered, private-jet-like Mercedes-based Airstream Interstate.
I'm sitting in the back of our bigass Airstream Interstate in one of the plush captain's chairs, typing away on my laptop while Raphael pilots us past West Virginia into rural Ohio. This is the way to be.
Commenter Rusty Van Horn explaining how the (pictured) 1983 Airstream Excella "Astrovan" is the transportation he coveted when he was younger. We'll take the shuttle too. Photo Credit: Photo by Eliot J. Schechter/Getty Images
Wade F.B. Thompson, the man credited with saving Airstream, has died at the age of 69. The New Zealand native took the company from losing $12 million a year to producing 100,000 trailers in 2006. [NYTimes]
Normally, a MINI Cooper S Clubman's towing capacity is limited to trailers no bigger than fruit carts. However, the Mini Cooper S Clubman Airstream Lounge Concept gives the little hatch a hefty-but-stylish silver trailer.
Having lived in the notorious Irvine Meadows West trailer park, which was all about Project Trailer Hell vintage tin, I can state that Airstreams pretty much suck for any sort of extended habitation. The cylindrical shape means that the interiors are cramped and storage areas are unusable. However, they sure look…
Think of it as a Mini Winnie for the retromod generation. Ford's Airstream concept utilizes what we believe must be a hybrid construction of ALUMINUM UND SHTEEL. Powered by a fuel cell that does nothing more than keep a charge in the car's lithium-ion cell, the Airstream apparently draws inspiriation from…
Way back in the dark ages of 2005, The Food Network and Al Roker teamed up (post gastric bypass) to modify an already kickass, vintage 24' Airstream trailer and use it for the basis of the show "Tricked Out Tailgating." After much work with circular saws, metal shears, helper monkeys, and perhaps duct tape, they built…
Here at the Chicago auto show, Nissan showed off a conceptual mini mobile home its in-house art shop, Nissan Design America created for Airstream, maker of those polished silver travel trailers that turn the desert sun into a highway death ray. The Basecamp, as its called, has a flexible interior layout that can be…