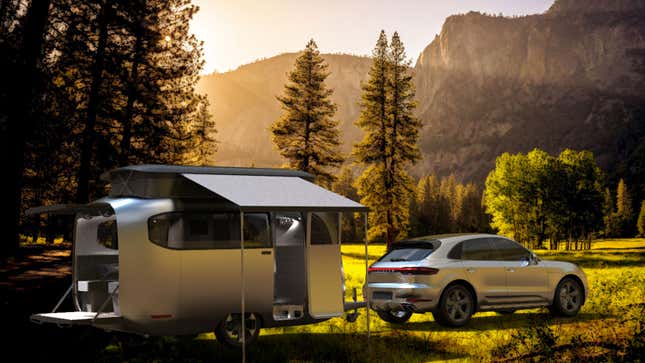 When you think about those iconic Airstream caravans, what kind of car do you imagine towing it? Maybe a vintage Chevrolet truck, or a classic Jeep? What about a Porsche? Well, the German automaker partnered with Airstream to design a futuristic RV concept that partners perfectly with its all-electric Taycan.

Nate Bargatze's $1,500 Mazda Was a Beater That Wouldn't Die
In case you missed it:
Airstream worked with the sports car maker's Studio F. A. Porsche design house for the new concept, which is said to showcase the "next-generation Airstream trailer" while incorporating flourishes from both brands. And, I must say, it looks awesome.
From the outside, it remains clearly Airstream with its silver silhouette and blacked out windows. But then, it's brought kicking and screaming into the 21st century with a pop-up roof and lowering suspensions, which also makes this new RV fit snugly into a regular garage.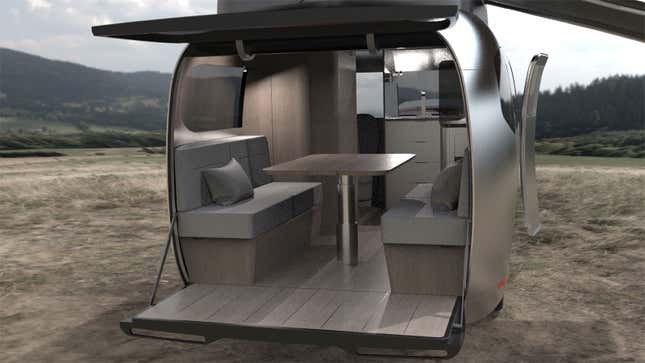 Further exterior details include a new flatter shape at the rear and a flush underside, both of which are said to improve airflow and reduce drag from the trailer. But RVs aren't about low drag coefficients, they're about bougie interiors, right? So, inside the Porsche-designed RV is a whole heap of lush-looking features.
At the front of the trailer is a small, but modern, kitchen area that houses a two-ring stove, sink, and a hinged counter that can flip up to extend your worktop. Behind this is a neat bathroom, which is enclosed from the rest of the cabin via a swooping structure.
All the way at the rear of the new Airstream is a seating area that comprises two couch-like seats and a table, which can be transformed into a 82" x 61" sleeping area. What's more, the entire rear of the RV is actually a split-opening door. Meaning that a hinge-up hatch and a drop-down tailgate can open up to reveal the natural world, or serve as a mounting point for awnings and other attachments.
The whole thing looks very neat, especially when you imagine this sleek trailer hooked up to the back of something like the Porsche Taycan Cross Turismo. But at present, it's just a concept.
A ⅓ model of the Airstream concept will go on display at the SXSW festival in Texas next week, where it will be displayed alongside Porsche tow vehicle of choice, the Macan. After that, who knows what could happen to the concept and its neat designs.
"It's a fresh design approach aimed at reaching a broader, more diverse base of potential customers, said Airstream President and CEO Bob Wheeler in a press release.
"While our concept projects don't always reach the marketplace, the resulting lessons and innovations often influence present and future designs as they make their way into our main product lines."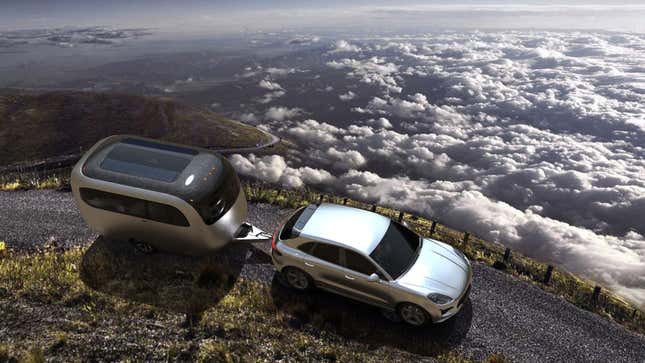 So, while a pop-top, pint-sized Porsche RV might not be available any time soon, it would be very cool to see innovations showcased in this concept make their way into Airstream trailers of the future.
But, if you were to design an RV of the future, what kind of features would you like it to have? After all, RV design camper design hasn't changed all that much in Airstream's 100-year history.