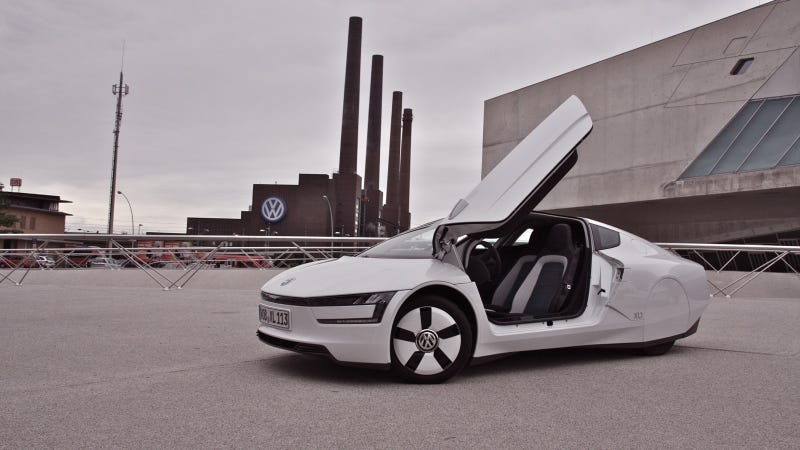 Volkswagen wanted to build a 235 MPG car. Now, 15 years after setting that challenge for themselves, they've exceeded their goals in almost every way. The VW XL1 is built like a supercar, looks like a spacepod, feels like a production model and crosses the Autobahn while using barely 0.004 gallons of fuel every mile. This is what it's like to drive the future.
(Full Disclosure: Volkswagen wanted me to drive the XL1 so badly they flew me business class to Wolfsburg, put me up in a very nice hotel and paid for all my Hendrick's Gin & Tonics. Then, they even let me try out their newest toy.)
When Dr. Ferdinand Piech drove the first prototype of VW's 1 liter car from Wolfsburg to Hamburg for the annual shareholders in 2002, he probably didn't have a great time. Prototypes tend to be noisy and rather uncomfortable on the Autobahn. But that demonstration must have worked since today the diesel-electric hybrid XL1 is entering limited production.
What's for sure is that Piech wanted to have a 235 mpg car and they ended up achieving 261 mpg. That's a remarkable result, even if that number is only achievable in an ideal world where hypermiling is the norm. If you use all its power, the XL1 will still save more fuel for you than most cars out there while it seats two, has enough cargo space for a short trip (around 4.2 cubic feet) and a range of 310 miles if you fill the tiny 2.6 gallon fuel tank to the brim.
If you open it up, it doesn't take long to realize how much work and money went into the development of this futuristic Tatra. There's carbon fiber everywhere and you sit in a one-piece monocoque that VW gets from an Austrian supplier. At 179 lbs, it's super light. It has carbon-ceramic brake discs and pads, polycarbonate windows and a magnesium clutch. This was a project not many could have pulled off apart from Volkswagen, and even they had to think about it for quite a while.