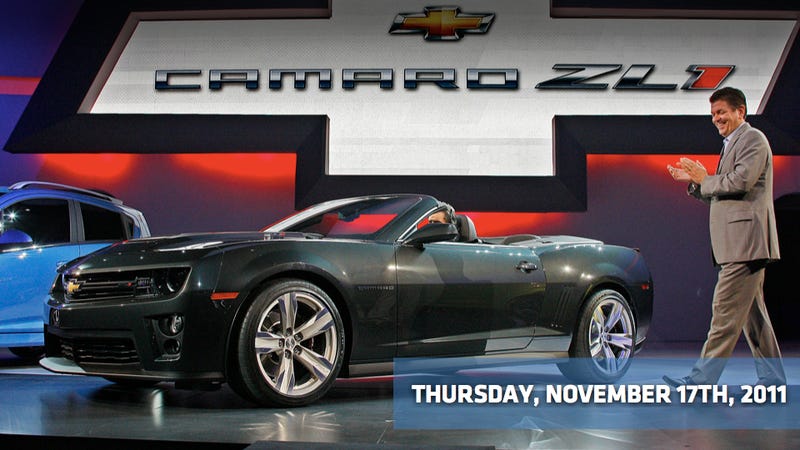 This is the Morning Shift, our one-stop daily roundup of all the auto news that's actually important — all in one place at 9:00 AM. Or, you could spend all day waiting for other sites to parcel it out to you one story at a time. Isn't your time more important?
---
1st Gear: Chevy Challenges Ford To Muscle Car Fight, Ford Takes Bat, Goes Home
After Ford brought out its potentially ZL1-killing 650-horsepower 2013 Shelby GT500, Joel Ewanick, global vice president of GM marketing, decided to drop the gauntlet down at the feet of Ford. "We should take a Camaro, Ford brings a Mustang, we each pick our drivers, and see who has the best time on the Nürburgring," Ewanick said to Scott Burgess of the Detroit News. Jim Farley, who heads Ford's global marketing, wasn't taking the bait despite professed claims to a desire to "take a bat" to Chevrolet. "I wish we could," he said, after hearing about Ewanick's challenge. "Who wouldn't want to do that?" Huh. Sounds to us like maybe Ford's chicken. Hey, Farley — bawk-bawk-bawk-BA-kawk!
---
2nd Gear: We continue to tell this L.A. (Auto Show) Story like Steve Martin Wes, Ray, and our intern Shaun have recovered from a night of hard partying to bring you the latest news from the L.A. Auto Show. And by latest news we mean a few cool concepts, an interesting production car or two, and random crap we find it easy to make jokes about. Follow along with the LA Auto Show tag page to see it as it happens.
---
3rd Gear: Lincoln MKS and MKT get indistinguishable refreshes Both the 2013 Lincoln MKT and MKS have undergone mid-cycle refreshes as part of Ford's lazy attempt at convincing Lincoln dealers the company still cares about them. Mostly, Lincoln just turned the Niagra-sized waterfall grilles down to a more acceptable Havasu. Power is also up to 300-hp for the base 3.7-liter V6. You still don't care. The MKT still remains an extremely comfortable long-hauler no one buys.
---
4th Gear: 2013 Ford Mustang: Live from L.A. 650 HP, 600 Lb-Ft and 202 MPH. In a Mustang. Try and get your head around that while we sit here live at the LA Auto Show with our jaws on the floor. In addition to the 2013 Shelby GT500, there's updates to the Boss 302 and 5.0 too. More »