650 HP, 600 Lb-Ft and 202 MPH. In a Mustang. Try and get your head around that while we sit here live at the LA Auto Show with our jaws on the floor. In addition to the 2013 Shelby GT500, there's updates to the Boss 302 and 5.0 too.
This fifth generation of 'Stang has been around ever since 2005, but has benefited from a myriad of changes since then, transforming it into a genuinely good, genuinely fast sports car. In 2005, the GT500 would kill you as soon as look at you. For 2011, it got more power, but more control too.
Last year's LA Auto Show actually saw a host of changes to the entire Mustang range, which is why its surprising to see these new cars so soon. Why is Ford following a system of periodical upgrades? Well, it's partially their own fault. The success of the newly-good pony car has seen competition arise from nearly every automaker.
Chrysler has the Challenger and Chevy has the new Camaro, of course, but since the 'Stang actually handles now, it's cross shopped with cars like the Hyundai Genesis Coupe and Nissan 370Z, too. Hell, it does a good job at asking why the Corvette costs as much as it does.
G/O Media may get a commission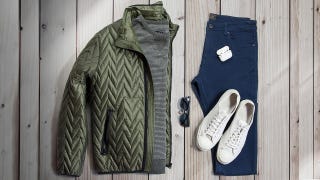 60% off
Jachs NY Fall Sale 60% Off
If it sounds like we're in love with the Mustang, in all its iterations, that's because we are. These three cars represent anything a Jalop could want in a vehicle... until they build a wagon version.
Talking to other journalists at the live reveal last night, we were all befuddled as to why Ford is sticking with the GT500 name. "GT Fuck You" seemed to be the popular alternative. This Mustang is now the most powerful production car made in America. And it's still got a live rear axle. That's right, even the Ferrari-killing Chevy Corvette ZR1 doesn't make as much power, much less that piddling Camaro ZL1.
The 444 hp 2013 Boss 302 Mustang hasn't been updated mechanically at all, it just comes in this fetching shade of "School Bus Yellow" now. Legally, it can't use the same color as school busses, but it is a catchy name. That lack of updates is no bad thing, this is, after all, the best Mustang ever.
Why screw with perfection?
The 2013 Ford Mustang GT? The grille is bigger, the running lights are now sexy LEDs and girlie men that buy automatics will be able to ponder over standard SelectShift, which would allow them to manually row through the auto's gears, if that Fiona Apple album wasn't playing so loud, that is. There's also a 4.2-inch LCD screen that tracks braking, acceleration and lateral g-forces and, most importantly, a power boost to 420 HP.
All three suddenly create what has to be the most desirable muscle car range, if not the most exciting lineup of sports cars on the planet this side of $100K.