This bright blue backside belongs to the Subaru BRZ, Subie's variant of the Scion FR-S — or Toyota FT-86, depending on where you live. It's the right end to show given it's Subaru's first modern RWD sports car.
But don't expect the car to look like this when it really gets its "real reveal" at the Tokyo Motor Show. Apparently Subaru's stripped away every piece of real sheetmetal from the car and replaced it with tuned, flared and puffed-up concept crap that'll never be seen on the production car.
That said, we know from yesterday's mammoth spec drop that its fellow RWD cars are featherweights at 2662 pounds, powered by a 2.0-liter DOHC boxer four putting out around 200 horsepower.
G/O Media may get a commission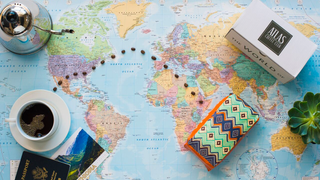 First Bag Free
Atlas Coffee Club - Free Coffee
Explore global coffee
With each bag, Atlas includes details on the coffee's tasting notes and a postcard about the region and its coffee history. And when you subscribe, you have options to tailor frequency, grind size, and roast preference of your beans, so you'll always be brewing the perfect cup.
Expect more from the Subaru BRZ, which for this non-unveiling, is being called the "Subaru BRZ Concept - STI." The we-know-someone-in-Japan-gossip-circle says the dash and extra three-letter nomenclature is good enough for an additional 100 horsepower. Giddy-up.
"Pure Handling Delight" is how Subaru describes the car, owing to its low-low center of gravity and proper RWD layout. The rumored almost 300-hp boxer four also doesn't hurt. It'll debut at the L.A. Auto Show later this month, where we're going to do our best to steal it.
Hear that Subaru? You better bring a battalion of security guards armed with tasers or we're going to Occupy Subaru! Ya hear us?!